Just as there's no shortage of damn fine-looking people San Diego, there's no shortage of damn fine places to date them. Whether you're looking to cozy up by candlelight or crush your opponent in a Frogger battle, you almost have too many choices. To help zone in on some of the best options, we've identified a can't-miss spot in 10 important neighborhoods.
Kensington
Bleu Bohéme (address and info)
Exposed stone walls, wood accents, and candles create a sense of occasion that's romantic without being overly fancy or fussy at this neighborhood bistro. At brunch time, share a plate of perfectly executed crêpes with vanilla mascarpone cheese & blueberry sauce and a savory waffle, or dig into a bowl of black Mediterranean mussels and frites. Bargain-hunters will appreciate the "Bohemian" menu, a three-course, $30-per-person, prix-fixe menu offered from 5-6pm, and all night on Tuesdays.
University Heights
Pomegranate (address and info)
The warm, cozy, and eclectic atmosphere is the perfect conversation starter for a memorable evening spent stuffing yourself silly with delicious Russian-Georgian home cooking. Popular items include the salad sampler, cheese pie, and shashlik (skewers of chicken, lamb, or pork loin roasted over charcoal). Oh, and this might sound like weird advice, but don't forget to check out the bathroom. It's even more bizarre than the dining room.
North Park
Coin-Op Game Room (address and info)
Dates with booze, food, and a built-in activity, like playing vintage arcade games, are always an excellent idea. Take advantage of all three here, and make things more fun with a wager, like loser buys the deep-fried Oreos.
Hillcrest
Kous Kous Moroccan Bistro (address and info)
The sweet, savory, spicy, and complex flavor profile of Moroccan cuisine is unlike anything else, so if you're looking to energize your dating routine, here's where you should get started. The "Moroccan feasts" are a great way to get a little taste of several different dishes. The three different options range from $24 to $44 per person.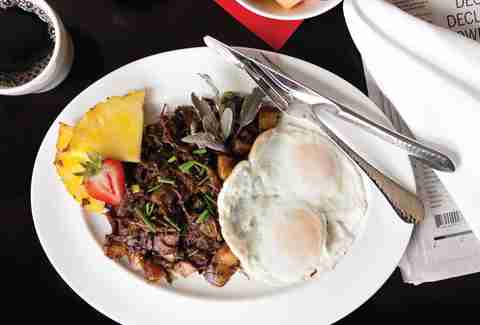 Mission Hills
The Red Door (address and info)
Brunch is an excellent time to visit this recently redesigned spot for stuffed squash blossom Benedicts and brunch burgers (topped with a fried egg, applewood-smoked bacon, aged white cheddar, hollandaise, and greens), but the dinner menu is no slouch, either. Ask to sit at one of the corner booths (so you can sit close together and have double the pillows).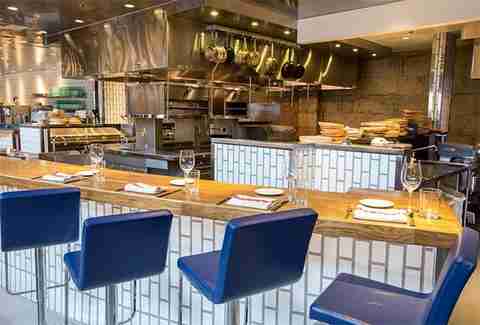 Little Italy
Juniper & Ivy (address and info)
Destination restaurants always make for a fun night out, so it's no surprise that Juniper & Ivy made its way onto this list, but you don't want to sit just anywhere -- you want to make reservations to sit at the chef's counter. Why, you might ask? Well, only because it's about 10x as fun as the dining room. If you really want to up the ante, make reservations for the multi-course "Left Coast" tasting, held on Thursday nights. It's limited to patrons sitting at the chef's counter (eight seats, total).
Leucadia
Solterra Winery & Kitchen (address and info)
Head here on Thursday and Sunday evenings for live music, or any day of the week for a tasty glass of vino and tapas. If you're stumped on which wine to order, try the just-released Ainsley, a Bordeaux-style blend of five award-winning wines.
La Jolla
THE MED (address and info)
The ocean views from the elevated terrace at this restaurant within the La Valencia Hotel are so sublime, you'll start having a good time as soon as you sit down. The seasonally driven menu is worth the splurge, but another fun option is to share the dessert platter (featuring an assortment of the chef's favorite desserts) and a spiked coffee beverage.
Point Loma
Soda & Swine (address and info)
The central location, free parking, and parks to stroll in make Liberty Station an excellent venue for a date. There are a good variety of restaurants within the complex, but we're keen on the second outpost of Soda & Swine. The indoor/outdoor space is stunning, with a huge bar and a menu comprised of delicious snacks and small plates, like meatballs in many forms, fried pizza knots, and pie. Most items fall below $5, and there's nothing North of $10, so you can go crazy without shelling out the big bucks.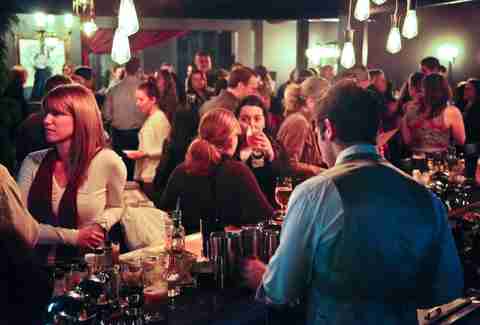 Downtown/Marina District
The Lion's Share (address and info)
Exotic meats and inventive drinks are served at this snug bar/restaurant decorated with gothic animal paintings, curios, and taxidermy. Start with cocktails and a few shareable appetizers, like a sausage board and antelope sliders, and see where the night takes you.

Sign up here for our daily San Diego email and be the first to get all the food/drink/fun in town.