9 Places to Catch (Mostly Free!) Underground Comedy in San Diego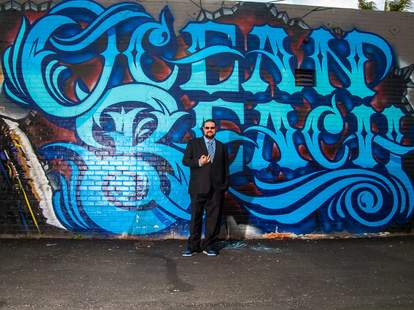 San Diego may be the best-kept secret in the world of stand-up comedy. Often considered little more than a satellite of LA, San Diego is home to its own homespun group of comedians who are just as funny, dedicated, and creative as their compatriots to the north (and mostly better looking, of course).
While the city has four full-time comedy clubs, they can be an expensive proposition. Thankfully, there's a vibrant underground comedy scene where laughs can be had for dirt cheap, and often free. So if bars, coffee shops and a revolving cast of semi- or full-genius weirdos sound like your cup of Pabst, keep reading to find a showcase close to you.
 
Ocean Beach
When: Every Friday
Cost: $5
The Winstons Friday night show is a San Diego comedy institution for a reason. Run by Jeff Bilodeau, Jesse Egan, and Andrew Deans -- three of the city's highest-profile comics -- the show has a character all its own. It's the only show on this list that costs money, but it's worth far more than the $5 pittance they ask as a cover. The big stage, huge amps, and rock concert lighting let the performers command a room that is large enough to accommodate a big crowd, but not so large as to make it feel cavernous. Come early if you want to catch the free open mic that directly precedes the show.
 
Kensington
When: Last Monday of every month
Cost: Free
Seeing stand-up at the Kensington Club is a little bit like reading a book at CBGB. The high-ceilinged, gritty music space is an unlikely spot for comedians to spin yarns, but it works. The last Monday of every month, the Ken' hosts Lights Out, a combination of stand-up and sketch comedy. Even in the best of conditions, it can be difficult to remain alert for more than a few consecutive stand-up acts, so the intermittent palate-cleansing sketches make the punch taste sweeter. Grab a pint and settle in, (figurative) curtains are at 9pm. Bonus: every Thursday night, you can also catch the Comedy Kumite, a stand-up competition where the victor wins a knife. Yes, a knife.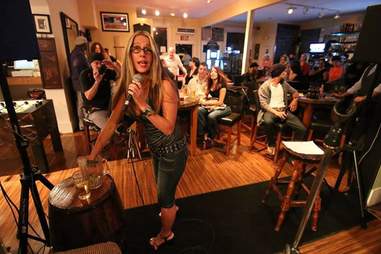 Courtesy of Westy's
Point Loma
When: One Friday a month (it varies, so check its Facebook page ahead of time)
Cost: Free
It's hard to improve upon the formula of great food and great comedy, and Westy's knows it. Hosted by Mary Prantil, once a month, this show lets you watch comedians at work up close and personal. Mary, a veteran of the New York scene, books comics that are worth comedy club admission, and are a total steal at "free." The show is also formatted like a club show, with two feature acts and one headliner, kicking off at 7pm.
 
Pacific Beach
When: Every Wednesday night
Cost: Free before 9pm, $5 after
The Wood is not only one of the best independent comedy shows in San Diego, it even gives the comedy clubs a run for their money. And at zero dollars, it won't give you a run for yours. This mid-sized bar, just a stone's throw from the ocean, gets packed. And for good reason -- Josh Nelson books nationally touring comics to headline and cherry picks the very best locals to open. With bulletproof lineups, a raucous atmosphere, and a great location, it's hard to find reasons not to go. Show starts at 9:30pm.
 
Normal Heights
When: Every Tuesday
Cost: Free
Having run for years, this is about as consistently fine a show as you can ever hope to see outside of a major club. Held in a small performance space next door to a coffee shop, it hits all the right notes and none of the wrong ones. You'll see the best local talent San Diego has to offer, as well as many of LA's indie luminaries. It's even plausible to catch A-listers like Morgan Murphy, Jerrod Carmichael, and Eddie Pepitone if you come on the right Tuesday. The only downside is that seats are limited -- get there early if you don't want to stand on the sidewalk.
 
Old Town
When: Every Monday
Cost: Free
This relatively new nightlife spot in Old Town has a lot to offer. Tons of games, a dozen televisions, a list of craft brews half a mile long, and damn good pub fare. It's already a win before you add on free comedy. The ever-industrious Josh Nelson runs a weekly show here to make Monday sting a little bit less. No Kevin Hart pyrotechnics here, just a fun show in a slightly unusual context. Show starts at 8pm.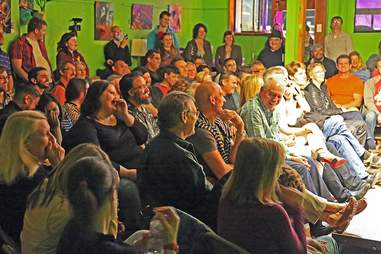 Courtesy of Comedy Heights
University Heights
When: Every Saturday
Cost: Free
If you're in the market for laughs and want to bring your kids, or your friend with sensitive eardrums, this is a totally clean comedy show that happens every week. It's held in the "Green Room," a meeting and performance space attached to the Twiggs Bakery and Coffee shop in University Heights. Coffee and crumblies are available for sale, but you're also welcome to bring your own snacks and drinks. Doors at 7:30pm, show starts at 8pm.
 
La Mesa
When: First Thursday of the month
Cost: Free
The Riviera Supper Club is an interesting halfway point between road house and swanky steak joint. It's a perfect balance between class and retro charm, and provides the perfect backdrop for some comedy. Host Dustin Jackson brings his comedian friends to help patrons digest their steaks (you can grill your own). Expect to see many of the local comics you'd have to pay to watch at the clubs.
 
Rancho Bernardo
When: Last Saturday of the month
Cost: Free
Great comedy can happen in unexpected places, like a strip mall pizza bar in the middle of the 'burbs. But there's nothing provincial about the O'Harley's comedy night -- the venue has a powerful sound system that gives it a very clubby vibe, and the comics are a mix of promising newbies and established pros. Also, the pizza and beer are worth the trip all by themselves.
Sign up here for our daily San Diego email and be the first to get all the food/drink/fun in town.