Booze and chocolate together at Science on the Rocks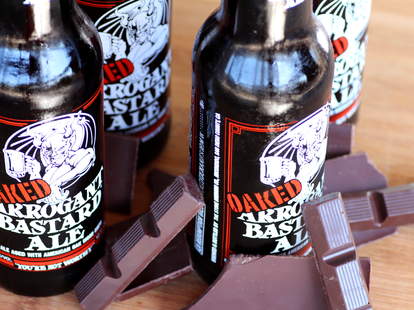 Did you know that flavonoids found in chocolate prevent heart disease? Did you know that beer can sometimes make you text your ex that "you miss seain hr butt"? If you said yes (or no) to either of those questions, you've got to get down to the Reuben H Fleet Science Center for this one-night-only event featuring geeky science, music, booze, chocolate, and other things they never taught you at Space Camp. To wit:
A Sweets & Suds station featuring a trio of pairings from two of America's Finest's finest: Stone Brewing and Eclipse Chocolat, which shouldn't be confused with that one movie where a free-thinking woman uses sweets to free the minds of repressed vampires, who then eat her.
Barworks will be mixing up a complimentary 'tail for everyone, and slinging more at a cash bar that'll also be fully loaded with Stone brews at "better than happy hour prices" (so... ecstatic hour prices?).
Because everyone knows booze makes you want to experiment, they'll be setting up special interactive activities like making ice cream instantly at Deep Freeze, and doing something scandalous at "Chocolate Exposed!" like... eating it!!!
All of their interactive exhibits will also be available for you to mess around with, like that thing where you try to touch the spring, but it's A HOLOGRAM(!?), or the giant periscope, from which you're free to covertly sea mor pples buttz.