Acts your mom would scold you for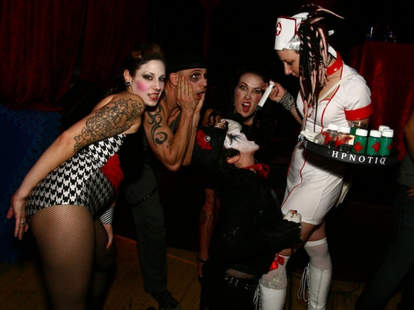 Old fashioned circuses can be annoyingly cheesy: the animals don't really do that much, and the overly predictable clown segments leave you frantically searching for a tight rope. For one that's all grown up, check out Bad Medicine: Witch Doctor.
From Otherwise Entertainment's "freelance performance troupe", Witch Doctor's a trippy, boozy, delightfully twisted stage show loosely centered around a cadre of self-proclaimed "charlatans" trying to peddle a super-secret, (apparently) drinkable brand of "snake oil" to the crowd while dancing around in wacky outfits -- so that's wear those Wanna Fanta chicks went! Spinning a web of ambiguously sexual intrigue, ringmistress Frauline Frank will be theatrically MC'ing the whole show, which'll see spectacles from the likes of acrobatic pole contortionist Flying Laura ("yep she dances on a pole"), and the never-before-seen "Flow Show" from the fire-dancing Gage Hanks, which is also the first step to creating any sort of TV show or movie involving WWII. Getting you involved/weird, there'll be interactive bar games like "hot potato" and an uber top secret "weird and/or disturbing game that may invade your personal space"; and as if a "Flow Show" wasn't hot enough, they'll also have more burlesque-y acts like a gyrating hoop performance from Bete Noir, aka Wesley Snipes' advice when gambling in Paris.
And to really get you up, come late-night things'll flow seamlessly into a DJ'd afterparty, meaning Barnum won't be the only circus where you'll want to hang all night.