When scantily clad ladies fight, everyone wins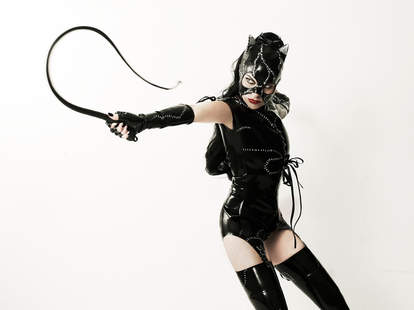 Everyone remembers the comic book series from 1996 where the two universes of superheroes challenged each other to a set of duels in which the losing universe would cease to exist and the winning universe would get to wear one of those heavyweight boxing belts or something. Well, this is exactly like that, except the comic superheroes are actually sexy, stripped-down ladies down from LA for one night only, and the no-holds-barred fight takes place in an inflatable tub with a ring around it in the Ruby Room
The lady you see right here is Kitty Cadillac, as Catwoman. That may not be her real name.
That pale-faced woman-friend with the glow stick is Scarlet O'Keljus as the Joker, who'll be facing off against Venom, aka Sin Fisted, aka Not Going To Touch A Joke After That.
Um, not sure exactly what's happening here, but someone now has an interesting video on their iPhone.
Instead of Frank Castle and/or Nic Cage, Christina Fuentes is the Punisher. Though Nic Cage did also try out for this role.
It's. About. To. Go. Down
Though it looks like they're just resting, things are getting real in the tub
Like this real
Photos by Nannette Gonzales