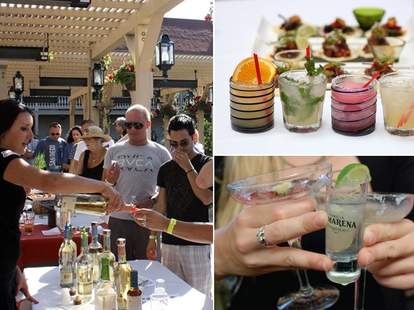 Though there is a strong likelihood that attending the Trail of Tequila will result in your relationships ending in a trail of tears (Andy Jackson -- what a d*ck), you should probably go anyway, as it kicks off the Spirits of Mexico Festival, and features a crap ton of tastings and pairings plus at least one tall, famous person. To wit:
Tall, famous person Bill Walton will be there shaking your tiny hands and passing out Grateful Dead concert tapes from 1989 he found in the trunk of his car. And also discussing ultra-fancy Azuñia Tequila, not because he's an equity partner in the company or anything, but just because he loves it!
There'll be more tequilas than a Pee-Wee Herman reunion tour, including the terrifyingly bottled Apocalypto, the more-sexily bottled Pura Vida, and Muerto, which means something in Spanish you likely don't want to know.
Said spirits will be paired with culinary specialties from classic Old Town restos like Barra Barra Saloon, Cafe Coyote, Casa Guadalajara, and El Fandango, which will presumably also sell you tickets to El Odd Life of Timothy Green.
When you're done hitting the trail, join R. Kelly (or, more likely, Bill Walton) at one of three hosted after-parties, or just get in a dramatic public fight with your GF, and heroically leave to a trail of cheers.