From the land where movies are born (wait no, not Toronto), ArcLight La Jolla is the first non-LA venture from a theater group that is tricking out your watching, eating, drinking, and listening experience. Be starstruck by:

The Experience: Bridging the gap between nap-havens like Cinepolis and traditional cineplexes, the 14 "black box", reserved-seating auditoriums comes loaded with double armrests to prevent awkwardly sexual arm brushing with strangers, more aggressively tiered rows for unobstructed viewing, and no beginning commercials.

The Tech: Much like Val Kilmer's waistline, each theater has XpanD 3D capabilities, but one screen ups SD's movie game with the first Dolby Atmos sound system in town, which gives mixers the ability to send sound to up to 64 individual speakers, rather than an entire wall of the auditorium. Even if you don't understand that, you should still be impressed.

The Food: In addition to improving on concession-stand staples (popcorn with real butter!), the cafe will help you approach Kilmer's girth with heartier bites like a pretzel-roll ham 'wich with muenster and herb aioli, or a pesto margherita flatbread

The Booze: While you can only booze in the two 21-and-up theaters adjacent to the back bar, those of age can swing by anytime to swig on local crafts, selections from their martini-loaded specialty list, and film-homages like Scotch & water for the new Bond film.
Recommended Video
This Mojito Hot Toddy Is the Destroyer of Colds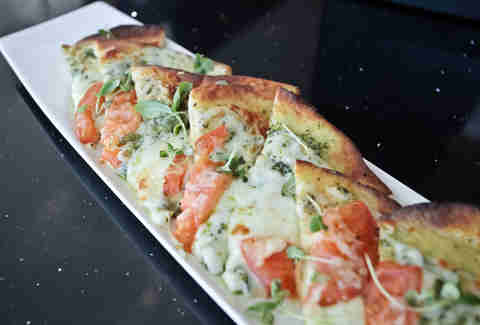 Previous Venue
Next Venue
Venue Description
1. ArcLight Cinemas La Jolla
4545 La Jolla Village Dr, La Jolla, CA 92122
Take in a flick at ArcLight, which boasts extra-wide (and reservable!) seats, soundproof theaters, and a cafe menu featuring cheese & fruit platters, sweet potato fries, and cupcakes from Cups La Jolla. So yeah, put those Sour Patch Kids in your girlfriend's purse.