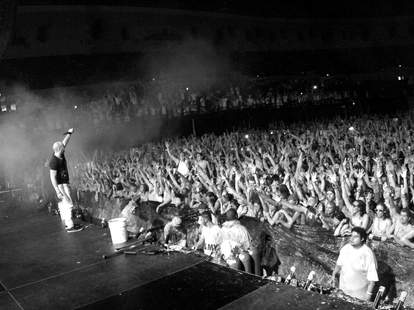 In an effort to incense more neighborhood associations! return music to the streets of SD, the crew at VAVi and friends have put together an all-new fest with more than 25 acts (Cold War Kids, Designer Drugs, TOO SHORT, etc.) on four stages spread throughout five blocks of the East Village. Even better, they've enlisted nearby establishments to aid in throwing together a VIP package that only costs an additional $25, but gives you at least $27 in benefits, like a "keepsake, beaded VIP credential"(!). And if that's not enough, check out the other six reasons you need to rock out at this thing like a VIP:
1. Express Admission: Just like when you hit puberty in 5th grade and got way bigger than everyone except that weirdly tall, scary girl, you can totally cut the line and nobody can do s***!
2. Club VIP Area: Quit sweatily rubbing up against normal people, and sweatily rub up against other, probably better-smelling VIPs in this exclusive section, which will battle plebeian queues with a separate bar and extra bathrooms.
3. Free Admission: To more than 20 Gaslamp/East Village venues
4. Welcome Shots: Eight of those fine establishments will pour you a comped shot on entry (Bare Back Grill, Cremolose, Dragon's Den, F6ix, etc.), so eight shots at the average DT price of $13 is... like, $40,000 worth of free booze!
5. Specials: Not content to just pour you comped shots, each spot will be running sweet food and/or drink hookups like $2 beers/ banh mi tacos at Analog, an 18" one-topping pie and a pitcher for $20 at Ciro's, and even a free small plate of the chef's choosing at Toast Enoteca.
6. Free Ride Home: If you manage to remember what a shuttle is by the end of this mess, they'll run you back to your place anywhere in SD County so you can get home responsibly and incense your own neighborhood association.