Petco goes post-apocalyptic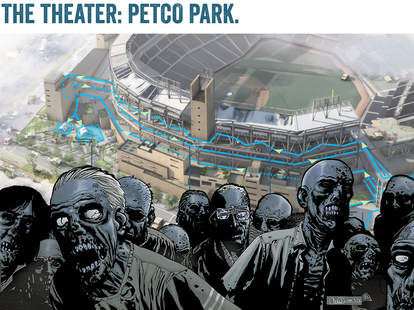 Not just what everyone hoped the zombies in Heshel's barn would do during Season Two, The Walking Dead Escape is a spankin' new, three-day event from the dudes behind the graphic novel AMC's show is based on. It thrusts participants into an un-timed obstacle course where they try to avoid being infected by hordes of undead while strategically crawling/ hiding/ climbing /dancing(?) their way through the stadium, which is made to look like the early days of infection by "literally transforming Petco Park", even though the typical Pads crowd is much scarier.
The course is divided into different sections and while they're keeping the particulars pretty hush-hush, they have released the names. So naturally, it can't hurt to guess what'll happen at:
Initiation & Preparedness: There'll be all these dudes in glasses being like "don't get your brain eaten by a zombie". Next!
FEMA Resupply Depot: FEMA gives you stuff during disasters, like waters and granola bars and those little individually wrapped after-dinner mints, so this might be where you get food and drinks. Then again, they also suck at it, so this is likely a trap.
Herd Highway: Not quite sure what to make of this, but whatever you do, don't start siphoning gas en masse here.
Acute Zombie Infestation: This is likely where all the zombies move in One Direction, and... swoon
Evac Zone & Decontamination: Still not dead? Well then this is probably where you get a trophy that says "My brain is not delicious". Or "It's braining men. Hallelujah". Or something not as good.
If you prefer to be the one playing dead, you can also sign up to be a walker, get all gussied-up in your best zombie costume, and terrorize the city by making the stadium look just like it did during last month's series against the Nationals.