Tonight you're going to party like it's 19... 20-something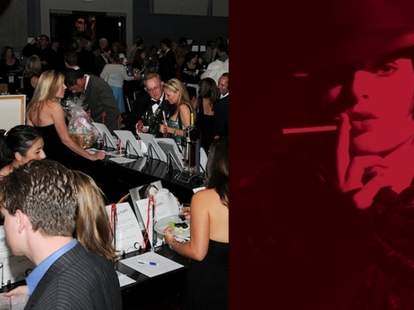 The '20s were a magical time, only marred by a drought of booze. And maybe also that actual drought that eventually caused the Dust Bowl. But forget that depressing second thing, as the fine folks behind the San Diego Wine & Food Festival are bringing you a speakeasy-themed, all-inclusive bash benefiting Elderhelp, which apparently isn't a tip line for that geeky RPG with the scrolls, so forget about becoming the Thieves Guild Champion and focus on:
Gourmet Eats from heavy-hitters including the Urban Solace/ Solace & The Moonlight Lounge chef whipping up sauteed, wild white shrimp with crème fraiche and chilies on a sweet potato cake, and the Searsucker pastry chef making strawberry rhubarb shortcakes.
A Prohibition Punch Station overseen by old-timey fat dudes wearing boxing gloves mix-master Jeff Josenhans, pouring warlock concoctions like Flowering Spring Punch with Nolet's gin, Moscato, lemon, and a touch of his newest creation, a bottle-fermented version of the Moscow Mule called Cocktails Sur Lie.
A secret password-guarded Casino Room where the most successful craps, black jack, roulette, and "let it ride" winners can walk off with prizes like a trip for two to Laughlin (Hint: expect the password to be "Chrissy Russo" or "Chris E. Russo").
A Cigar Bar from the geniuses at Payne-Mason, who skirt the Cuban import laws by importing Cubans of the human variety to roll stogies here from premium 5-10yr-old tobacco, which sadly isn't even old enough to smoke itself.
They're also running a Silent Auction with swanky packages like a private box at Churchill Downs/ luxury accommodations for a four-night stay at the five-star Brown Hotel, which is hopefully romantic enough to end the kind of drought you're currently in.