Whiskey fests! Beer fests! Sausage fests!
San Diego Event of the Week
Jsix is hosting the Grain and Oak Fest at 6pm tonight where there will be hosted small bites, whiskey punch, and plenty of chances to taste premium whiskeys, scotches, and ryes while enjoying live music, raffle prizes, and the fact that you have been drinking plenty of whiskey.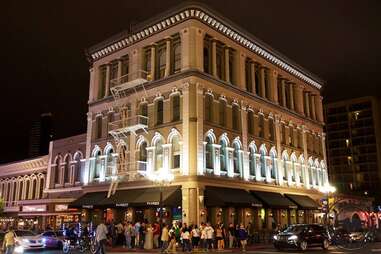 Saturday, July 12th: The 4th Annual San Diego Brew Fest is happening in Liberty Station from 3-6pm with more than 100 local and international brews, food trucks, live music, a VIP hour, and a desperate need for a Bloody Mary the next day.
Saturday, July 12th and Sunday, July 13th:
The 61st Annual Over The Line Tournament is back again this year and despite rumblings that the BYOB tradition would be nixed at this year's competition, the city has issued a special events permit allowing the tradition to carry on! Yay government! This all-ages event is free to the public, and the softball games get started at 7:30am, continuing until dark on Saturday and Sunday.


Wednesday, July 16th: The annual San Diego Sausage Fest is returning to LOUNGEsix again this Summer where 10 chefs will be serving their best sausage recipes to attendees for a public vote and a chance to win the title of Sausage King. Lost Abbey will be onsite releasing their new brew, Road to Helles, and there will be live music from The Tighten Ups.