As far as people who can't get enough of the outdoors goes, San Diegans are at the top of the pile. There are plenty of ways to get that outside adrenaline rush here other than your commonplace runner's high or hitting the waves (not everyone knows how to surf!). If you're chasing that socially acceptable high, take to the water, sky, or the spirit world -- these experiences will leave you more hyped than any workout you'd get in at a CrossFit class (and won't immediately brand you as a douchebag).
Go skydiving
If you want to stretch a minute into eternity, jump out of an empty plane with a stranger and nothing but a parachute strapped to your back. That's exactly the experience the skydiving operators in San Diego, like GoJump Oceanside or Skydive San Diego in Jamul, want to give you. The weather here is almost always conducive for a jump, so suck it up and cross this one off your bucket list.
 
San Diego is home to California's longest zip-line, located inside the La Jolla Indian reservation. Oddly enough, the zip-line is not actually in La Jolla, contrary to the reservation's name. Still -- fly through more than a mile of jungle as you glide amid the tree canopy, through canyons, and over the San Luis Rey River. Abandon all ideas of the selfie -- you'll only drop your phone when you hit the max speed of 50mph.
Kayak through sea caves
One of the best ways to explore the nooks and crannies along the coast of La Jolla is by way of kayak. The barking echoes of seals and sea lions bounce off the cave walls, making for a loud, exciting adventure. The tide has to be low enough to kayak through, but it's definitely worth the extra planning. And you don't have to worry about how you're gonna convince your one friend with a kayak to let you borrow it -- guided tours from Everyday California and La Jolla Sea Cave Kayaks provide all the gear for a flat rate.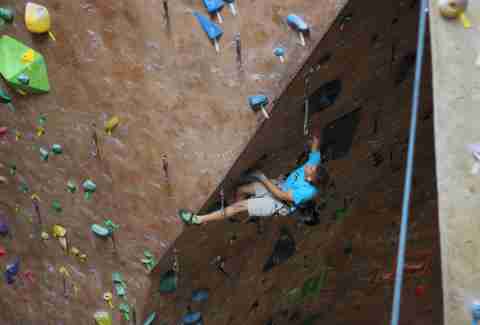 Rock climb, indoors or out
While natural rock climbing isn't extremely abundant, indoor rock climbing gyms are exploding throughout the city -- there's Mesa Rim, Vertical Hold, and Solid Rock, among others. Most have classes in bouldering, so you can take what you learn indoors to nearby rock-climbing destinations like Joshua Tree. Prepare for everything to be sore the next day if you're not a wall hound.
It's the one thing on here not extraordinarily physical, but it's guaranteed to get your heart rate up: The Whaley House in Old Town was ranked the most haunted house in America by Travel Channel's America's Most Haunted. It has a long history of death on the property; before the home was ever built, the land was used as a location for gallows, so you know that the reality TV show is based at least somewhat in truth. Hop on a night tour for the chance to convene with lingering spirits.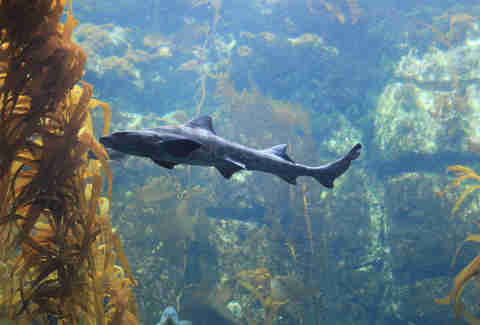 Get up close and personal with sharks without that pesky cage getting in the way. Michael Kazma is like the shark whisperer, attracting blue and mako sharks with hand-feeding techniques earning him the nickname Mako Mike. Groups take a boat offshore about 12 nautical miles, where they can free-dive or snorkel with the sharks while Mike chums the water and has them literally eating out of his hands. If hanging out with Jaws' buddies leaves you wanting more, you can also sign up for shark feeding and underwater shark photography classes. If blues and makos are too aggressive for you, go for the elegant leopard shark. Every summer, pregnant ones flock to San Diego's warm waters; all you need is some snorkel gear and a little patience. The best place to see them is in La Jolla Shores where the waves are gentle. They're most active between June and December.
There are few things that will make you look more badass than doing a wheelie on a motorcycle. If you spend the day at the Barona Drag Strip with professional motorcyclist Brian Steeves, you can learn how to wheelie without landing yourself in the ER in the process. You don't even have to own a motorcycle. Wheelie University hooks students up with everything they need, from safety gear to a Triumph Speed Triple 1050. Once you've gotten the hang of things on the Triumph, you can sign up for the level two course and learn how to wheelie on your personal motorcycle.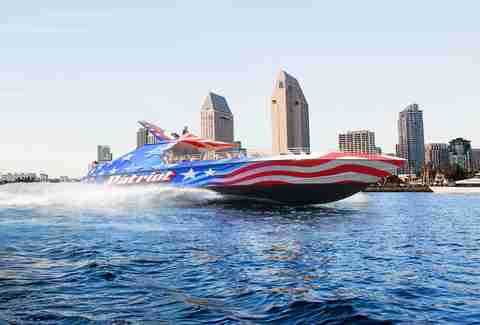 Seeing a live whale is always a rush. But it's even MORE of a rush when you're in a 70ft jet boat powered by two 1,400-horsepower engines, blasting across the water. You can ride into the open ocean aboard the Patriot for whale-watching tours December through April, but the action doesn't end with the migration season. They also offer adrenaline-pumping thrill rides where they crank the tunes and hit the throttle, zipping across San Diego Bay doing high-speed 360-degree turns that'll have you white-knuckled and grinning like an idiot.
Now you can re-enact the scene from Fifty Shades of Grey (no, not THAT scene) while gliding high above SD. On both the Aerobatic Ride and the Super Spectacular Aerobatic Ride, you'll be wearing a parachute -- which you hopefully won't have to use -- and doing loops and rolls as you soar through the air in a sailplane. If just going along for the ride leaves you wanting more, Sky Sailing offers lessons, so you can learn how to glide solo.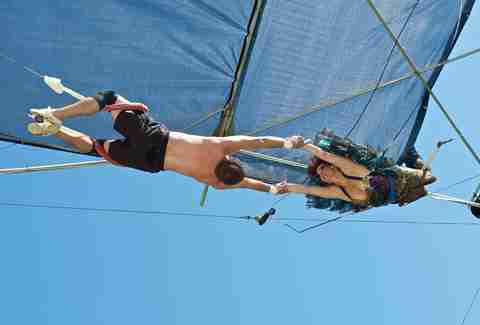 Every kid wants to run away to join the circus, and this is your chance to make that dream come true. Enjoy the rush of swinging through the air while learning stunts, back flips, and catches. If jumping off of that platform doesn't make you pee a little, then you might want to have your vitals checked.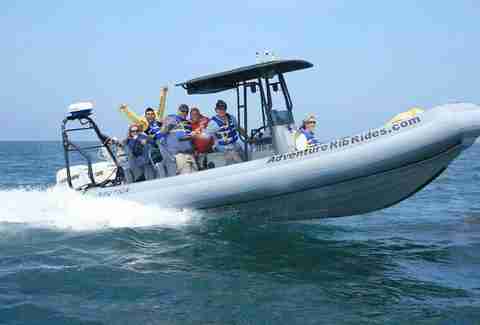 Adventure R.I.B. Rides will have you skimming across the water on a high-speed excursion to catch up with whales and dolphins in a Navy SEAL "rigid-hull inflatable boat (RIB)." The bright orange jumpsuits it provides might have you looking like a boat full of escaped inmates on the run, but you'll be glad you've got that thing on once you hit the open ocean at 50mph. At those speeds, you're pretty much guaranteed to catch up with pods of curious and playful dolphins that will swim right along with the boat.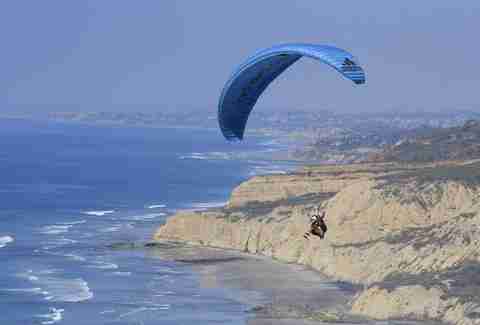 There is no better way to conquer a fear of heights than to jump off a cliff. Luckily, you'll be attached to one of the most experienced tandem instructors in the world. Whether you choose to paraglide or hang glide, you'll soar like a bird high above the coastline of Torrey Pines, get a look into the backyards of all those fancy La Jolla mansions, and then come in for a landing amongst the nude sunbathers on Black's Beach.
Hoverboard like Michael J. Fox and fly like Ironman
Thanks to this country's obsession with Back to the Future, we're still awaiting the arrival of hoverboards. At least for now, the water-powered flyboards and jetpacks at places like Aquatic Aviation are the next best thing. Pick the Flyboard or the Hoverboard, and, after a quick 10 minutes of instruction, you'll be flipping through the air and diving under the water like some sort of futuristic Flipper (or at least Kenny Powers). Jetpack America offers the superhero experience by strapping you to a jet pack, propelling you up to 30-45ft above the water with high-pressure washers that expel up to 1000 gallons of spent water a minute. If it's cool enough for Tony Hawk (who gave it a whirl earlier this year), it's certainly cool enough for you, too.
Sign up here for our daily San Diego email and be the first to get all the food/drink/fun in town.
Ellen Wright is a freelancer at Thrillist who is currently trying to figure out how to build a zip-line in her front yard. Follow her progress on Twitter: @PacificPolished.