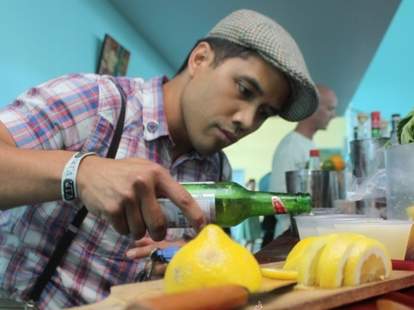 You likely already know about San Diego Spirits Festival, the liquored-up bacchanalia hitting Port Pavilion next week. But what you don't know is that, aside from the cocktail competition (being judged by a certain, handsome, non-specific email publication editor), mo' food trucks than you can shake a relatively light food truck at, and live music, there is a ton of new stuff, including:
Ron Jeremy. He's got a rum (Ron de Jeremy, no joke), and he's going to be there, encouraging you to drink said rum, and definitely not saying lewd double-entendre-esque things about putting it in your mouth.
Chefs demonstrating cooking techniques using booze! And then giving out samples of that stuff, so people don't leave their tent.
Booze from spots like Crater Lake Gin, El Cartel Tequila, and Lithuanian Vodka. Because, seriously: screw Latvian vodka.
A VIP tent furnished by the Barrely Made It Guy with wine barrel furniture, and people hiding from Ron Jeremy.
Something called Naughty Cow Chocolate Milk For Grown Ups.
Something else called Pink Pigeon Rum, which Ron Jeremy did not have a hand or anything else in making, thank God.