Are you ready for National S'mores Day, San Diego?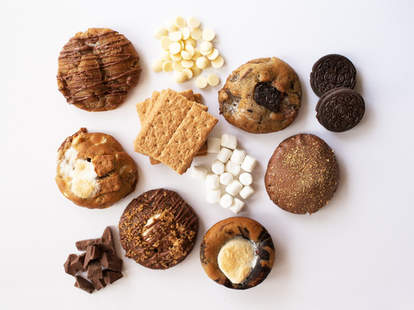 San Diego Event of the Week
Everyone's favorite campfire treat now (apparently) has its own national holiday on August 10th (National S'mores Day), and several places in SD are celebrating with s'more sweets that will make you wish that you were camping. Betty's Pie Whole Saloon in Encinitas will be featuring S'mores Pie, made with Belgian chocolate and house-made marshmallow that's baked in a crisp graham cracker pie crust, or get the ice cream version with a whole S'mores Pie churned into Tahitian vanilla bean ice cream. Elizabethan Desserts will have their famous S'mores Bars available, made from Belgian chocolate, peanut butter, creamy butterscotch, and house-made marshmallow blow torched on a graham cracker. The Cravory is doing S'mores six different ways -- in cookie form -- for only $1 each on the 10th. Mix and match flavors like Nutella S'more, Brownie Batter S'more, and S'moreo, because s'mores and Oreos clearly belong together.
Thursday, August 7th: It's National IPA Day and The Patio on Goldfinch is working with Andrea's Truffles and three local breweries to celebrate with a truffle and beer pairing. You can get three 8oz pours paired with delicious treats -- like Societe's Apprentice with Bucheron goat cheese, Ballast Point Sculpin with Sculpin pretzel bark, and Benchmark Brewing SD71 paired with blackberry sage. Continue Reading
Del Mar Thoroughbred Club
Saturday, August 9th: This Saturday, take in the races and get some BBQ at the Del Mar Grill Fest. The 2nd annual shindig will have 20 BBQ pros and local restaurants serving meats, seafood, veggies, and desserts from 1pm until the food runs out, so go help them run out of food quickly.
Sunday, August 10th: There's always a party happening in Hillcrest, and this Sunday from noon-11pm, CityFest is taking over 5th Ave from University Ave to Brookes Ave. There will be carnival rides, a water slide, a beer garden, two music stages, and a drag queen dunk tank.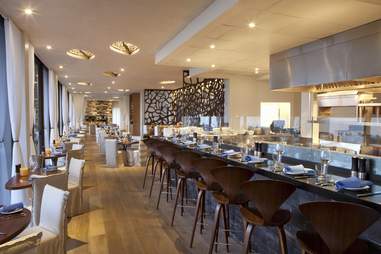 Cusp/Amy K. Fellows
Tuesday, August 12th: The World Cocktail Club Series is back for a second round at Cusp in La Jolla. This time, head bartender Chris Burkett and Chef Donald Lockhart are focusing on Spanish cuisine. Starting at 5pm, they will be serving three courses, pairing cocktails like the Bamboo with jamón serrano croquettes, the Widow's Kiss with seafood paella, and the Spanish Rose with fried cinnamon pastries and guajillo-spiced chocolate ice cream.