Remember that one time when you were like, "Dudes, we gotta go to Vegas this weekend. I know a guy who can get us a sweet room hook up at Circus Circus," and your bros were like "Circus Circus? Um... DEFINITELY"?? Well, believe it or not, there are actually even awesomer places where you can gamble that a) aren't 5hrs away, and b) aren't Circus Circus. Here're six where you can split eights, hit some ridiculous buffets, and catch a clothing-optional show without ever having to go anywhere near the 15.
Recommended Video
Please Don't Hang Up: The Best Things to See, Eat, and Do in Seattle, WA
Viejas Casino and Resort (Alpine, CA)
Drive about half an hour East of San Diego and you'll find Viejas Casino, where they've taken everything awesome about the Strip, from gambling, to shows, to outlet shopping, and crammed it into their own mini-Vegas.

Why it's awesome: For the gambler, Viejas has tons of slot machines, 32 table games, plus off-track betting and a poker room. When your luck/money runs out, you can max out your credit card at a bowling alley, arcade, and an outlet mall, or hit up one of their five restaurants, including one of the largest buffets in SD, which features unlimited beer, wine, and champagne -- plus a bloody mary bar during weekend brunch.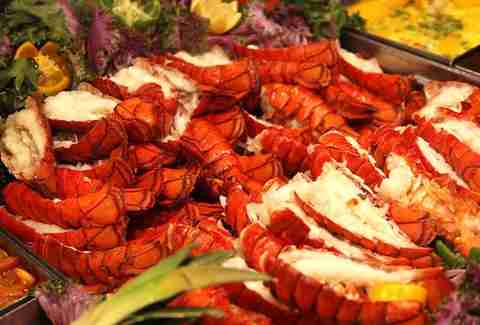 Valley View Casino (Valley Center, CA)
You'll most definitely want to get your picture taken with Valley View's mascots: a giant lobster named Larry and two women bedazzled in money, all three of which you can find roaming the casino floor. Skip the table games and you might have a slightly better chance of getting lucky with SD's only Certified Loose slots… no, SLOTS, c'mon, this isn't actually Vegas.

Why it's awesome: Make sure to wear your stretchiest pants, because this is the home of SD's only all-you-can-eat lobster buffet -- Maine lobster available seven nights a week and all day on the weekends, in addition to 200 other dishes and a 100ft dessert bar.
Barona Casino (Lakeside, CA)
Looking like some sort of majestic castle amongst rolling hills, Barona's been voted best casino and buffet by the people of San Diego three years in a row.

Why it's awesome: Next time you're on a hot streak, you won't have to be distracted by the rumbling pangs of hunger, just order a slice of pizza or some taquitos from their Gameside Dining menu and have it delivered right to the table.
Pala Casino (Pala, CA)
Not only is this a casino with 2,000 slots, 87 table games, a feng shui designed high-limit game room, and 10 restaurants -- it's also a luxury spa resort.

Why it's awesome: They don't call their buffet Choices for nothing. You have over 200 options, including a chicken wing sauté station with about 20 different sauces.
Harrah's Rincon Casino & Resort (Valley Center, CA)
Harrah's might be as close as you're going to get in terms of a Vegas experience outside of Vegas, with several top-notch restaurants on the property, a lazy river, and SD's only swim-up bar.

Why it's awesome: Adultswim at the new Dive Dayclub was the hottest pool party of the summer, and now that Fall is here, you can hit up 1st & Dive on Sundays to tailgate poolside. Reserve a cabana with your own personal TV to watch the game, plus there are drink specials, a bloody mary bar, and Charger-inspired Bolt–'ritas.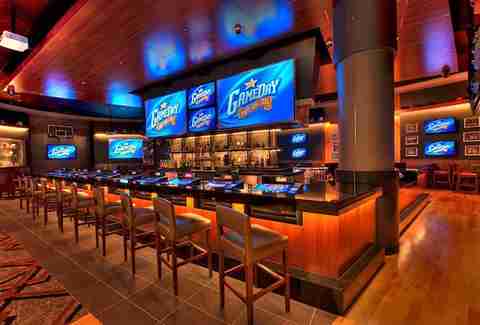 Sycuan Casino (El Cajon, CA)
If your hoopty won't make the drive to any of these other spots, then Sycuan is the casino for you. It's right in El Cajon, and if you join Club Sycuan for free, you can catch a ride on one of their shuttles at spots all over town.

Why it's awesome: Sycuan is not only a casino, it's a resort with 54 holes of golf course open to the public, and the GameDay Sports Bar & Grill might be the best place anywhere near SD to watch a game, with 39 big screens and five 100in projection TVs. Even cooler: GameDay's also got bar top video poker, 12 beers on tap, and a huge menu full of bar food staples like a Build-A-Burger with 32 customizable options.