Hidden Gems in San Diego to Restore Your Zen
From butterfly gardens to aerial yoga, these hidden treasures will put you in your happy place.
Just because we live in paradise doesn't mean that life is always rosy here in America's Finest City. Two years of a global pandemic, the increasing threat of climate change, and the continued erosion of human rights for women, LGBTQ+ people, and POC across the nation, plus all the other stuff that goes along with normal adulting can have even the most optimistic of us feeling a bit downcast at times. Whatever the reason, sometimes you just need to take a break from it all to carve out a little peace and restoration, whether it's lounging on a relaxing beach, exploring a stunning museum, enjoying a delicious picnic in the park, or skipping town for the weekend.
We've rounded up all the best places you can go for the perfect antidote to life's worries, from a serene butterfly garden and a walking bridge with a musical secret to high-flying yoga and a quartet of scenic, stress-busting hikes ranging from easy to challenging. Best of all, nearly all of them are free! So turn off your cell phone for a couple of hours, grab your sunscreen, and check out our list of a dozen secret and not-so-secret spots to reclaim your zen.
Point Loma
The Bayside Trail leads to the Cabrillo National Monument, San Diego's urban National Park, not only providing stunning, 360-degree views of the skyline and water, but wide, gently sloping trails and an array of accessibility options that make it easier for everyone to enjoy. The 2.4-mile, out-and-back route does have a couple of steeper spots to negotiate, but numerous benches along the way ensure plenty of prime viewing options and opportunities to commune with nature. Once you've made it back to the top, head down to the Point Loma Tidepools and Bluffs Trail for an additional easy, one-mile hike downhill to the famous tidepools.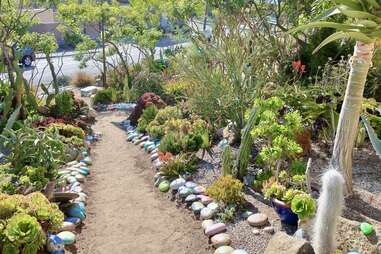 Encinitas
Once a weed and garbage-filled vacant lot, Dave's Rock Garden is a seven-year labor of love. Dave Dean began clearing the trash from the state-owned lot near his Encinitas home, eventually adding drought-resistant plants like cactus, bromeliad, and other low-maintenance vegetation, and carving walking paths through the property, which he lined with smooth stones. The rock garden was inspired by an Arizona artist, Candace Jesse Jessup, who was visiting and, as a thank you gift to Dave for his hard work, painted a mandala on one of the rocks she found there. Dave began painting rocks in brilliant colors, and invited neighbors and visitors to paint them too. The garden is now home to more than 7000 beautiful rocks, painted by locals and travelers from all over the country and the world, inviting the public to wander, read uplifting messages, meditate while sitting on the stump seats or near the small shrine, and even paint their own rock at the art station, where Dave provides the necessary supplies. The garden has no website, but can be found at 200 B Street in Encinitas.
Balboa Park
Nestled between the Reuben H. Fleet Science Center and the Casa de Balboa in Balboa Park is Zoro Garden, named after Zoroaster, founder of one of the oldest organized faiths, Zoroastrianism. The sunken grotto was originally built for the Panama-California Exposition in 1915-16, and renovated in 1935 to host the California Pacific International Exposition, where it was home to a nudist colony of sorts. Sideshow promoters Nate Eagle and Stanley R. Graham charged the public 25 cents each to enter the garden, where they could watch paid actors in loincloths and body stockings pose, play sports, and engage in quasi-religious ceremonies. Today, Zoro Garden has been turned into a serene butterfly garden, where monarchs, swallowtails, and sulfur butterflies drink water from tiny pools in the rocks and plantings include food sources like milkweed, passion fruit vines, and California lilac for butterfly larvae, and verbena, butterfly bush, lantana, and the like provide nectar for adult butterflies.
Old Town
Cemeteries are surprisingly popular destinations for people who seek solace and comfort. After all, they're quiet and no one's going to bother you. Founded in 1849, El Campo Santo Cemetery is San Diego's oldest. Now part of the Old Town San Diego Historic Park, it was in active use until 1880. Although only 477 of the original graves are still visible, the site provides visitors a glimpse into San Diego's historic past, and is a short walk from one of San Diego's most haunted homes, The Whaley House. Unfortunately, as San Diego boomed, parts of the cemetery were unceremoniously paved over, beginning in 1889 with a streetcar track. Today, more than 20 men, women, and children are interred under San Diego Avenue. If you look down on the sidewalk and road just outside the cemetery gates, you'll be able to see small brass circles marking the grave sites that were rediscovered in 1993 via ground-penetrating radar.
Coronado
Labyrinths are winding paths, most often designed in a circular pattern, that begin at an outside entry point and end in the center of the design, and have been used as a meditative tool for centuries, across cultures and religions. Using a labyrinth is easy, just walk slowly, focus on the pathway, and let your mind wander. In time, you'll feel more relaxed and calm as your right brain releases feelings of serenity and creativity. The labyrinth at Sharp Medical Center in Coronado is a brick replica of the world famous eleven-circuit Chartres Cathedral Labyrinth and is open to the public at any time. Find its exact location with the World-Wide Labyrinth Locator, as well as several other San Diego-area labyrinths you can explore.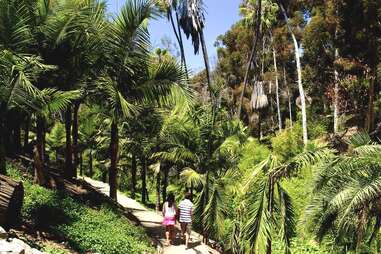 Balboa Park
Palm Canyon is a well-hidden, two-acre garden with a winding path that descends into a cool, refreshing ravine with thickets of towering palms, including a grove of Mexican fan palms dating back to 1912. It was established by botanist, horticulturist, and landscape architect Kate Sessions, who has her own park in Pacific Beach. The more than 450 palm trees and dozens of massive deciduous trees with beautiful spreading roots and thick, sturdy branches form a lush, shady canopy that's soothing and serene. There's also a charming wooden footbridge that runs from the Alcazar Gardens parking lot to across the street from the Spreckels Organ Pavilion. The trail can be accessed from just behind the Mingei International Museum.
Julian
Stonewall Peak Trail in Cuyamaca Rancho State Park feels like a backcountry hike, sans the two-hour drive. Spectacular vistas and ever-changing vegetation along its 3.4-mile out-and-back course provide plenty of opportunities to stop and smell the roses, or in this case, wild sage and rose mallow. Thanks to a series of gentle switchbacks up a mere 830-foot elevation gain, along with plenty of shade from the beautiful forest setting, hikers of almost any skill level can hit the summit for spectacular, 360-degree views of Lake Cuyamaca and the Cuyamaca Mountains. Afterwards, you're just a quick ten-mile drive into Julian for a guilt-free slice of their famous apple pie to keep you in your happy place.
Sherman Heights/Golden Hill
Spanning the Martin Luther King Jr. Freeway between Golden Hill and Sherman Heights, this metallophone (a series of metal bars or tubes that plays a tune when struck in sequence), was created by artist Roman de Salvo and musician Joseph Waters in 2003. Consisting of 488 tuned chimes, attached to the bridge railing the melody is a palindrome—it sounds the same from either direction. Take a metal object with you though, using your hand or a stick doesn't really work. Here's what it sounds like when played by the composer.
Julian
Three Sisters Falls isn't exactly a secret, but it's a beautiful spot to relax and unwind. The challenging out-and-back hike begins with a two-mile, 980-feet descent that includes some bouldering, climbing, and traversing before you reach the sparkling falls and pools. Climb up to the top falls or scramble on the boulders and rock faces either before you go for a swim or after you dry off—the polished rock walls and boulders can be slippery. There's no shade for most of the way, so bring more water than you think you'll need and plenty of snacks. Fuel up after you take a dip, and save plenty of supplies (and time) for the return trip, which is two miles uphill, remember?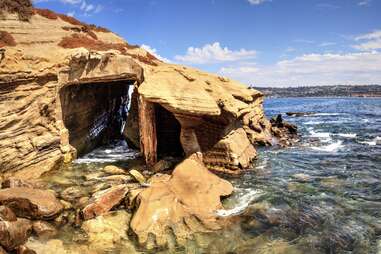 La Jolla
Thousands of years of pounding surf and storms along La Jolla's coastline have created La Jolla Caves, a series of seven sea caverns nestled between La Jolla Shores Beach and La Jolla Cove. Only one, Sunny Jim Sea Cave, is accessible by land, via The Cave Store, a tunnel and a 145-step descent down a wooden staircase, but it's worth the $10 fee. If you want to see all seven, your best bet is to rent or bring your own kayak and explore them from the sea. Two caves, Clam Cave and Arches Cave, are large enough to enter by kayak, and you must be with an approved kayak tour, but you can swim into them all, or just relax and enjoy the wildlife—you might see leopard sharks or garibaldi swimming by, or sea lions lazing on the rocks.
La Jolla
Yoga is a great antidote to a nerve-wracking day—deep breathing, stretching, and the all-important savasana can bust you out of a bad mood in no time. Whether it's your first class or you're a lifelong yogi, you'll soar to new heights with Trilogy Sanctuary's rooftop aerial yoga class, which uses long, hammock-like loops of fabric that let you hang, swing, dangle and rock your way through a series of asanas, guided by a certified aerial yoga instructor. Ranging from floating and gentle stretching to strength building and dynamic dance-like classes, aerial yoga is accessible to nearly all ages, body types and experience levels. If it's your first try, sign up for Aerial Yoga L1 and Aerial Healing L1 to learn the ropes, while more advanced aerial practitioners will enjoy Aerial Fitness, Aerial Lyra, Aerial Strength and Aerial Flips and Tricks. Bonus: the studio also has a cafe that serves amazing organic, vegan, gluten-free smoothies, bowls, salads, entrees, and desserts, so you can refuel after your session.