Just when you thought you had seen and done everything San Diego has to offer, some super-useful city guide (us!) comes along and shows you that you're WRONG. So, so wrong. Here's proof. 12 different forms of it, in fact. Here are a dozen secret things in San Diego, only some of which involve thousands of dead bodies.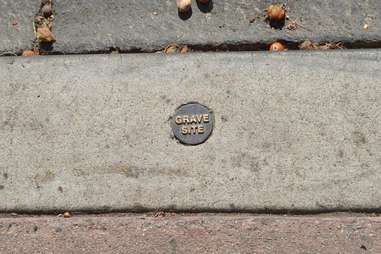 You've been walking over graves along San Diego Ave
Old Town
In 1889, a horse-drawn streetcar line was built through El Campo Santo Cemetery, where more than 20 men, women, and children were interred under what is now San Diego Ave. If you look down on the sidewalk/road just outside the cemetery gates, you'll be able to see small brass circles marking the grave sites that were found in 1993 via ground-penetrating radar.
This garden is full of giant creatures
Mission Hills
Over 50 creatures and shapes populate Edna and Alex Harper's hillside topiary garden, which is open for viewing by the public. Your move, Edward Scissorhands.
You can visit an old newspaper tycoon's house
Old Town
Heritage Park Victorian Village is a cluster of restored Victorian homes, including The Bushyhead House, named for former owner, Edward Wilkerson Bushyhead: the first publisher of (what is now) The San Diego Union-Tribune, and winner of the Best-Last-Name-Ever Award.
There's a dangerous surf trail with a Vietnamese name
La Jolla
Most seasoned surfers have been down (and eaten s*&% on) the Ho Chi Minh Trail (stateside version), a slightly death-defying path accessible via a walkway next to a house on La Jolla Farms Rd. Highlights include the Sand Steps, a narrow passageway between two small sand cliffs with footholds created by surfers coming and going over the years.
There are THOUSANDS of bodies buried in Mission Hills Park (aka Pioneer Park)
Mission Hills
From 1876 to 1960, Pioneer Park was Calvary Cemetery, a Catholic burial ground where somewhere between 1,600 and 4,000 people were laid to rest. When the city transformed the site into Pioneer Park in the late '60s, it took away its 800 or so gravestones (except for a handful at the park's southeastern edge) and "stored" them in a ravine near Mt. Hope Cemetery. The bodies remained, however, and some of the names of the people interred in the park are listed on a memorial at its center.
There's a sculpture that looks like, well, look at it!
UCSD
Located on John Jay Hopkins Dr and General Atomics Ct in front of Scripps Green Hospital, this 13-foot bronze sculpture was created by artist William Tucker (for $200,000 in '87), who said its shape suggests a "wave," calling it Okeanos. Others know it by it's more colloquial and, dare we say, accurate name, "The Scripps Turd Sculpture".
There are footbridges straight out of Monty Python
Bankers Hill
There's the Spruce Street Suspension Bridge (built in 1912) spanning Kate Sessions Canyon between Front and Brant St, and the Quince Street Bridge, a wooden pedestrian bridge spanning Maple Canyon between Third and Fourth. If a peculiar old man requests that you answer three questions, tread carefully.
SDSU owns a hidden off-limits waterfall
Mission Valley
Adobe Creek Falls is a multi-level waterfall across the freeway from SDSU, representing one of the only year-round waterfalls in the city. When the I-8 wasn't built yet, people used to come to this historic site for picnics, etc., but the SDSU-owned falls are off-limits now. So, like TLC once so wisely said: "Don't Go Chasing Trespassing on Waterfalls."
We have man-made salt mountains
Chula Vista
San Diego's second-oldest commercial business (oldest: the Union-Tribune) produces about 75,000 tons of salt per year by extracting it from the sea. You should care because A) it's hardly changed at all since its start in the 1870s, B) it's actually good for the environment around it, and C) those salt mounds look like glaciers, right?!?
The 25th Street Bridge doubles as a musical instrument
Sherman Heights/Golden Hill
On the railing of this bridge spanning the Martin Luther King Jr. Freeway, this carillon (a series of chromatic bells that plays a tune when struck in sequence), created by artist Roman de Salvo, plays a cool tune, but you need to bring a pipe or something, because your hand just isn't going to work.
There's an underground party fronted by a Chicago blues man
Gaslamp
From 9pm onward every Wednesday night (except for the last of the month), Chicago transplant and true blues musician Stoney B and his band (they've opened for B.B. King) play blues at a you'd-never-know-it-was-there-unless-you-were-looking-for-it speakeasy next to Hennessey's Tavern Downtown. If you don't like good music and fantastic craft cocktails, definitely don't go. There's no cover/ticket purchasing involved.
You can experience Pet Cemetery for real
Sorrento Valley
Since 1955, this pet cemetery along the 5 freeway has been a place you want to avoid during Halloween all the time.
Sign up here for our daily San Diego email and be the first to get all the food/drink/fun in town.