So you decided to make all of your California dreams come true and move to San Diego. We don't blame you; San Diego is pretty great. Which means you're definitely not alone in being a newbie. But you need to start blending in with the locals. Here are 15 ways you're giving yourself away:
1. You're pale
Whether hiking, surfing, or just drinking on a patio, San Diegans love being outside. Most people in SD are somewhere between "tan" and "tan enough to freak out a dermatologist" all year round, so if your skin resembles the shade of the snow you just fled, then you either just got here or you're a hermit. Soak in some vitamin D, stat.
2. You freaked out the first time you heard the SeaWorld fireworks
It might sound like SD is under mortar attack, but there's no need to take cover. After hearing them EVERY SINGLE NIGHT of summer you'll get used to it.
3. You're afraid to go to Mexico...
…because you think Tijuana is all about drug cartels and promiscuous donkeys. While you might not be entirely mistaken, TJ has cleaned up its act quite a bit. San Diegans regularly venture south of the border for cheap tequila, good food, and good times. Just don't go wandering down any poorly lit back alleys by yourself and you'll be just fine. Probably.
4. You order a generic domestic at one of our beloved beer bars
Know that we are all silently judging you. Or maybe not so silently, depending on which bar you visit.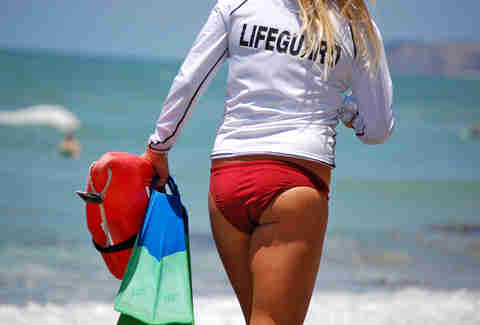 5. Lifeguards are running after you
No, they aren't reenacting a scene from Baywatch. They're probably trying to prevent your ignorant butt from getting taken out by a surfer. Those beach flags aren't just for decoration. If you don't know where you're supposed to be swimming, ask. It's a whole lot better than taking a board to the dome.
 
6. You haven't ventured away from the beach
Sure, PB is a great time, but there is so much more to SD than beach bars and debaucherous 21-year-olds (who are also a great time... sometimes). You live here now, get out and explore the rest of our fine city.
7. You're hanging out in the Gaslamp on a Saturday night
Unless you just recently became of drinking age or you really, really like to kick it with all the liquored up tourists, you should know that the only locals who hang out in the Gaslamp on a Saturday night are the ones who work down there. Try the East Village instead.
 
8. You're the only one swimming in the water after it rains
The clouds have parted. The sun is shining. Why not go swimming? Because it's gross. That's why.
 
9. You haven't pledged your loyalty to one taco shop yet
Picking a favorite taco shop is a right of passage, but first you have to try them all.
10. You've never done yoga or Crossfit
Oh, but you will. Oh yes. You will.
 
11. You think Potato Chip Rock is some new musical fad
We've all hiked Mt Woodson at least once. Until you have a profile pic of you doing something crazy on top of Potato Chip Rock, you're not officially a San Diegan.
 
12. You're overdressed for Black's Beach
You heard the surf was good, so you decided to hike down the hill to check it out. What someone failed to mention is that this spot is clothing-optional. Strip down -- you're about to learn the difference between the fantasy and the reality of a nude beach.
 
13. You haven't given up on the dream of finding an affordable apartment with air conditioning
Nobody in San Diego has air conditioning. Nobody. We like to tell ourselves that we don't need it. After a summer as hot as this one, we are obviously kidding ourselves, and so are you if you think you're going to find a place with an AC.
14. You've never had a California Burrito
Yep, there are fries IN the burrito. You're welcome, America.
 
15. Your windshield has accumulated a stack of parking and street sweeping tickets
In a city where most parking is on the street, do yourself a favor and read the signs... or you'll end up paying more in ticket fines than the entirety of your student loan debt.
Sign up here for our daily San Diego email and be the first to get all the food/drink/fun in town.