SD is a transplant city. So much so that the last time you ran into a native San Diegan, you probably called them a "unicorn" and pinched them to see if they were real. Which begs the question: how does someone become a "true San Diegan"? It's actually a rather straightforward, 26-step process.
To become a legit San Diegan you must…

26. Love San Diego
Some traveling nurse at your house party says, "San Diego's okay, but it's no New York or Seattle…". Yada yada. We get it. Really, we do. Even native San Diegans talk about living in a city that's actually walkable sometimes. But when they say that, they usually also say, "But I'll eventually move back". Because, yeah... look outside right now.

25. Get really good at applying sunscreen
The spray kind is your friend.

24. Become familiar with Slightly Stoopid. Ideally, learn to love them.
People who are from here generally love them. "Collie Man" is a classic. A classic!

23. Know San Diego's place on the "bad traffic" scale
We have our moments, but it's not THAT BAD. LA, Atlanta, and Houston are all so, soooo much worse.

22. Visit the original Stone location in Escondido
It's a one-acre beer garden filled with waterfalls, trees, chairs, picnic tables, a patio (yes, it's so relaxing), and a 12,000sqft restaurant... plus the production brewery, where you can take a tour and learn all about these world-famous Arrogant Bastards. Pro tip: save room for duck tacos.

21. Stop. Quoting. Anchorman.
We're more tired of "a whale's vagina" than all of those poor, overworked whale gynecologists are.

20. Watch the movies that were filmed in San Diego
If you watch Almost Famous with a legit San Diegan they'll be freaking out about seeing the Sports Aren... um, the Valley View Casino Center. Humph.

19. Make out with somebody on an abandoned lifeguard tower
Natives: you've totally done this. Back us up on this.

18. Make out with somebody on the beach
After prom, after weddings, at beach bonfires, after OkCupid dates, on the way home from the bars... especially on the way home from the bars.

17. Speaking of beach bonfires...
Do one. But if you want to do one on the 4th of July, you'll need to get to the beach early. Get there by 3am and you should be all set.

16. Go on a weekend trip to Palm Springs
You'll drink by the pool in extreme heat. That's it. That's all you'll do. But that's actually really relaxing. And at least one of your friends has a Grandma with a condo there so...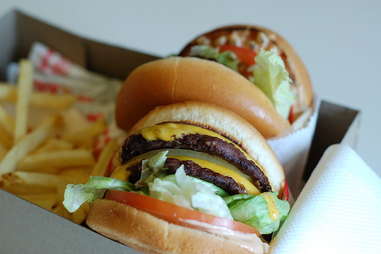 15. Become addicted to In-N-Out
It's credited with being the first drive-thru restaurant ever, and few things here are more universally loved, or eaten as often, as So Cal's holiest of burgers. If you don't like In-N-Out, you should probably keep it to yourself.

14. Go to a game
Getting free stuff from the Pad Squad, the seventh inning stretch, not getting your hopes up... it's all part of the San Diego experience.
Whether it's Juanita's, Rodrigo's, or one of the million other fine establishments, every true San Diegan has a delicioso home base.
12. Go to the Del Mar Fair
It wasn't always in Del Mar, and it was suspended during WWII, but the Fair's roots date all the way back to 1880 when a group of farmers came together to find out who had the best stuff, like citrus, pies, etc. Now that "best stuff" is everything from ShamWows to deep-fried everything.

11. Try surfing. Even if it's only once.
While other people are shoveling snow off their driveways, you're sun tanning in 80 degree weather. You owe it to those people to try surfing.
We become pros at surfing lessons, finding wetsuits for people to borrow, going to the zoo (again), conducting brewery tours, and locating the closest "authentic" Mexican food place...

9. Party in PB
Ugh, tons of college girls. UGH, tons of bars that stay open late. Ugh, an adjacent beach. No wonder PB has such a bad rap.

8. Visit The Brig
We won't tell you what the full name of this veteran seafood restaurant is, but here are some hints: it's named after a type of ship and it rhymes with Shmrigantine.

7. Experience Old Town
After you get carnitas and a margarita at Old Town Mexican Cafe, it's sort of like, "What's next?" Not much. Not much is next. You'll probably wander around a really old cemetery and buy a bag of saltwater taffy. Wouldn't change a thing.

6. Visit the zoo
It's world famous for a reason, yo.

5. Know your neighborhoods
People live in other places besides Downtown, PB, and North Park. There's Point Loma, Carlsbad, University Heights, El Cajon, Scripps Ranch...

4. Be disappointed by Lindbergh Field
It will happen to you eventually, because it's no LAX. This fact is glaringly apparent the day after Thanksgiving, when the check-in line extends a quarter of a mile... outside... in front of the airport. Because there's simply not enough space and there never has been...

Chase it with a considerable amount of fish tacos.

2. Visit the breweries near Miramar Rd
There's Green Flash, St. Archer, AleSmith, and Ballast Point just down the road in Scripps Ranch... you aren't official until you've learned to appreciate the local beer and its superiority to all other beer.

This practice is engaged in most frequently by... people who know anything about LA.
Sign up here for our daily San Diego email and be the first to get all the food/drink/fun in town.