5 essential weekend events in San Diego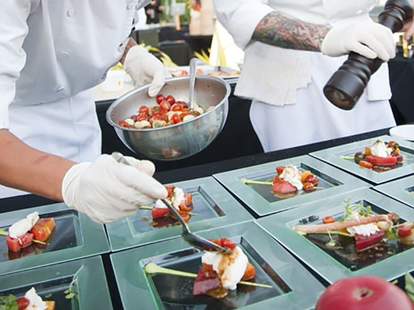 San Diego Event of the Week
Hotel Thrillist checks into San Diego this weekend, taking over the Hard Rock Hotel for an epic, weekend-long sendoff to summer that happens to include The Taste of Thrillist, a Friday feast hosted by celeb chef Brian Malarkey that features off-menu eats from all kinds of fine San Diego eateries (as in Donut Bar, Salt & Cleaver, Slater's 50/50, and more). Cleanse your palate in between stops with unlimited local craft brews (thanks to the San Diego Brewers Guild) and cocktails from Malibu Rum. So yeah, you'll want tickets to this. Free tickets to Friday night's feast for the first 25 people to buy tickets using "TASTEOFTHRILLIST".
Ironside Oyster
Thursday, September 18th: Some of San Diego's best chefs are showing their support for victims and raising awareness for domestic violence at the 10th Annual Chef Showdown. This year's event is being held from 6-9pm at SD Harley Davidson on Morena. The Iron Chef-style competition includes two teams of chefs and mixologists competing against each other, using a secret ingredient to create dishes that will be judged by a panel. 

Continue Reading
Saturday, September 20th: If you like it hot, then you need to be at the 1st Annual Sriracha Festival from 3-6pm at Liberty Station. The festival will feature foods made from and doused in everyone's favorite fiery condiment. Chefs from all over town, like Craig Jimenez from Gang Kitchen, Marc Liautard from Urge American Gastropub, and more will be preparing spicy Sriracha-themed dishes for festivalgoers. It wouldn't be a party in SD without beer, and this festival has it covered, with brews from Stone Brewing Company, Iron Fist Brewing Company, and URBN St. Brewing to cool down your palate, plus refreshing cocktails to numb the pain.
Saturday, September 20th: Bringing a much more literal meaning to the term "farm to table", Chef Ryan Johnston and his team from Whisknladle and Prepkitchen will be preparing this year's menu for Suzie's Farm's 4th Annual Autumnal Equinox Dinner. The four-course dinner will feature produce grown on the property, and will be served with local wine and beer pairings in the field at Suzie's. All proceeds from the event will benefit Slow Food Urban San Diego.


Sara Norris
Sunday, September 21st: San Diego Restaurant Week is back again for its 10th year, feeding foodies from prix fixe menus at restos all over town for six days. There are no tickets required, just pick from one of the 180 restaurants participating and get a two-course lunch or three-course dinner for a set price.