All you need to know about what goes on btwn two pieces of sliced bread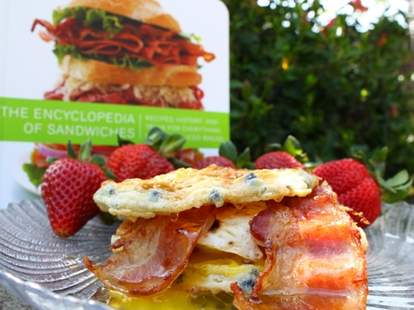 Because man can't survive on Hot Pockets Sloppy Joe Sideshots alone, local award-winning Food Blogga's Susan Russo is helping you expand your palate/waist size with The Encyclopedia of Sandwiches, a fairly self explanatory fibrous database loaded with 320 sando recipes, pictures, a comprehensive ingredient index, and in-depth histories of what "hundreds of millions of people across the globe (eat) every single day", so you know reading this thing will guarantee you've got your next trivia party on loxdown. Some highlights/ideas to get you started:
All in one Breakfast SandwichLoosely based on the Egg McMuffin invented by a McDonald's franchisee in '72, this two-step mix 'n match b-fast beast is "ideal for leftovers" (so you'll need to go shopping) and's comprised of eggs/ bacon/ a hash brown patty/ and maple syrup all gloriously housed between two waffles, so yeah, it's Waffle Housed.
Prosciutto and Fig According to the writings of Cato, prosciutto dates back to 100 BCE (which, at the time, was literally called the Year of the Consulship of Marius and Flaccus), and unlike either Marius or Flaccus, it has survived the ages to fill thinly sliced ciabatta alongside fresh fig/ arugula/ goat cheese/ drizzled extra virgin olive oil, though something so pure probably shouldn't be forced to lie with all that meat.
FluffernutterWith historical roots dating back to the 1913 invention of marshmallow créme, this simple 'mallow fluff and PB sando was born in New England (like Seasonal Affective Disorder!) and can be made "Deluxe" simply by adding a banana sliced lengthwise, or made "Elvis-style" by frying the bread in butter, adding bacon, and then getting so fat you die while sitting on a toilet.