San Diego has so much love to give -- which is understandable, given that the weather is always perfect and we're perpetually drinking some of the best beer in the world (making us all the more loving). But where does it all go? Well, some of it goes to these 20 things.
1. Tacos
If you meet someone in San Diego who claims they do not enjoy tacos, this person is not to be trusted and your life may be in danger. If you haven't had a fish taco in San Diego, then you've never had one.
2. Taco Tuesdays
Our love for tacos dovetails with a love of not paying full price for things, and thus tacos get their own day of the week in which they are consumed en masse at discounted prices.
3. Tijuana
Tell people from elsewhere you're spending the day in Tijuana and they will either A) assume you'll be murdered or kidnapped, B) assume you're going to murder or kidnap someone, or C) say something off color about a donkey. They don't understand that the drawing power of cheap tequila, tacos, and strippers makes the risks worth it.
4. Taking our sweet damn time
If you're only 10 minutes late for something, you're essentially early.
5. Disregarding other cities' craft beer
Look, we're sure other cities out there make some perfectly fine beer, but we have our hands (and mouths) full just keeping up with all the good stuff made here. Three San Diego breweries opened as you were reading that sentence.
6. Out-of-town weather reports
Sometimes in February we just watch our Facebook feeds and giggle.
7. Taking our picture on Potato Chip Rock
This thin sliver of stone sticking out of Mt. Woodsen is well worth the lengthy hike -- and yet another excuse for reminding people elsewhere that the weather here is always perfect for a hike.
8. Hating on LA
It's so damn easy. Doesn't mean it isn't fun.
9. Wearing flip flops… everywhere
You're just going to end up at the beach. Shoes are pointless.
10. California burritos
Carne asada. French fries. Together. Basically, it's the story of America.
11. Driving like maniacs in the rain
A slight drizzle transforms the freeway into a terrifying game of real-life Mario Kart.
12. Yoga
We're all about getting our down dog on. Hot yoga, outdoor yoga, yoga on paddle boards… we even make people take pictures of us doing yoga while teetering on the edge of Potato Chip Rock. Fact: if you live in San Diego for three months you are qualified to teach a yoga class.
13. Yoga pants
Both for wearing and staring at, whether you're doing yoga at the time or not. Usually paired with flip flops.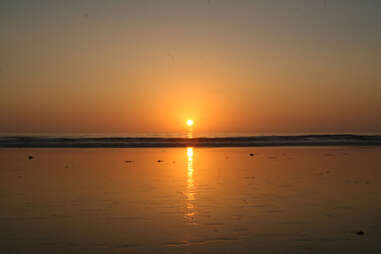 14. Sunset beach photos
Yes we've posted four of them this week… but the horizon is SO pink today. Surely everyone on Instagram MUST see this one!
15. Working out
It's the only way to make the aforementioned tacos/ burritos/ beachgoing work together in harmony.
16. Telling people we're going to work out
Or just worked out. Or are trying a new work out. Hey, have you considered hot yoga?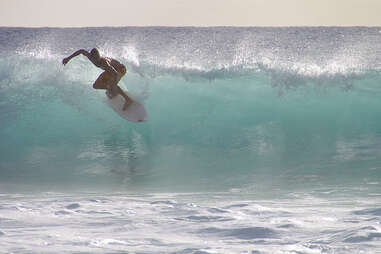 17. Surfing
If the surf is good, you can expect that half of the city will be in the water. If the surf is bad... you can still expect that half of the city will be in the water. Nothing short of a tsunami will keep us from surfing. Actually, even then someone's inevitably gonna try it.
18. Donald Sterling leaving for LA
Kinda dodged a bullet there.
19. Keeping it classy
Not to be confused with staying classy. Spend a Saturday night in PB. You'll understand the distinction.
20. Acting like we've always lived in San Deigo
Unsurprisingly, many San Diego residents were drawn here from less optimal climates. That doesn't mean that they won't conveniently omit the fact that three years ago they were living in Minneapolis.