Actually Cool Things To Do in San Diego During Quarantine
There are still so many options.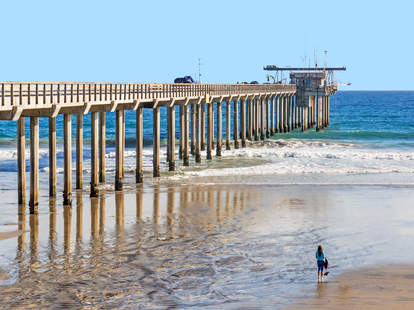 Normally, we'd remind you about San Diego's practically perfect weather, the miles and miles of spectacular shoreline and world-class beaches, the best breweries, the best tacos, the fact that it's just an hour's drive (and a passport) away from a friendly neighboring country with its own amazing places to visit. 
But these are different times. The coronavirus pandemic has temporarily shut down a ton of small businesses and put a lot of our favorite activities on pause. However, nearly all beaches are back open for certain activities, with more parks and trails getting greenlit every day. Of course, be safe, wear a mask, and maintain social distance while you get outside or enjoy a ton of virtual activities from home while still embracing America's Finest City. Here's our guide to the coolest indoor and outdoor things to still eat, see, and do in San Diego.
$
We take our Cali burritos, that splendid combination of carne asada, French fries, guac, salsa and sour cream, all wrapped up in a warm flour tortilla, quite seriously here in San Diego. OB favorite Mike's Taco Club serves up regular, surf-and-turf and breakfast Calis daily for takeout only from 9am-6pm.
Free-$
Paramahansa Yogananda was the founder of modern yoga and first major teacher of the practice to spend most of his life in the West. At his old digs just north of Swami's beach there's a meditation garden with ocean vistas, a temple, a retreat center and the hermitage where he wrote his critically and commercially successful Autobiography of a Yogi. The fellowship is currently closed to the public, but you can visit their Online Meditation Center for a full calendar of meditations and study groups.
Swim with sharks
Free-$
During the warmer months, scores of leopard sharks swarm to the shallow waters of La Jolla Shores Beach, drawing snorkelers from all over the world to swim with them. Typically hanging out in under ten feet of water near The Marine Room Restaurant and off the La Jolla Tennis Club, groups of sharks can range in number from a few to hundreds. Although leopard sharks can reach five feet in length, there's no need to be intimidated -- they have tiny mouths and don't attack humans. You'll need to have your own equipment, though, as the local rental shops are temporarily closed, and be sure to follow the protocols put in place by the City of San Diego.
$-$$
The studio's dreamy patio is temporarily closed to in-person classes, but you can still perfect your King Pigeon pose with Riffs' online classes. Their video library features 68 classes of varying lengths, ranging from peaceful restorative to vigorous vinyasa that can be either rented or purchased by the class or monthly membership, and live Zoom classes take place daily. 
Free
We probably won't be going to Petco Park for a while, but you can keep up with the Padres latest news, read the experts opinions on which players are the top five at their positions, and tune in to Padres Social Hour, Monday through Thursday at 5:30pm, where host Jesse Agler and guests discuss random topics like what the term "eyewash" means and what's really going on when the benches clear and fists start flying. 
Tour Balboa Park, virtually
Free
The Central Mesa, San Diego Zoo, The Old Globe Theatre, and the museums of Balboa Park are closed to the public for now, but you'll still be able to tour most of the park with the launch of Balboa Park TV. Wander the galleries at the San Diego Museum of Art by downloading its #Virtual SDMA app for 360-degree views. Listen to behind-the-scenes stories about the artists and styles via video, custom audio tours and augmented reality. Access the podcast Masterpiece Minute, attend virtual lectures and explore the collection's most inspired pieces on their YouTube channel.
$-$$$
Tacos in all their glorious diversity rule the food scene here with good reason, but it's nice to try some flavors outside your culinary comfort zone once in a while. Explore fresh Indian vegetarian dishes, chaats, snacks and sweets at Surati Farsan Mart in Mira Mesa, scoop up bites of University Heights' Muzita Abyssinian Bistro's warmly spiced Eritrean/Ethiopian stews with soft pieces of injera, a spongy sourdough teff crêpe that serves as both your plate and your fork.
Surf at Black's Beach
Free
Most San Diego beaches are open, and if you live near La Jolla Shores, you have access to one of the best surf breaks in the city, beginning with its thrilling hike down to the beach. Of course, the other thing Black's Beach is famous for it being a gay nude beach, and if you're so inclined, feel free to bare it all. Just remember, the beaches are only open for walking, running, surfing, and the like -- no sunbathing or partying. Check out all the latest guidelines as well as other beaches and parks that are close to home. 
...or hit up one of San Diego's other great beaches
Free
Non-nudists and non-surfers have plenty of other waterfront stretches to satisfy their inner sun worshipper. Windansea Beach's rocks and cliffs, Coronado Beach and the historic hotel that dominates its landscape or miles and miles of other oceanside escapes are there to entice you for a walk or a paddleboard out into the waves. We've got the best of them right here for you, but keep in mind that parking lots are still closed at city parks and beaches, so you'll want to stick to one within walking distance or a bike ride from home. 
Free-$$
Many of San Diego's farmers' markets have reopened selling essential grocery products under strict new guidelines -- pets aren't permitted (that's actually always been the case, but now it'll be enforced), one family member is allowed to enter the market, and the farmer will bag the  goods you point out for you. A number of local farmers are selling direct-to-consumer from their farms as well -- pick up meat, poultry, produce, eggs, honey, CSA boxes, and more. The how-tos vary from market to market so check with your local market manager for details, such as pre-ordering and cashless options.
$$
Fish tacos are a rite of passage in San Diego, and Mitch's Seafood is the place to have two or six, what with its extensive menu and water's edge location. Call ahead and order or walk in -- even though you can't sit at the dining area on the dock, you can walk along the harbor and enjoy the view while you savor your meal. 
Free-$$$
Tuna Harbor Dockside Market has added an online store to its website, which allows you to preorder fresh spot prawn, ahi tuna, sea urchin, rock crab and more every week from 5pm Thursday until 5pm Friday, ready for curbside pickup on Saturday from 11am-1pm at the end of the Tuna Harbor parking lot. The open air dockside market is still open from 8am-1pm Saturdays as well, with additional seafood not necessarily available in the online store.
Free
Attracting more than 1.4 million visitors each year, with almost 30% coming from outside the United States, the U.S.S. Midway is not only one of San Diego's most popular attractions, but it's also the most visited historic naval ship museum in the world. You can't tour the Midway in person these days, but you can get 360-degree virtual tours, access to an aircraft gallery and the ship's new docuseries United Stories of America.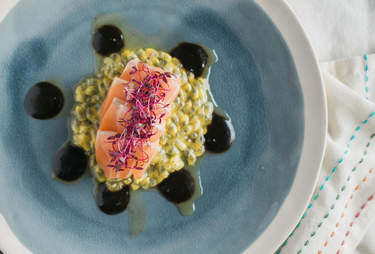 Wrench & Rodent

| Lucid Impressions Photography
$-$$$
Have weeks of shelter in place gotten you into a fast food rut? Now's the time to hit up some of the best eateries in town -- while a number are closed for the duration, more and more are offering at least limited menus for curbside pickup, takeout or delivery. Wrench and Rodent Seabasstropub has fresher-than-fresh sushi, sashimi and rolls available Thursday through Sunday from 4pm-8pm, StreetCar Merchants will have Southern style, Nashville hot, buttery maple or honey dipped fried chicken, buttermilk biscuits and six-layer coconut cake on your plate in a flash and Lola 55's squash blossom rellenos, barbacoa family meals and double margaritas can be ready and waiting with your online order. Check out our other pickup, takeout, and delivery choices ranging from brunch to global eats.
$$
Cannabis dispensaries have been deemed an essential service, so you can still easily and legally toke up in the privacy of your home. Choosing between flowers, edibles, concentrates, vapes, and tinctures can be confusing, so we've gathered a list of our favorite dispensaries, updated with the latest COVD-19 protocols, where you can get expert advice on the best delivery system for you. If you're a cannabis newbie, take some time to acquaint yourself with all the whys and how-tos.
$ 
University Heights, North Park
It may not be pretty, but it's damn near the best burger you'll ever have. The Friendly's Dirty Flat Top burger starts with a plain, prefab white bun, buttered and toasted golden brown, two thin patties, smashed and caramelized on the grill, topped with a melted slice of American cheese, garlic aioli, and softly sauteed onions. You can get gussied up versions at the North Park location or a side slice of pizza at University Heights, but whatever you do, don't ask for ketchup. Check Instagram for its popular and random specials. Available for pickup only. 
Sign up here for our daily San Diego email and be the first to get all the food/drink/fun in town.
Mary Beth Abate is a San Diego-based freelance writer by way of Chicago and Los Angeles. Her hobbies include yoga, pickling and fermenting various vegetables and beverages, reading cookbooks and traveling through Mexico. Keep up with her experiments @MaryBeth_Abate.