San Diego is one of the country's most visited tourist destinations, and for good reason: It's an oceanfront city with near-perfect year-round weather. If you live here long enough, you're bound to get out-of-towners clamoring from less fortunate climes to capitalize on America's Finest City. You owe it to those visitors (and to yourself, really) to temper well-worn landmarks with the lesser-known cultural options -- the restaurants, breweries, museums, and quirky events -- that make this city tick. Here all of the actually cool things you should be doing in San Diego, whether you're new in town or you've lived here your whole life.
Recommended Video
Check in to Hotel Thrillist this September!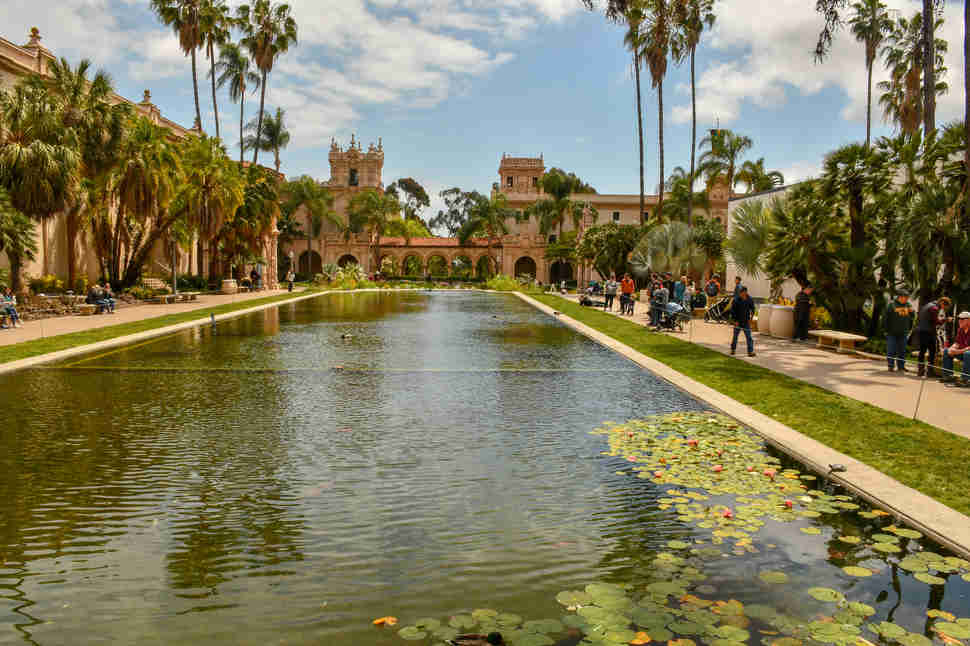 Hike the trails at Balboa Park...
Free
Balboa Park
Balboa Park is San Diego's answer to Central Park, with a zoo, museums, a concert hall, and miles of green grass. Less well-known are its hiking trails, which crisscross the park and even encompass a cactus garden, making urban explorers feel like they're on a mountain rather than smack dab in the middle of a city.
... or, tour the museums there instead
$$
Balboa Park
San Diego is home to a bevy of world-class museums and thankfully, many are housed within Balboa Park. The San Diego Museum of Art, San Diego Museum of Man, Museum of Photographic Arts, and the San Diego Natural History Museum are just a few out of many to explore.
Sunbathe (or go surfing) at Black's Beach...
Free
La Jolla Shores
Known best as a gay nude beach, Black's also has one of the best surf breaks in town and offers heart-pumping hiking down to its shores for intrepid beachgoers. Befitting San Diego, the environment here is welcoming and laid-back -- it's not uncommon to see families setting up shop, too.
Free
Various locations
Even if you're not about that nude/surf life, San Diego's got plenty of other shoreline stretches to satisfy you. Whether you hit up Coronado Beach, with its iconic, red-roofed beachfront hotel; or Windansea Beach, with its cliffside mansions and rocky shore; you've got plenty of options for oceanside recreation, and we've outlined the best of them for you. Pick one, and go from there.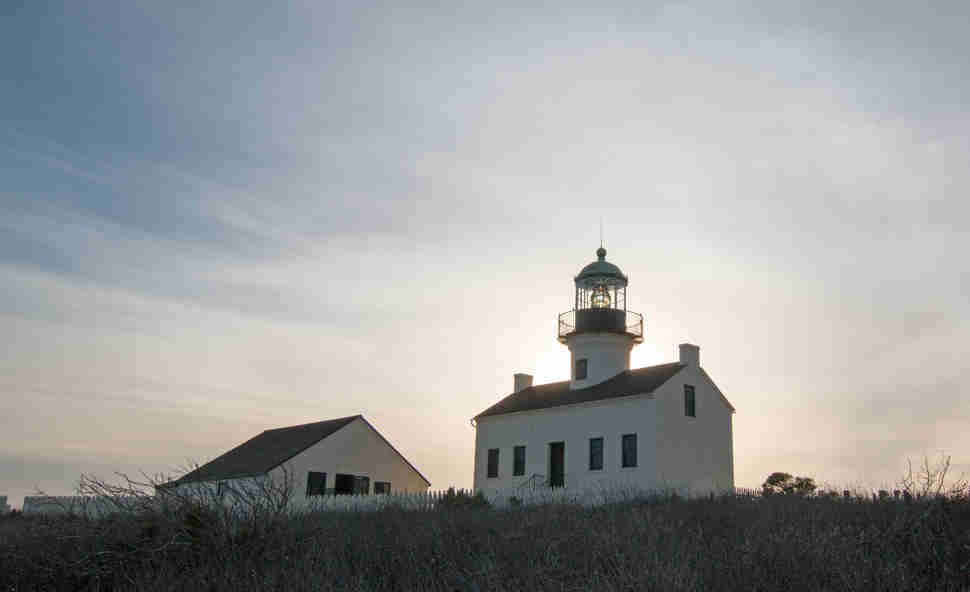 Hike to the tidepools at Cabrillo National Monument
$
Point Loma
One of San Diego's biggest benefits is its natural beauty, and after a hike down to the tidepools at Cabrillo National Monument, it's easy to see why. It's best to go at low tide, when explorers can hop from pool to pool inside caves and crevices of the cliffs bordering the Pacific Ocean.
Visit the Ocean Beach farmers market
Free
Ocean Beach
While San Diego has no shortage of farmers markets, the quirkiest is held on Wednesday afternoons in the hippie beach enclave of Ocean Beach. Local farm stands and vendors accompany a display of colorful locals -- drummers, guitarists, impromptu yoga classes, prayer circles, fire dancers, jugglers and much more are a common site.
Go to an old fashioned drive-in movie...
$
Chula Vista
Fully digital and presenting the brightest picture quality available on three 100-foot screens, South Bay Drive-in Theatre shows current double-feature every day, year round (and cash only). A bargain at $9 for adults and just $1 for kids 5-9 years old -- they even have email coupons for food discounts at the snack bar.
… or see a flick on a rooftop deck
$$
Gaslamp Quarter
For the ultimate outdoor film experience, head to the Manchester Grand Hyatt San Diego's fourth floor rooftop theatre. The Rooftop Cinema Club gives you a luxe movie experience with panoramic views of downtown San Diego, state-of-the-art wireless headphones and comfy deck chairs, craft brews, movie-themed cocktails, and upscale eats. Cult favorites and the occasional sing-along features are shown Tuesdays through Saturdays.
Giggle your way through a yoga class
Free
Sixth Avenue and Spruce Street, Balboa Park
Augment your chaturangas with chuckles at a free, hour long Laughter Yoga class in Balboa Park. Every Saturday at 9:30am, an instructor guides the group through a series of stretches, breathing, clapping and amusing chanting that leads to uncontrolled laughing, singing and general silliness, all ending in a laughter meditation circle.
Free
2221 Morley Field Drive, Balboa Park
Pack a picnic and head over to the San Diego Velodrome on Tuesday or Friday evenings from mid-April through September to watch the city's best cyclists smoke the 333-meter track on fixed-gear (and brakeless!) track bikes. If you want to participate, they offer track classes to help you learn the ropes, and there's a free youth program for beginners and intermediate/advanced cyclists on Mondays.
Build your dream (sand) castle
$$$
Del Mar
Everyone loves to build sand castles at the beach, and former math teacher, sand castle artist and founder JT Estrela can show you how to create like the pros at San Diego Sand Castles. During your three-hour lesson you'll learn tons of cool sand tricks like hand stacking, making towers, carving windows, doors, walls, stairs and textures and forming arches and bridges. Choose a couple's, friends, or full family package for groups up to seven people -- larger numbers can be accommodated with a little advanced notice. All tools are provided, and are available to purchase for your further sand construction endeavors.
Explore a new cuisine
$-$$$
Various locations
Tacos in all their glorious diversity rule the food scene here with good reason, but it's nice to try some flavors outside your culinary comfort zone once in a while. Explore fresh Indian vegetarian dishes, chaats, snacks and sweets at Surati Farsan Mart in Mira Mesa, mix kickass contemporary vegan food and craft cocktails with a death metal soundtrack at Kindred in South Park or scoop up bites of University Heights' Muzita Abyssinian Bistro's warmly spiced Eritrean/Ethiopian stews with soft pieces of injera, a spongy sourdough teff crêpe that serves as both your plate and your fork.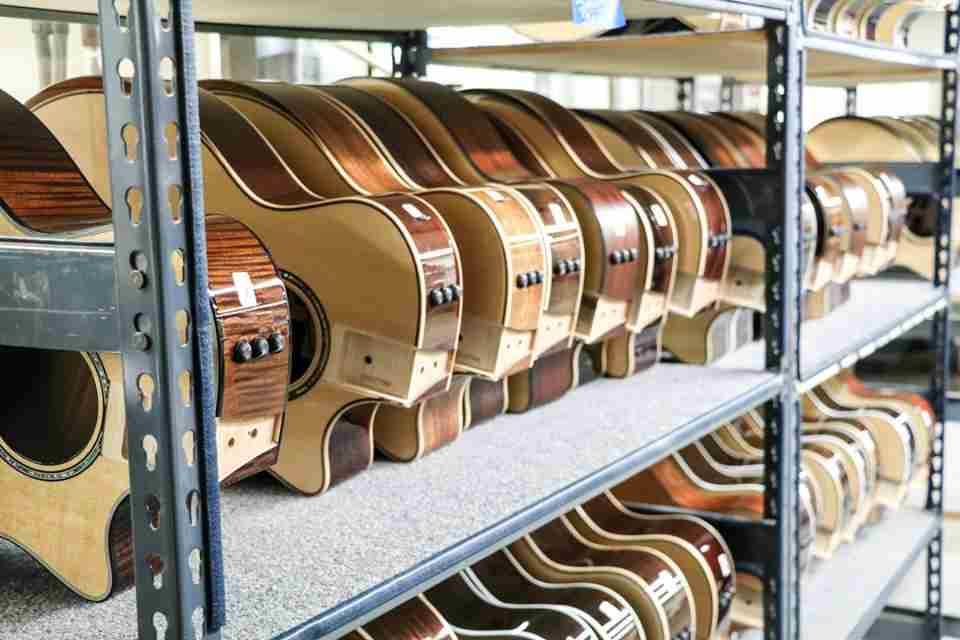 Free
El Cajon
Located in an industrial park in El Cajon, Taylor Guitars was founded in 1974 and have been building some of the world's finest acoustic and semi-hollow electric guitars ever since. Follow the process of guitar construction, from raw wood selection to final assembly at their guided factory tour, held every Monday through Friday at 1pm (holidays excepted). Groups of under ten can just show up at the reception desk at least 10 minutes before the tour starts, but ten or more will need to make a reservation in advance. After the tour, visit the TaylorWare store, where you'll find everything from apparel to gift items to replacement guitar parts.
Free-$
La Jolla Shores
During the warmer months, scores of leopard sharks swarm to the shallow waters of La Jolla Shores Beach, drawing snorkelers from all over the world to swim with them. Typically hanging out in under 10 feet of water near The Marine Room Restaurant and off the La Jolla Tennis Club, groups of sharks can range in number from a few to hundreds. Although leopard sharks can reach 5 feet in length, there's no need to be intimidated as they don't attack humans. If you don't have snorkeling equipment of your own, there are several shops within easy walking distance where you can rent them.
Perfect your double axel on the ice
$
University Town Center
Lace up your skates and hit the ice at UTC Ice Sports Center, next to the Dining Terrace in the beautifully remodeled Westfield University Town Center Shopping Centre. Public skating sessions are held daily and are the longest in San Diego, ranging from three to six hours, with in-and-out privileges. Skate for a while, grab a bite to eat at one of dozens of restaurants and bistros, and come back for more. Rental skates and helmets are available, and newbies are encouraged to take a free 30 minute intro class, taught by a member of the coaching staff every Saturday morning.
Practice for your free solo climbing debut
$$
Grantville
Show off your climbing skills on 7000 square feet of wall space at Grotto Climbing and Yoga. Featuring state-of-the-art indoor bouldering terrain, including more than 13,000 handmade holds, a campus board, a peg board, an illuminated moon board, fingerboards, and a 60-degree training board, climbers of all skill levels are ensured an exhilarating experience. In addition, there's a yoga studio teaching all-level Vinyasa, Acroyoga, Yin, Restorative and Budokon-inspired flow classes and a fitness area with a Rogue fitness rack, weights and rings. The Intro to Bouldering class is a great choice for first timers and includes shoe rental, 30 minutes of instruction, and a day pass, so afterwards you can hit the weights or stretch out any sore muscles in a yoga class.
Sip the agave spirit spectrum at Cantina Mayahuel
$$
North Park
Going almost 12 years strong is Cantina Mayahuel in North Park, one of the United States' oldest agave bars and a crown jewel of San Diego's bar scene. Boasting a menu with hundreds of tequilas, mezcals, raicillas, sotols, and bacanoras, imbibing with a crash course in agave spirits is practically a given here.
Go to a happy hour at Mister A's
$$$
Bankers Hill
One of San Diego's most iconic restaurants is Mister A's, which towers above the city and bay and has a sprawling rooftop deck. A high-end, fine dining menu accompanies an excellent cocktail and wine list and an added bonus is the gaze out to Mexico, the Pacific Ocean, downtown San Diego and beyond.
Visit (and do some drinking at) Beeramar
$$
Miramar
San Diego is solidly a craft beer town. So, it follows that one of the "must-dos" includes a brewery tour. The industrial park area of Miramar is low on views, but high on suds, and it's where most of San Diego's beer is brewed. Nicknamed "Beeramar," the breweries' close proximity to one another makes it easy to organize a tour to sample some of the best.
Take the ferry to Coronado...
$
Broadway Pier/Convention Center
Board the Coronado Ferry at either the Broadway Pier or the Convention Center for a quick, 15-minute ride across San Diego Bay to Coronado Ferry Landing, where shopping, dining and activities ranging from biking to stand up paddleboarding can be found within walking distance. Fares are a mere $5 one-way, and you can bring your bicycle on for free.
...and bike the Silver Strand
Free-$$
Coronado Ferry Landing
Beginning at Coronado Ferry Landing, the Silver Strand Bikeway is a 9-mile flat, paved path that takes you along the sandy tombolo all the way to Imperial Beach. Perfect for riders of all levels, you'll be treated to views of the Pacific Ocean on one side and the San Diego Bay National Wildlife Refuge on the other. Don't miss a stop at Silver Strand Beach for a quick swim or a walk along the sand. Bike rentals are available at the ferry landing, if you haven't brought your own.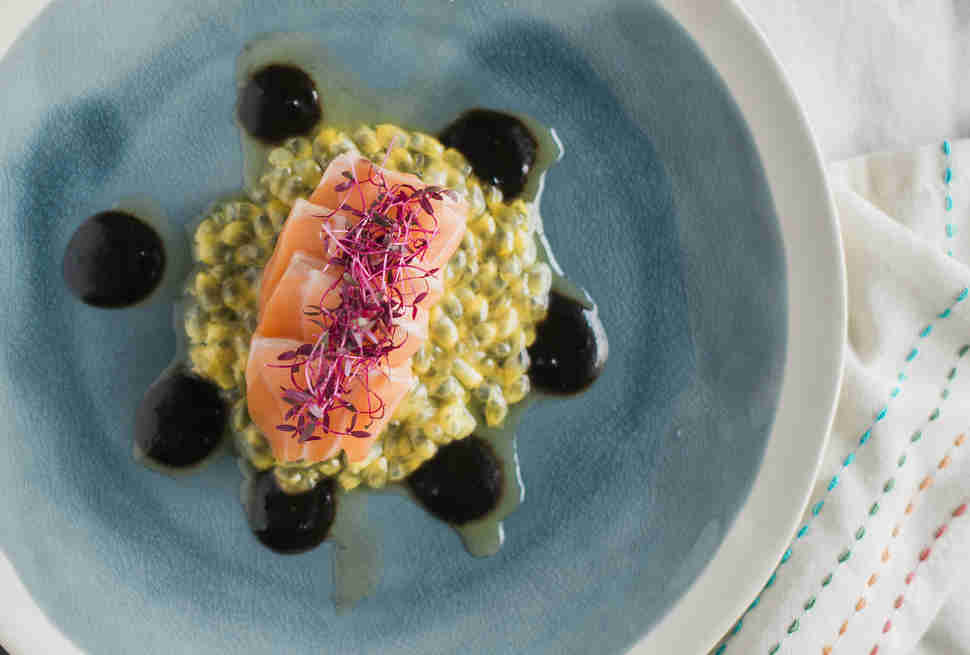 $-$$$
Various locations
San Diego's got one of the best food scenes in the entire country, but if you're stuck in a delicious In-N-Out secret menu rut, you'd never know it; emerge from the Animal-style shadows by hitting up the best of the best fooderies in town. We've put together a full checklist to guide you through the city's best restaurants, but here are some great jumping off points: The Crack Shack for fried chicken, Menya Ultra for fantastic ramen, and Tostadas for… seafood tostadas, naturally.
Hike Torrey Pines
Free
Del Mar
This trek along the cliffs in the Torrey Pines State Natural Reserve is one of San Diego's most popular hikes, offering the beauty of the desert alongside the equal-but-opposite beauty of the Pacific Ocean and the beach.
Visit the Maritime Museum of San Diego
$$
Waterfront Park
San Diego's long maritime history is best summed up with a visit to the Maritime Museum of San Diego, which is actually housed on a collection of old boats docked in the harbor. Tour a refurbished Spanish galleon or the mammoth Star of India while learning about the tight history San Diego has with its waters.
Catch a ballgame and sample the food at Petco Park
$$
East Village
Home to the San Diego Padres, this Downtown ballpark also boasts one of the best stadium food lineups in the country. Local favorites like Cardiff Market, Pizza Port, Buona Forchetta, Cutwater Spirits, Lucha Libre, and AleSmith join a long list of other local companies to keep baseball fans satisfied.
Sip a mai tai at one of San Diego's tiki bars
$$
Shelter Island
Tiki bar culture is a big deal in San Diego, which means you've got several options (Grass Skirt and False Idol are both solid choices). That said, the best views and strongest drinks are found at Bali Hai, which combines sweeping downtown vistas with an all-booze mai tai; the famously strong concoction has been a San Diego staple for decades.
Have a picnic at the Gliderpark
$
La Jolla Shores
On top of the cliffs at La Jolla Shores is the Torrey Pines Gliderport, where hang gliders leap off the earth and into the horizon. For those a little less adventurous, hanging out on the grass next to the launching pad is an ideal place to park, watch a sunrise or sunset and set up shop for a captivating picnic.
Tour the murals of Barrio Logan
Free-$
Barrio Logan
San Diego's Barrio Logan neighborhood has long been one of the epicenters for Chicano culture in the United States. For decades, Chicano Park has been painted with murals depicting Chicano, American, and Mexican history, culture, politics, folklore and much more. Better yet, hire a local guide to explain the history and context of the street art.
Get some of the city's best views atop Cuyamaca Peak
$
Cleveland National Forest
San Diego's second-highest peak is Cuyamaca, which stands 6,500 feet above sea level. A hike to the top will reveal views of the desert, Mexico, the ocean, downtown San Diego, and the aftermath of a massive forest fire earlier this century that devastated the coniferous forest around the mountain.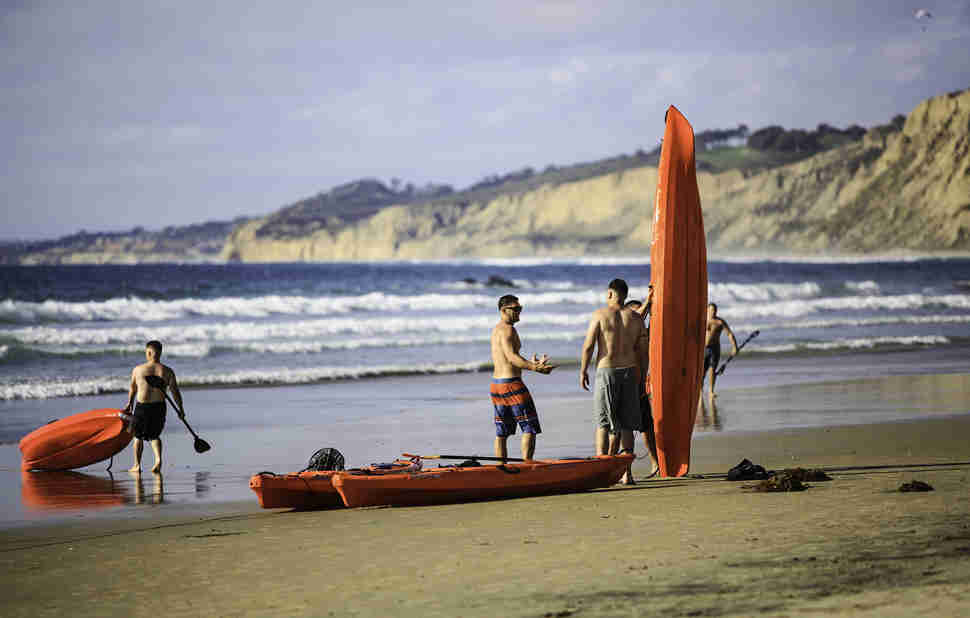 Go kayaking in La Jolla
$$$
La Jolla
One of the best ways to take in the ocean is by heading out into it. For those not inclined to get on a surfboard, get in a kayak instead and cruise by the sea lions and cityscape of downtown La Jolla.
$$
La Jolla
San Diego is at its best when its freak flag flies, and there's no better time to see this on display than during a full moon. Yoga studio-cum-cafe Trilogy Sanctuary in La Jolla hosts a full moon party filled with fire dancers, acroyogis, drum circles, and much more.
Enjoy happy hour at Panama 66
$$
Balboa Park
With ample outdoor seating in the San Diego Museum of Art's May S. Marcy Sculpture Court, Panama 66 boasts the most highly cultured ambiance in the entire city. A menu of local craft beers, seasonal cocktails, and farm-to-table food rounds out the experience.
Free
Marina
At its core, San Diego is a commercial fishing town. This is best on display on Saturday Mornings at Tuna Harbor Dockside Market, when chefs and fishmongers alike converge on the bay for an open-air fish market with educational demonstrations advocating for sustainable fishing and consumption. Learning never tasted so good.
$$
Point Loma
Fish tacos are a San Diego rite of passage and there's no better place to eat one than at the water's edge. Mitch's Seafood in Point Loma fits the bill: not only does it have some of the best fish tacos in town, it's also at the edge of a marina with plenty of dockside seating.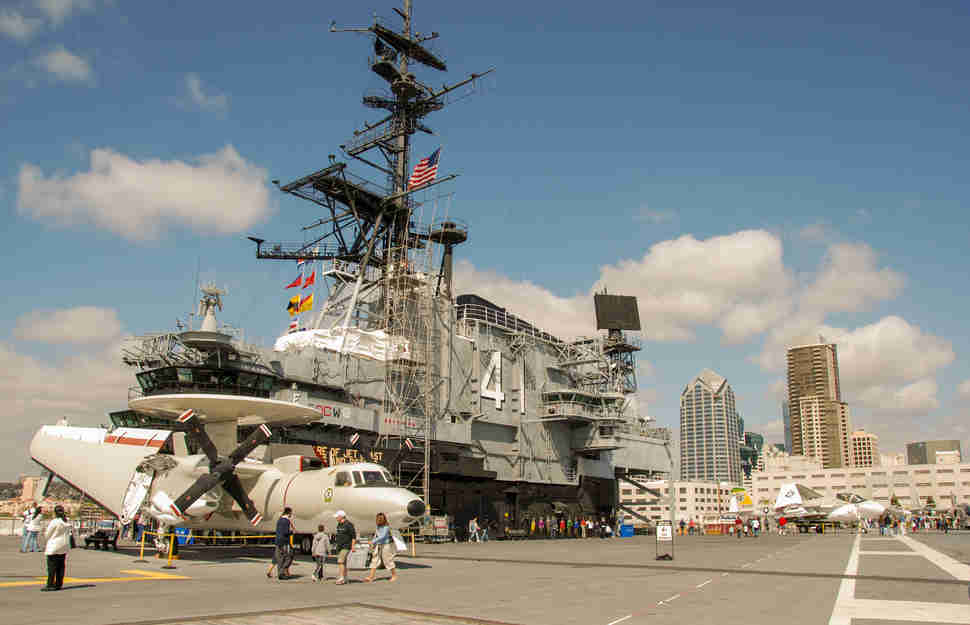 $$
Waterfront Park
San Diego is undeniably a military town, and one of its crown jewel to-dos is to tour the USS Midway. This decommissioned carrier -- which was in operation for nearly 50 years -- is one of the best-preserved military attractions in the country, and offers visitors a chance to physically explore the history of America's navy.
Take a sunset shot at Wonderland
$$
Ocean Beach
This oceanfront bar in Ocean Beach passes out complimentary shots for all of the bar's patrons just before sunset each day; once the sun dips below the horizon, the bartender rings a bell, kicking off a hearty round of "cheers" and communal shot-taking. There's ample reason to stick around after the shot, though: the local brews and cocktails are on point, you'll find bar games to keep you occupied, and there's also a solid food menu as well.
Visit a dispensary
$$
Various locations
As of January 1, 2018, recreational marijuana is legal in California -- and we've told you all about how to get it. But what about where to get it? Well, we've told you that too: head to one of San Diego's dozen or so dispensaries to toke up legally and in style.
Sign up here for our daily San Diego email and be the first to get all the food/drink/fun in town.