Sriracha duck wings and Vegas trip giveaways: 8 serious SD Super Bowl parties
San Diego Watch the game overlooking the beach and get down on some of the award-winning TKO Tacos on the rooftop at Sandbar in Mission Beach. There will be a pre-game DJ (Candace Cameron perhaps?), and a raffle during each quarter with prizes like gift cards, a 50in HDTV, or an iPad. Also, you can compete in their 7th Annual Glutton Bowl eating contest during halftime and put your overeating to productive use. RSVP here!
The annual Super Bowl Block Party is happening in the Firehouse parking lot in PB from 2-8pm. You can't miss out on watching the game on a massive outdoor LED screen with DJs, drink specials, bleacher seating, and costumed football fans competing in a 40yd footrace on the beach during halftime, which sounds like much more work than the Glutton Bowl thing.
Continue Reading
Get tickets to Super Sunday Funday at Harrah's Rincon Casino and Resort so you can watch the game on a massive 9'x16' LED screen that'll make you feel like you're at the game, except warm. They'll also have four huge drop-down screens in their new events center. Tickets include a tailgate chair, cooler, and a Pigskin Buffet that has a nacho bar with all the fixings, chicken wings, pizza, and more artery cloggers. Even though the Chargers didn't quite make it to the Super Bowl, there will be appearances by several former players, including Hank Bauer and Natrone Means.



Quality Social will open their doors at 11am for a pre-game brunch with bottomless mimosas and Bloody Marys in addition to a Super Sunday menu consisting of duck wings, chicken & waffles, F*ckin Nachos Supreme, and more, plus drink specials including six pack beer buckets for $20. They'll have the game on six TVs plus a wall-sized projector screen, so the only issue with the view should be taking your eyes off your chicken and waffles.

Order a Mai Tai or Tokyo Tea fishbowl on game day at Cali Comfort BBQ and it will come with a rubber duck and a chance to blindly choose a helmet (from a pool of all 32 teams) for it to wear. If you picked either team that's playing in the Bowl, you're in luck! At the end of the game, ducks wearing the winning team's helmet get a $100 gift certificate. The losers get a gift card for $50, so even if you lose, you win!



If you want to hang out by the beach, Wavehouse will have the game on a giant outdoor LED screen along with TVs in the bar and in private cabanas available for reservation. Forget Bruno Mars, Wavehouse will be putting on a live wave show to keep you entertained. More info here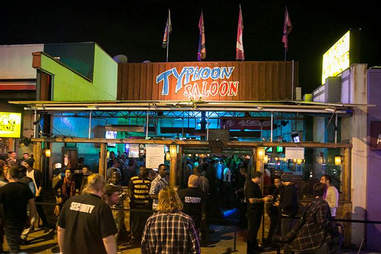 Vavi is hosting a Super Bowl Party at Typhoon Saloon in PB with free entry all day, plus beer and Soco drink specials. They're also giving away a trip to Vegas, a big screen TV, and more during the game.

Plan 9 Alehouse in Escondido is starting off Super Bowl Sunday at noon with a hype/trashtalk sesh until 3pm, specials on pints, and $1.50 bourbon drinks -- plus sustenance like Sriracha duck wings.