Beer fests, food trucks, and crawfish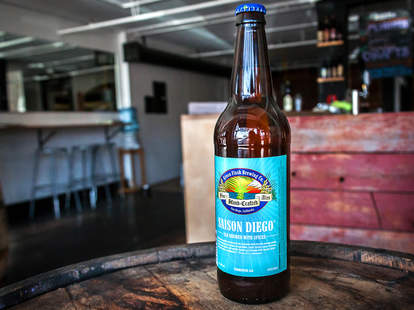 San Diego Event of the Week
BeerNerdz is hosting a Green Flash Beer Tasting Challenge at 57 Degrees/The Brew Project. Up to 75 participants will be given a scorecard -- with only tasting notes, alcohol percentages, and IBUs listed -- along with eight Green Flash beers, and they have to determine which beer is which. Prizes will be awarded to the beer connoisseurs with the highest scores.
Ongoing: Every day is Cinco de Mayo at Islands restaurants this month, with $1 off all margaritas, all month long, at all of their locations.
Continue Reading
All weekend: A little bit of Louisiana is coming to San Diego with zydeco, blues, and crawfish at the Gator by the Bay Festival running May 8-11th. There will be booths serving Cajun food and 10,000lbs of crawfish in addition to all the regular festival fare, plus live zydeco and performances from award-winning blues musicians, dance lessons, and Southern cooking demos.



Saturday, May 10th: The 2nd Annual HWY 78 Craftbrew & Foodtruck Festiv(ale) is happening at the barn in Walnut Grove Park at 4pm. Tickets include 10 4oz tasters from North County craft breweries Iron Fist, Belching Beaver, The Lost Abbey, Rip Current, Latitude 33, Aztec, Booze Brothers, Barrel Harbor, and Arcana. Chop Soo-ey, The O Organic Truck, and Taste of Chicago food trucks will also be on site to feed the masses.

Sunday, May 11th (aka Mother's Day): Treat mom to the beautiful view overlooking San Diego and a prix fixe brunch from 10am-2pm at Bertrand at Mr. A's; let her eat something from a special Mom's Day menu for FREE with the purchase of two entrees at Blue Point Costal Cuisine (1-5pm); hit up Craft & Commerce to grab some Lay Lady Lays (raspberry lambic, ginger, and Champagne) -- Mom gets one on the house; or try the Roses for Mother cocktail (also free for Mom!), made with sparkling wine, Aperol, and rose petal at Polite Provisions.


Wednesday, May 14th: The US Grant and Schweiger Vineyards are hosting a wine-pairing dinner at the Grant Grill starting at 6:30pm. Executive Chef Mark Kropcysnski has put together a three-course dinner with wine pairings including rabbit and sweetbread terrine, and roasted lamb loin with smoked lamb belly.