Do you like tequila, tacos, and fun? Congratulations! You must be a human. Are you also a human residing in America who's curious about crossing the border into Tijuana to experience said tequila, tacos, and fun? Well, you'll want to read this before you go.
1. Ease up on the gringo stereotypes
Nobody's interested in hearing red light district, donkey, or cartel jokes. They were in poor taste then, and they're even worse now, considering the city has changed a lot (and gringos were responsible for the goings-on of much of Tijuana's seedier side, anyway).
2. While you're dialing back, consider cooling it on the Trump jokes, too
Nobody's a fan in Tijuana, but they're also sick of Americans asking them questions like "How they feel about Donald Trump" or "Do you guys hate Americans now?" No. Stop it. Many people in Tijuana are rightly nervous about immigration and NAFTA, yes, but they're mostly just happy Trump's not their president. And besides, Mexico has a lot of other problems to deal with.
3. This is good safety advice for hanging out in any foreign country:
Don't do things you're not supposed to be doing (drugs/alcohol), where you're not supposed to be doing them (on the street), when you're not supposed to be doing them (ever), and you should be just fine.
4. Avenida Revolución is, once again, the place to be -- with serious upgrades
The boutique hotel One Bunk, an art-house movie theater with rooftop bar and restaurant called Cine Tonalá, an upscale interior design shop called Casa Duhagón, artisanal coffee at Container Coffee, and the brewery/tasting room Teorema/Ludica are all recent additions to La Revu.
5. Just don't forget to look down when you're walking on Revolución
Those random potholes in the sidewalks will get you knee-deep if you don't pay attention, and they don't discriminate between tipsy and sober people.
Have you ever been to a gastro park? Doesn't it sound like somewhere you need to go? In the case of Tijuana, that answer is a definitive "yes." It's a food truck park that's a step up from average fare: The best Mexican breakfasts you've ever had at La Carmelita are just steps away from great coffee at Far Niente, soups at Don Ramen, Baja seafood at Otto's Grill, and a lot more. Don't skip it.
7. Calle Sexta is still jamming with all the good stuff
La Mezcalera, Dandy Del Sur, El Tinieblo, Moustache Bar are still fun, divey establishments with live music that are worth a late night out.
8. Yes, there are still "zebras" on every corner
Local opinion is split on these: Some think it's an undeniable part of Tijuana's character, while others would like to see them go. But they're here for now, as they have been for the past 100 years, so if you need that picture, go for it.
9. Don't pee in public, ask a stranger for drugs, or carry alcoholic drinks around
Seriously, remember when we said we're not doing things we're not supposed to do where we're not supposed to be doing them?
10. Tijuana is an art and design capital
Whether you're visiting the upscale, fine art gallery of La Caja, touring the street murals in Pasaje Rodriguez, or admiring some of the city's new modern architecture, it's clear that style reigns supreme in this border city.
11. Don't forget your earplugs
This is a must if you're staying the night in a hotel on or near La Revu, otherwise it may sound like that karaoke singer is crooning inside your brain.
12. While on La Revu, stay south of the famous arch
Unless you are looking to visit Zona Norte, aka the red light district, in which case it lies just beyond the arch on its main drag, Coahuila. Don't go alone, though, and know you can find more than brothels here. There are plenty of places to get buches (fried chicken necks), and it's home to El Zacas, a local haunt where it's OK to buy and smoke weed with your after-hours beer.
13. Try to time the border, but also forget about timing the border
It's good to know some of the border rhythms, especially if you're cross-border cruising with a standard passport and aren't part of a trusted traveler program like Global Entry or SENTRI. Friday and Saturday nights after midnight are a nightmare, as are Sunday afternoons and evenings. But also know that just because a particular time isn't in a known "danger zone" doesn't mean you won't randomly encounter a mind-numbingly horrific border wait. It's just part of the experience.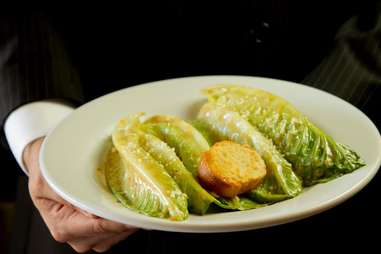 14. The saesar Salad was invented in Tijuana. It's still here, and you should eat it.
Caesar's on Revolución serves the famous and delicious salad that was invented there during Prohibition. Using romaine hearts, anchovies, egg yolks, lemon juice, and Parmesan cheese, a waiter will whip it up for you, tableside.
15. Street tacos are the move in Tijuana
The city has a reputation for being one of the street taco capitals of Mexico, and for good reason. You can find perfect iterations of these heavenly pockets along La Revu, at Las Ahumaderas (or as it's affectionately called, "Taco Alley"), or at various storefronts and trucks around the city. One of the best is Tacos El Franc, which is open late night and is always teeming with taco-lovers.
16. Even if you're cool with unguided exploring, consider taking a tour anyway
Some of the oldest and best in the game are Turista Libre, which uses a repurposed school bus and pumps the booze; Club Tengo Hambre, which considers itself a roving supper club and will show you all the best taco spots; and Let's Go Clandestino, whose founder, TJ native Angel Miron, knows the ins and outs of this city like nobody else.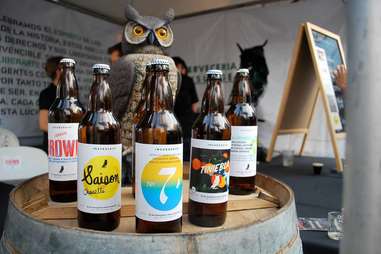 17. Craft beer is a thing here. And it's completely separate from San Diego.
Plaza Fiesta, which used to be an outdoor mall for seedy nightclubs, has reinvented itself and turned into a network of connected alleyways filled with cool bars and brewery tasting rooms. Baja-style craft beer borrows notes from San Diego (there are some deliciously hoppy IPAs, like Insurgente's Lupulosa), but locals are breaking the mold and going off on their own, straying from typical West Coast style and experimenting with new flavors and techniques.
Opened in December 2015, this cross-border terminal and skybridge -- the only one of its kind in the world -- allows ticketed passengers of Tijuana's General Abelardo L. Rodriguez International Airport to cross the US/Mexico border via an elevated pedestrian bridge (rather than driving into TJ and waiting in often hours-long waits at the border). There's a $16 one-way fee to use CBX, but it eliminates the long border waits, and Tijuana's airport services flights to a lot of cities that Lindbergh Field doesn't (Latin America, in particular).
Sign up here for our daily San Diego email and be the first to get all the food/drink/fun in town.
Jackie Bryant is a food and travel writer based in San Diego who is best described as a human Roomba: eating and drinking everything she bumps into. Originally from New York, her favorite things about life in her adopted city are border-hopping, practicing yoga in exceptionally beautiful locations, becoming a beer snob, and living at the beach. Find her on Twitter and on Instagram.