People move to San Diego from all over because, well, isn't it obvious? But not all transplants are created equal. They come in different shapes and sizes and flavors (?), and this guide will help you better understand them (along with the fact that there's a decent chance you're also one yourself). 
The Part-Time Irish
You've heard of the British Invasion -- well, every summer Pacific Beach is invaded by the Irish. They might only be temporary transplants, but they show up in mass with their irresistible accents, superior drinking skills, and skin so fair it's practically translucent. Once they've spent the summer drinking us all under the table and burning to a crisp on the beach, they go back to Ireland only to return next summer and do it all again.
 
The Astute LA Deserter
We have the same amazing weather with a fraction of the traffic and people who think they're going to be on TV. Why wouldn't you flee LA for SD?
The Forward-Thinking College Kids
Even though there is no better place to not go to class, high school grads from around the world come to SD to get their degrees (or at least attempt to get them).
 
The College Kids Who Just Won't Leave
Just because their college years have come to an end doesn't mean that their time in San Diego has to. After spending the best four (or more) years of their young lives here, they're not ready to let it end. San Diego: it's addictive.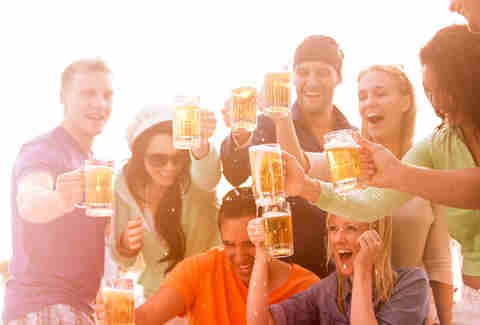 The Hard-Partying Black Sheep
Back home, they were the embarrassment of the family who refused to grow up when everyone else their age started getting hitched and procreating; but now that they live in San Diego, they've found a home where everyone loves that they're the life of the party. At least for a while.
 
Snowbirds
Yes, winter sucks pretty much everywhere but here. These popsicles finally came to their senses and fled the freezing temps to chill with us in the sunshine. Now they're bundled up complaining like the rest of us when the temp dips below 70.
Vacationers Gone AWOL
After a few days of sun, surf, and sand they realized just how much their lives back home suck and have decided to make their vacay permanent. We totally get it. Welcome to the good life.
 
Beach Bums
If they were living anywhere else they'd just be bums, so they might as well move to San Diego where being a beach bum is an accepted way of life.
 
Military
There are certainly far worse places they could've been stationed while serving their country than America's Finest City. At least they get glimpses of the beach while they're suffering through boot camp.
 
Former Military
They had to be on their best behavior while they were stationed here, but now that their duty is done, they've stuck around to live it up as civilians and finally enjoy the freedom they fought for, sans uniform.
The Super-Outdoorsy
They got tired of their outdoor hobbies being seasonal. Now, with the endless sunshine and beautiful weather, you can find them hiking, biking, camping, trail-running, and sporting their raccoon-eyed sunglass tan almost 365 days a year.
 
Small-Towners
Back in the Midwest, they had big California dreams -- but they're not in Kansas anymore. They went from the cornfield to Millers Field, and now they're passed out on the bar on Wing Wednesday. Eh, they'll get the hang of it.
Beer Groupies
It's no secret that San Diego is Mecca for beer enthusiasts. Whether they just want to drink our beer straight from the source or they want to get in on the business, hop heads and beer groupies come from far and wide to get in on our booming craft-beer scene. We don't blame you. Drink up! There's plenty to go around.
 
The Wannabe Surfers
Dude, you're from the most land-locked state in the country where you daydreamed about hanging ten -- now you're here strutting around the beach in your wetsuit like you know what you're doing. It's not as easy as it looks in all of those surf videos you binge-watched in high school. Do everyone a favor and have someone give you a lesson before you hurt yourself.
Sign up here for our daily San Diego email and be the first to get all the food/drink/fun in town.