10 awesome things in San Francisco that are not actually in San Francisco
MIguel Vieire/Flickr
If you like: Land's End Trail
You should try: Dipsea Trail, Marin County
For something just as majestic as it is challenging, try the 7 miles (one way) that is the Dipsea Trail, a scenic trek from Mill Valley to Stinson Beach. You'll climb stairs (688 to be exact), walk under towering redwoods, and gaze upon the glory of the Pacific. It's like you can hear Enya already.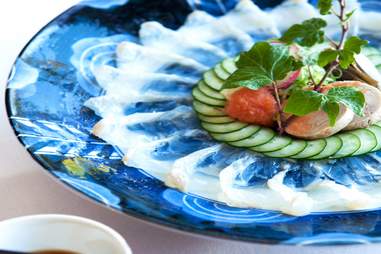 If you like: Ichi Sushi
You should try: Sushi Ran, Sausalito
Right across the bridge is a tribute to undersea edibles. Though it did lose its coveted Michelin star in 2009, Sushi Ran is some of the best sushi in Bay, with stellar sashimi and nigiri you'll swear was made by wasabi wizards. Get there early for a spot at the 6-seat bar.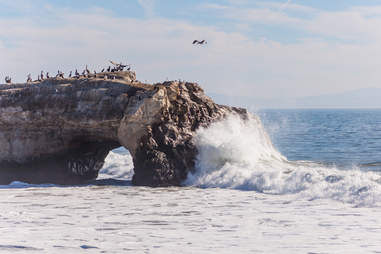 Shutterstock
If you like: Golden Gate Bridge
You should try: Natural Bridges State Beach, Santa Cruz
The mudstone bridges at this park formed over a million years ago. And you'll want to visit this popular destination before it's gone -- two of the three arches have collapsed due to erosion. Sounds like Captain Planet should get busted down to private.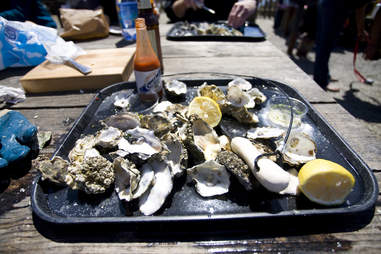 Jared Frazer/Flickr
If you like: Hog Island Oyster Bar, the Ferry Building
You should try: Hog Island Oyster Farm in Marshall, Tomales Bay
Do the shucking yourself! At the Hog Island Oyster Farm, you can buy freshly harvested oysters live, reserve a picnic table and shuck your own oysters (they provide a grill, tools, and even a shucking lesson if you need one). And in case you haven't said it in your head enough… "Shuck."
Jason S/Yelp
If you like: Memphis Minnie's Barbeque Joint
You should try: Gorilla Barbeque, Pacifica
The fact that Gorilla is located in a bright orange boxcar and regularly sells out 1,500 pounds of meat every week makes it obviously worth a trip. Hit the picnic tables behind the railcar or take your food to the beach for al fresco food-stuffing (moody Pacifica weather permitting).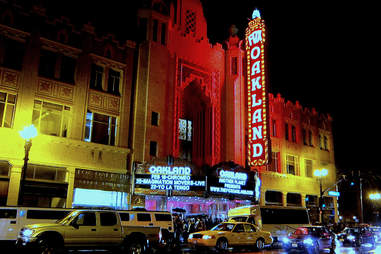 Jeff Rosen/Flickr
If you like: The Fillmore
You should try: The Fox, Oakland
Can't grab tickets at the Filmore? The recently renovated historic Fox Theater is both visually superb and has stellar sound. The best part: It's just a hop, skip, jump, mosey, amble, and other locomotive verbs away from the 19th Street BART station.
Dianne Yee/Flickr
If you like: Sunday Streets
You should try: First Fridays, Oakland
While yoga is great, First Friday in Oakland on Telegraph Avenue (on the first Friday of each month in case that wasn't obvious) can be less heavy on the crunchy downward dogs as Sunday Streets, but still features stellar art, bangin' grub, and rockin' bands.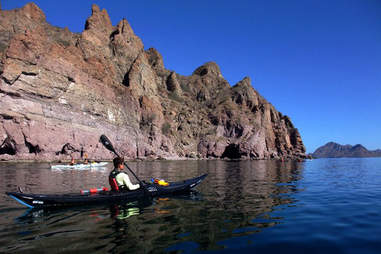 Facebook
If you like: The Stow Lake Boathouse
You should try: Sea Trek's Full Moon Paddle to Dinner, Sausalito
Take a solitary sunset kayak past harbor seals and houseboats with Sea Trek. Grab tacos and margaritas on the patio at Salsalito, and then enjoy a leisurely paddle back with the full moon guiding your way. Again, cue Enya.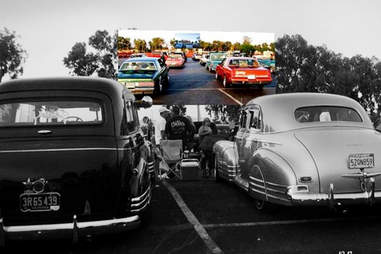 Moose B/Yelp
If you like: Film Night in the Park
You should try: West Wind Drive-In, San Jose
Combine watching flicks outdoors with the comfort of your car. The West Wind offer first-run double features, and you can bring a steady and neck in the back seat… at least until old Officer O'Malley taps on your window with a flashlight.
Facebook
If you like: The Ramp
You should try: Sam's Anchor Café, Tiburon
Awesome waterfront views combined with good eatin'. Hop the Ferry Boat at Fisherman's Wharf (the boat docks less than 50 yards from Sam's) for picturesque views of Angel Island, Alcatraz, and the SF skyline. Follow that up with seafood and soak up the sun. Pro tip: If you have your own boat, you can dock it there. But if you own your own boat, you probably knew that and other boat-related facts already.