12 Text Messages You've Definitely Received if You Live in SF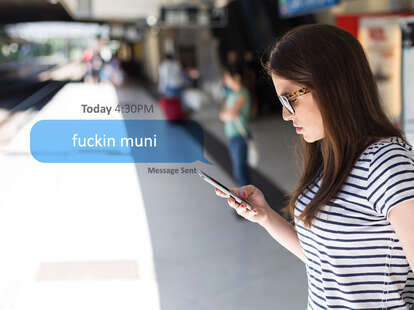 Because we don't have time for phone calls (gross) or sidewalk stop-and-chats (PleaseGodNo) in San Francisco, we text. A lot. Enough that we've all undoubtedly received (or sent) a whole bunch of the same ones, starting with these:
It takes something special to justify a 45-minute wait for bread, like visiting family who've been looking forward to this bullshit all year.
No. Oakland is a big place. Almost none of it is Temescal.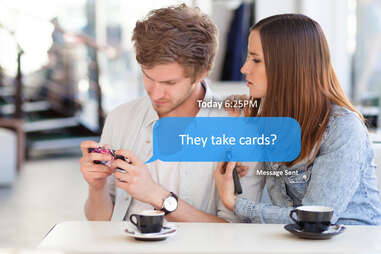 Go to the ATM. You know they don't, guy.
This jerk has a dope apartment and all the time in the world to go on yoga retreats and to destination weddings, but yeah, obviously you'll catsit. Because cable.
When your buddy's shower is busted but she won't call the landlord because he'll probably use it as a pretense for eviction.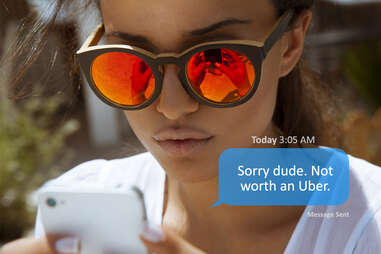 The convenience of Tinder is inversely proportional to the inconvenience of your Outer Richmond living situation.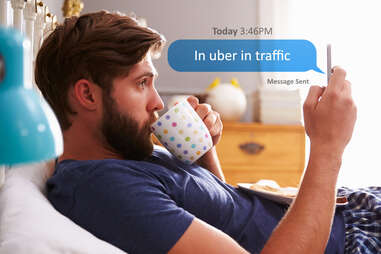 AKA "I haven't actually left my place yet."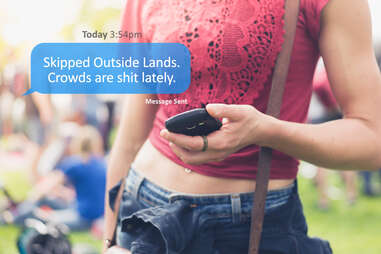 Stop pretending there was ever a time when the crowds weren't shit.
You'll find them after five more texts. Pro tip: slackliners and film crews make great landmarks.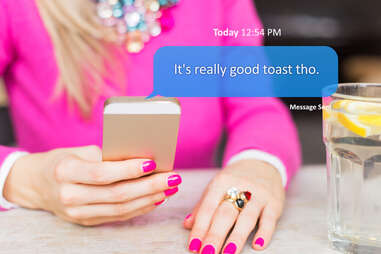 Inevitable justification of $4 toast is... inevitable.
Whether it's the capricious 33 or a tunnel-stuck N-Judah, the end result is the same: don't hesitate to order your drink, or, like, settle your tab and text "Better luck next time."
It was bound to happen sooner or later, bud. Don't fret. New friends are arriving daily by the tech-busload.
Sign up here for our daily San Francisco email and be the first to get all the food/drink/fun SF has to offer.
Casey Childers is a one-man content mill. When he's not pumping out freelance gems like this or writing stories about anthropomorphized wolves, he's losing followers daily on Twitter at @cachilders.