12 Things You Had No Idea You Could Do on Treasure Island
For most San Francisco residents, Treasure Island is good for one of two things: 1) the music festival, or 2) the flea market. Turns out though, there's way more to this tiny manmade island (that's only a seven-minute bus ride from SF!) than overrated EDM and cheap furniture.
Here are 12 things you had no idea you could do on TI; just make sure you day-trip over there quick before someone turns it into one giant luxury apartment building.
Four words: croissant French toast, yo! Where you'll want to eat it: Aracely's picturesque secret garden, yo! Really though, it's delightful enough that people actually host weddings and extra-fancy quinceañeras in it. Oh, and we should probably mention there's also smoked salmon with fluffy, slightly savory broccolini pancakes and a tart lemon sauce. Basically, it's an SF-caliber brunch without the lines, fog, or prices. You can probably bus here before your friends are done waiting for a table at Beretta.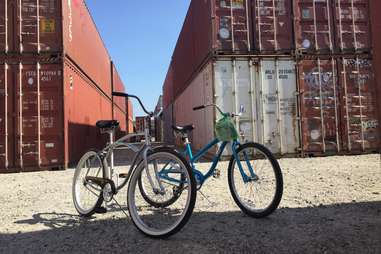 You probably never, ever think about how nice it would be to ride a beach cruiser in SF. (Hint: that's because it wouldn't be.) But Treasure Island? It's flat enough to make it alllllll the nice. Leave yourself plenty of time to explore, for example, a giant yard full of old shipping containers. Oh, and if you're late bringing the bike back, shop owner Tammy Powers will maybe let you buy her a beer as a late fee. Don't ask me how I know that.
Definitely. In a place that's just across the bridge from desperate people renting tents for $800, these houses are just sitting here, creepily abandoned. Why? Oh, yeah, because they're probably IRRADIATED. And while we'd say it'd totally be worth the exposure for that super-spooky Instagram shot, you'd have to hop a fence, ignore posted warnings, and walk past one of the most insane abandoned places in California if you wanted to do it and we'd never, ever recommend something like that. Never. Ever. Definitely.
A beloved locals-only spot for years, the B&G was recently bought by BBC. No, not that BBC -- Best Beverage Catering, perhaps the biggest boozy catering company you've never heard of (it does OSL, Coachella, etc.). Why is this a good thing? Because in the last place you'd expect it, you can order a perfect pisco punch, ruby basil collins, or any of the other $8 cocktails being tested out behind the bar. Or just get down to business with a $5 boilermaker on the patio, you degenerate, you.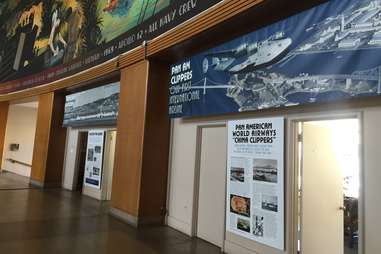 Facts about Treasure Island you can learn from the Treasure Island Museum, located in a giant Art Deco building at the front of the island: 1) the island is actually less than 100 years old, built in the 1930s as a site for the world's fair; 2) made with mud dredged up from the bay, Treasure Island is named after the gold its soil might contain; and 3) thanks to the filled-in land, a giant earthquake could literally liquefy the island. Bummer. Seriously though, the incredible old photographs are worth checking out on their own.
Did you know that most wine is made with sulfites? Good for you, Robert Parker. The rest of you probably don't, unless you're Patrick, the guy who started Fat Grape Winery because he's allergic to sulfites but loves wine. Housed in a former Navy prison (there are still cell blocks inside), Fat Grape makes more than 25 varieties of sulfite-free wine. That means fresh, as in fresh from the barrel. They're tarter, darker wines than you might be used to, and Patrick will pour you tastes of all 25+ for free and you'll probably buy a bottle.
Vie and Sol Rouge are right next door to each other, making it possible to taste your way through flights of French wines from the Rhone and Bordeaux regions at both spots with minimal effort. The wines are tasty (especially by the end of your flight, for some reason), but the real draw is the sun-soaked bocce ball court in full view of the bay. Oh, and when you're done playing drinking bocce, make sure you make one more stop, one more door down at Sottomarino, where you can taste wine in a submarine training vessel named the USS Buttercup. Yep, that's a thing.
Stop at Island Cove Market for a bomb-ass turkey sando (or snag some tacos from the bar & grill to go), then make your way halfway up the hill to Yerba Buena Island before descending down the left-side stairs leading to Clipper Cove. Here you can sit on the sand and listen to the soothing creak of anchored boats, and, because the cove is sheltered and shallow, you can get in the water without a wetsuit! Take THAT, Ocean Beach.
That aforementioned sheltered cove? Also a premier spot to paddle board. TI Sailing Center rents out boards on the weekend for $25 an hour, and the relatively weak winds and current make it easy to explore the island from a more aquatic point of view.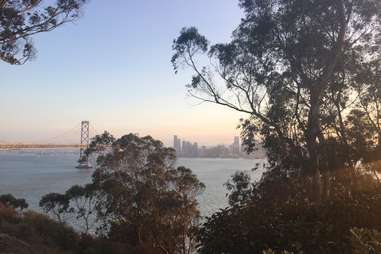 Everyone who visits Treasure Island gets the picture of San Francisco from the water's edge on the Avenue of the Palms. Want to out-Instagram your friend who went to the flea market? Head up to Nimitz Dr off Macalla Rd (just past the stairs to Clipper Cove), walk to the end of the road, and follow the trail into Blue Park. You'll find a perfect bluff overlooking the Bay Bridge to the left, the Golden Gate in the distance to the right, and the city, in all of its glory, dead ahead.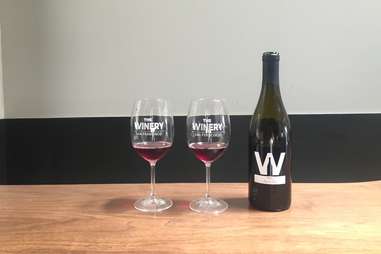 Thirsty and got 20 bucks? Drink your way through eight wines made in SF with grapes from Sonoma and Napa Valleys at the biggest winery on the island: The Winery. With the oh-so-precious rope lighting, giant airy space, and Old World winemaking sensibilities, this might be the bougiest thing you can do on Treasure Island, so stop by here before Fat Grape's free 25-wine tasting gets the best of you.
I met a couple of guys at the end of the North-side jetty with fishing poles and brews -- they come out here often, apparently, and it's easy to see why. The waves lap at the rocks, sending up the occasional salty spray, and the bay sits before you with incredible visibility on a clear day. Bring a cooler for your catch -- sturgeon, perch, rockfish, and even sharks are frequent hauls -- and a few brews to this under-the-radar hangout, along with your own fishing gear (there aren't any supply shops on the island).
Sign up here for our daily San Francisco email and be the first to get all the food/drink/fun SF has to offer.
Brian is, among other things, a content manager for Sosh, an avid cyclist, a cautious San Francisco sports fan, the sports writer for his fantasy football league, and a proponent of the Oxford comma. Follow him on Twitter at @gerswayne.