Thanksgiving is tomorrow, and you know what that means: time to judge someone who asks for an unreasonably tiny piece of pie time to spend five minutes trying to explain what your job is time to make a list of things in San Francisco we're thankful for. Here's ours.
1. We're thankful for Mayor Lee and his glorious mustache.
2. We're thankful that the new bridge span's pretty enough to distract you from the faulty bolts holding it together.
3. We're thankful for $8000/month two-bedroom apartments above Whole Foods, because you truly haven't lived until your building has its own rooftop butterfly habitat.
4. We're thankful for the last season of the 49ers in Candlestick, because even though we may be losing them to Santa Clara, now we can convert the stadium into a Hunger Games arena.
5. We're thankful that parking is so easy to find! something you can sometimes find!

Recommended Video
Model, Influencer & Entrepreneur Lindsey Pelas Reveals Celebrity Pick Up Stories
6. We're thankful for the Bay Area Bike Share. (We're less thankful for hills.)
7. We're thankful we're not totally inferior to LA.
8. We're thankful for Sam's Pizza and Hamburgers at 3a.
9. We're thankful for unseasonably warm weather, because though we may never get a real Summer, we also never get a real Winter.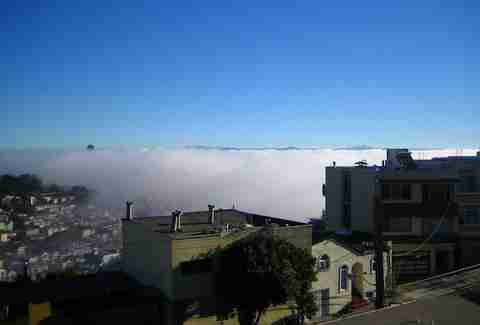 10. We're thankful we get to see the Google self-drive car, Google Glass, Google Yacht, and Google General World Takeover start in our own backyard.
11. We're thankful we have one of the 33 best dive bars in America.
12. We're thankful for a quajillion beautiful parks that are great to visit and explore, so long as you don't go too close to the bushes.
13. We're thankful the Giants are... were good!
14. We're thankful for fernet. And even more thankful for fernet crawls.
15. We're thankful for the invention of yoga, yoga pants, and people-watching in the Marina.
16. We're thankful San Francisco has never, is not, nor ever will be a good club city.