19 Signs Your SF Relationship Is Totally Screwed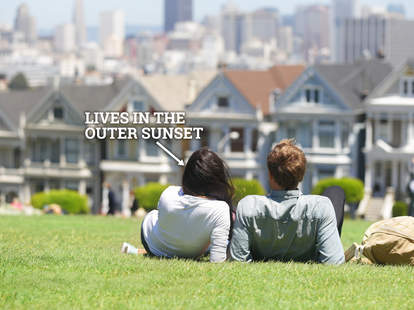 Oh-Em-Gee. You finally met someone on Tinder/OkCupid/Match/Craigslist/JDate/Hinge/The League who isn't a major weirdo. Congrats! And also: sorry! 'Cause your San Francisco relationship may already be completely fucked.
Read on for the 19 signs it was over before it even began. No one ever said dating here was easy...
1. They live in the Outer Sunset
The only way this could possibly work is if you also live in the Outer Sunset and even then, this still might not work.
 
2. They live in North Beach
See above.
 
3. One of you lives in the Marina and the other in the Mission
YOU CANNOT DATE YOUR MORTAL ENEMY.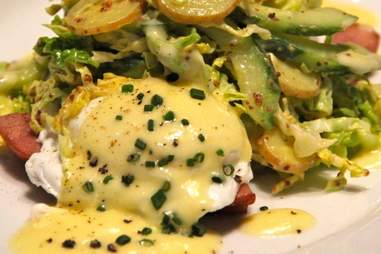 Joe Starkey
4. They hate brunch
Yes, there are actually people in this world who hate brunch. If you're dating one of those people, you will grow to hate them since brunching is 1) San Francisco's national pastime and 2) literally the only thing to do on a Sunday.
 
5. They're a Dodgers fan
Even if you can see past that fatal flaw, no one else in SF will be able to. Plus, you may think you're okay with it, but come September, you'll be singing a very different tune. And it won't be "Take Me Out to the Ballgame." It will be "Seriously We Need to Break Up I Can't Handle the You Being a Dodgers Fan Thing Oh God Please Stop Calling Them the Doyers."
 
6. They still have Tinder on their phone
It's "competitive research" for an app they're building! Except probably not!
7. They're going to Burning Man... without you
There's one thing that will burn even after they get home. And that's their pee. (And yours if you're not careful.)
 
8. They're from anywhere that's not California
You may be happy now, but will you still be happy in two years when they're done with their "living out West" experiment and want to move back to Greenwich, Connecticut?
 
9. They're talking about moving to Oakland
Seriously, when is the last time you enjoyed BART? Or Bay Bridge traffic? Or, uh, Oakland in general? Exactly.
 
10. They commute to/from the South Bay
Either you're dating someone who's going to be grumpy every night because they just spent an hour finding parking, or you're dating someone who unapologetically rides a tech shuttle bus. Any way you slice it, you're screwed. And not in the way you're hoping.
11. They turn vegan
Do you really want to spend your life with someone who doesn't also want to eat all of SF's delicious hamburgers? Do you??
 
12. They refuse to wait in lines
Waiting in line is a way of life in San Francisco. It's also the only way to get the city's best coffee, ice cream, pizza, and day-old NYC bagels.
13. They adopt a dog
Yes, it means you have a legit reason to go to Fort Funston, but it also means no more sleepovers at your place EVER.
14. They surf
Head-high waves and offshore winds at Ocean Beach will always trump everything. Including your best friend's wedding, the brunch plans with your parents you made a month ago, and, oh right: your entire existence.
 
15. They don't like Journey
You know what you CAN stop believing in? Your relationship.
 
16. They like the Seahawks
Even if you don't like football, this will never be okay.
17. They don't flip for It's-It
Are you dating Satan??
 
18. They don't like the outdoors
They probably also live in a SOMA high-rise and want to talk about their startup and no no no no no.
 
19. They call it San Fran
Clearly you can't go out in public with someone who uses that term and it's just hard to have a successful relationship when you're dating someone who is a total embarrassment to all of mankind. See also: Republicans.
Sign up here for our daily San Francisco email and be the first to get all the food/drink/fun SF has to offer.
Daisy Barringer is an SF-based freelance writer who would never be selected to join The League. Tell her your SF dating and break-up stories on Twitter: @daisy.