Once you get the hard part out of the way (actually getting a date), then you have to get the even harder part out of the way: figuring out what to do. And while you could (and totally should) use all of these date ideas, you could (and totally also should) use all of the date ideas below, which are like those other ones except these ones are also FREE.
Treasure Island
You'll have to get yourself to Treasure Island, but once you do, you can taste Fat Grape's all-natural red wines for free Tuesday-Sunday from 11am-6pm.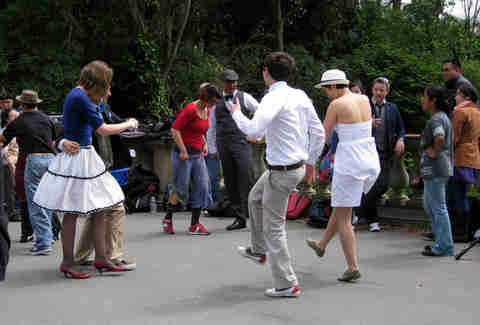 Golden Gate Park
From 11am-2pm every Sunday, there's free swing dancing in the park. Sure, dancing is technically a free activity you can do anywhere, but here you'll be doing it en masse AND there are free lessons at noon.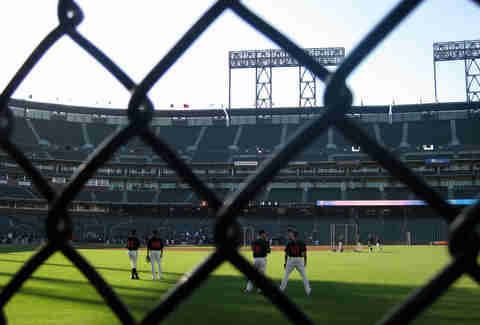 3. Catch a Giants game
AT&T Park
Depending on the size of the crowd, you can watch three innings or more for free from the "Knothole Gang" area on the Portwalk at AT&T Park. First come, first served.

4. Go to a reading
Most bookstores
Want a date that's free AND will make you look smart? Pretty much every bookstore in SF has weekly author readings/events that'll accomplish both. Booksmith, City Lights, BookShop, and Book Passage are a few of our faves.
Nob Hill and SOMA
These two museums never charge admission. And you might learn a few things while you're there.

6. Or go to any museum with a free day
All over SF
Pretty much every single museum in SF is free at some point and some are at even more points if you're a Bank of America card holder. Who knew?
Marina
Okay, so technically this isn't free because you have to bring wine, but don't tell us you don't have a bottle of wine or a six-pack in your fridge that you're not willing to sacrifice for the cause. Also, you're not really supposed to drink here, so be discreet. Although getting arrested would make a great story to tell the kids!

The Presidio & McLaren Park
When it comes to free dates, Shakespeare said it best: "Neither a borrower nor a lender be; for loan doth oft lose both itself and friend, and borrowing dulls the edge of husbandry." Free performances go down all over the Bay from July-September.

9. Hit up a street fair
All over SF
San Francisco has soooooo many street fairs. Union Street, North Beach, Haight Street, Fillmore Street. They all have excellent people-watching. And they're all free! (But maybe bring a flask just 'cause people-watching is better when there's a little booze involved.)
Lincoln Park
This hike has some of the best views in San Francisco. And includes the Sutro Baths. And isn't really a hike-hike, so everyone wins!

Berkeley Marina
You know how you always wish you had a friend with a boat? Well now you do. The Cal Sailing Club offers FREE sailboat rides once a month if you're willing to take a 20-minute BART ride to Berkeley. Just, for the sake of everyone's dignity, don't reenact the Jack and Rose scene from Titanic. Or do. And get pushed over.
Golden Gate Park
Okay, so these lessons are only free on Wednesdays at noon, but whatever, no one in San Francisco has a real job anymore.

13. Take in the views from the Hamon Education Tower
Golden Gate Park
To get into the de Young, it'll cost ya $10 (unless it's the first Tuesday of the month), but to go up to the observation deck where there are 360-degree views of the city? Nada. Zilch. Zippo. AKA: free.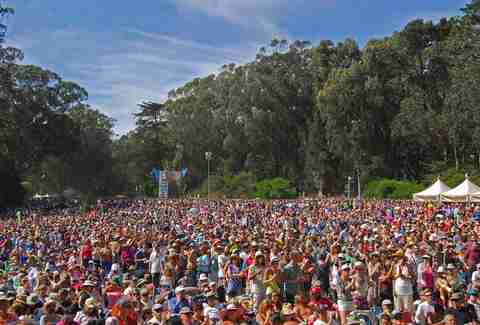 Golden Gate Park
It only happens for three days every October, but you really can't go wrong taking your date to one of the best (and also free-est!) music festivals in San Francisco.

Stern Grove, Sunset District
It just wrapped up its 78th season, but for 10 whole Sundays next summer, you'll be able to descend into Stern Grove to enjoy free music from a ton of big names.
Marina
Walk to Fort Point, watch the kite surfers, or just hang out on the beach with your dogs... Crissy Field is the perfect place to spend a sunny afternoon and has more Instagram opportunities than almost any other spot. Just be sure you're into your date 'cause all of your followers will be judging you.

Parkside
SF residents get to spend a day at the zoo for free on certain days with proof of residency. Check the website for the next day and when you're there, don't miss the grizzly bear feeding!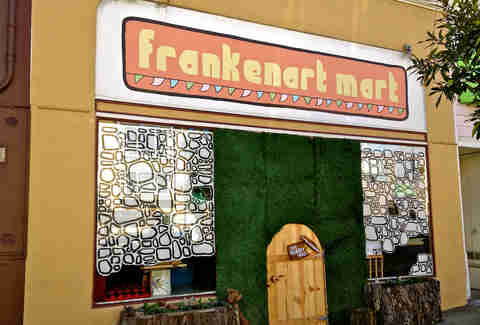 Inner Richmond
Frankenart Mart is a small store in the Inner Richmond that's all about silliness and interactive art. Cooler still: it also does free hot dogs one Sunday a month!

19. Get lost in the Presidio
The Presidio
People are always talking about Golden Gate Park, but if you want to spend a day becoming one with nature without ever leaving the city, head to the Presidio where there are miles of trails, and a million interesting things to see.
Golden Gate Park
If you and your date are both San Francisco residents, then you can get into the botanical garden in Golden Gate Park for free every single day of the year. If your date isn't a San Francisco resident, then your relationship is probably doomed AND you're gonna have to pay seven bucks for him/her to get inside.

All over the Bay Area
So many parks. So many movies. Whether your date is in Redwood City (although why is your date in Redwood City?), Santa Cruz, San Francisco, or somewhere in between, there's a free movie being shown outdoors sometime between June and October. Bring a blanket for maximum snuggling.
Sign up here for our daily San Francisco email and be the first to get all the food/drink/fun SF has to offer.
Daisy Barringer is an SF-based writer who literally vomited on her keyboard when she typed "maximum snuggling." Follow her on Twitter @daisy.