The Extremely Naked Truth Behind All of SF's Nude Beaches
Randomly, SF (yep, cold-ass SF) has a large number of nude beaches, some of which are apparently more clothing-optional than others. And since we're journalists, or something, we decided to see which were which. We visited them all, took pictu... uh... notes, and put together this awesome "naked beach guide," just so you can finally get that all-over tan you've been wanting.
Or, more likely, go with friends and then chicken out at the last second. Either way, here you go!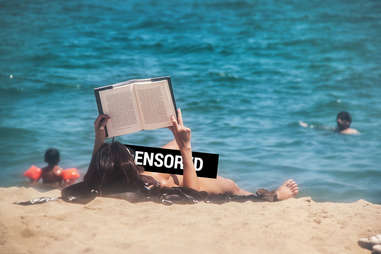 Level of Nudity:Girls
What You'll See: Though the beach is generally more clothed than not, there'll be a least a handful of people wearing Miley Cyrus wrecking ball-riding attire. Just bring a jacket or something, because this is San Francisco, after all.
The Nude Part: All of it, apparently. Just don't strip down until you've gone down the crazy winding path at the end of Geary and make sure you don't go right when the path widens out, because that'll lead you to a clothing-very-necessary golf course.

Level of Nudity: Game of Thrones
What You'll See: As the largest urban nude beach, this place attracts the largest crowds and almost a Burning Man-type atmosphere with artwork, drums, and frisbee. Disclaimer: if you act like a weirdo and just stare at people, you will be told to leave.
The Nude Part: When you get to the beach, go to the right, past the "Hazardous surf, undertow, swim at your own risk" sign.
Level of Nudity:The Full Monty
What You'll See: Marshall Beach earns the distinctions of being a mainly gay nude beach and having one of the best views of the bridge, so if both of those are your thing, get on it.
The Nude Part: Apparently all of it, though in particular the driftwood/rock cabana things that some past nude sunbathers have built.
Level of Nudity:Basic Cable
What You'll See: In the past this beach used to be more of a nude spot, but now it's left to the more adventurous on the weekdays.
The Nude Part: Apparently, after many crackdowns, "none of it", but that doesn't stop the occasional pants/bra dropper.

Level of Nudity: The Wolf of Wall Street
What You'll See: A long-standing nude beach, this 300yd-long sandy ocean-facer is now 1) easier to access since they opened the Devil's Slide tunnel and, 2) still down for clothing-optional sunbathing, despite being taken over by the state.
The Nude Part: People going commando tend to stick to the Northern part of the beach, separated from the non-naked part by a rock wall.
Level of Nudity: Game of Thrones political scheming discussions
What You'll See: The beach itself is huge, with 120 acres of sand along two miles of coast, dotted with several driftwood cabins which... are sometimes used for not-sanctioned things.
The Nude Part: Everything North of the end of the path you take to get there is clothing optional, just make sure to check your directions, because it's not easy to get to.
Level of Nudity: True Blood (people still watch that??)
What You'll See: This is probably the easiest nude beach to get to, it's the clothing-optional side of Muir Beach, and most people are here to sunbathe, not creep.
The Nude Part: Past a line of large rocks in the sand that separates the skinny-dipping part from the clothed-dipping part. Make sure you're on the correct side!

Level of Nudity: That one Woodstock movie
What You'll See: Possibly the most popular of the local nude beaches, this one has lots of frisbee games, rock climbing, and even people playing card games... though we'd imagine strip poker is kind of redundant.
The Nude Part: All of it, though just make sure you're at Red Rock and not Stinson.
Sign up here for our daily San Francisco email and be the first to get all the food/drink/fun SF has to offer.
This story was originally published on 1/24/2014.