39 ways you know you grew up in San Francisco
With so many transplants in our fair city, people actually from the city itself can, rightfully so, get a little prickly when someone else claims to be from here. So, we had our very own raised-in-SF-er (that's me!) compile all 39 ways to tell if you really grew up here:
1. The first question you ask someone when they say they're from The City is "Where'd you go to high school?"
Followed by "What year did you graduate?" and 10 minutes of The Name Game.
2. You manage to work that you're a native into at least 5-10 conversations a week
Bonus points if you also drop which generation you are.
3. You went to or had a birthday party at Marine World/Africa USA
And remember the water slides.
4. You've explored the Tactile Dome
Sober.
5. Your first beer was a "40"
Consumed in a public park, while freezing your ass off.
6. You went to a single-sex elementary school
Also, you called it "elementary school".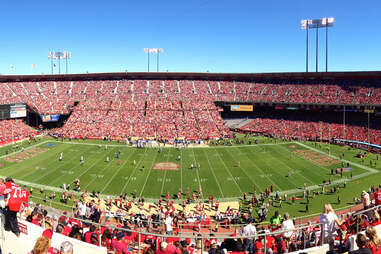 7. You're a 49ers fan
And while you hate the Raiders, you've always hated the Cowboys even more.
8. You've always known to "duck and cover" during an earthquake
Because you practiced it after every fire drill in school.
9. You "bought up" at "2nd and Bal"
And if for some reason they didn't sell to you, you just went down the street to "2nd and Anza".
10. You went to shows at The Stone
And you're sad it's now a strip club.
11. You smoked cigarettes inside the McDonald's on Haight St
While you waited for your friends to meet you there on Friday night.
12. You know Mark Twain didn't say that famous quote about San Francisco Summers
But you kind of wish he had.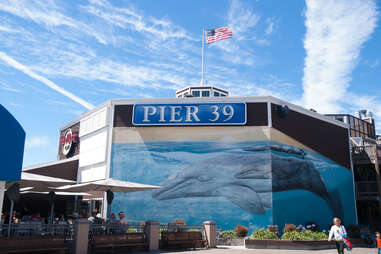 13. There was a time you loved Pier 39
The sea lions weren't there yet, but it had the best arcade in town.
14. You crave It's-It
Even when it's cold outside.
15. You took driving lessons from Mr. Lee
And you passed your test on the first try because you were too scared of him not to.
16. You threw strikes at Japantown Bowl
And then Serra Bowl. RIP to them both.
17. You came home smelling like smoke from a bonfire at Ocean Beach
And you've been meaning to do it one more time before the National Park Service makes them illegal.
18. The African Hall at the Academy of Sciences was your favorite -- after the T-Rex
And you were so relieved they didn't get rid of either during the remodel.
19. You bought your first wetsuit at Wise
But were a little intimidated to do so.
20. You "suffered" through MidWeeklies
Where the boys wore ties and the girls wore white gloves and no one remembered anything about ballroom dancing when it was all over.
21. You bought a $5 Fast Pass every month
And got your money's worth.
22. You had a pager
And your parents' calling card for pay phones.
23. You know the best sandwich in the city is from Marina Subs
And you still have a friend who swears the owner always remembers his order.
24. You think Young to Rice was good…
But Montana to Rice was even better.
25. Your parents took you to the Musée Mécanique
When it was hidden in the basement of the Cliff House.
26. You ate at Hippo Burger
Where even the toilets were shaped like hippos.
27. You were a Huey Lewis fan
And c'mon admit it. You still are. (Don't worry: it's hip to be square!)
28. You never leave the house without layers
Even during a heat wave.
29. The sound of foghorns is one of your favorites
As is the smell of eucalyptus.
30. You loved Will Clark
And one of your friends was at the infamous earthquake World Series game.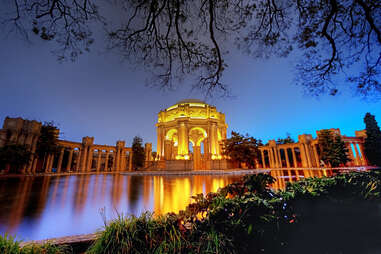 31. You partied at "The Palace" (of Fine Arts)
And the Botanical Gardens, Stow Lake, Mt. Davidson, "The Steps" (Lyon St), Children's Playground, the Wave Organ, Twin Peaks, Alta Plaza, Turtle Hill, the Sutro Baths, and every other place tourists or children visit during the day.
32. You smoked "funny grass" before any of your non-native friends
And you've said "kind bud" more times than you care to admit.
33. You have a strong opinion about who makes the best burritos
And we're not going there.
34. Someone you grew up with is a cop now
And he went to S.I.
35. You blushed when your Mom drove down Broadway
Carol Doda's red flashing nipples were your favorite, even though you had no idea who Carol Doda was.
36. You had more than your fair share of run-ins with the police
But the only time they brought you home to Mom was when you got busted skateboarding at the Embarcadero.
37. You've never called it San Fran or Frisco
(Although you now know the latter is OK.)
38. "Hella" was a vocab staple…
That you kind of regret growing out of.
39. You wore Winter jackets in July and t-shirts on Christmas
And you still do because you're never ever leaving this place.
Daisy Barringer moved to San Francisco when she was 6-years-old and knows better than to ever claim "native". You can follow her on Twitter @daisy.