As Thomas Jefferson once said, "In matters of style, swim with the current. In matters of principle, stand like a rock. In matters of bar games, I have no idea. You'd have to ask the Thrillist dudes." Saving you the trouble of asking, we've gone ahead and put together the greatest bar games bar crawl ever invented. So get your buddies together, strap on your pinball pants, and get ready to game (and drink... mostly that one). Stop #1: Golden Gate Tap Room 449 Powell St; Union Square; 415.677.9999 Start off your game-venture here in the GGTR, where they have over 100 beers to choose from, plus a regulation-length shuffleboard table. And billiards. And Simpsons pinball. Basically, there are a lot of games and a lot of beers to choose from.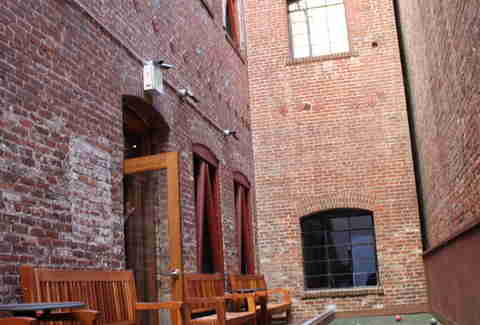 Stop #2: The Hidden Vine
408 Merchant St; Financial District; 415.674.3567
Walk on over to The Hidden Vine in the FiDi to grab a glass of wine, play bocce, and... do other things old Italian men love (talk with wild hand gestures?).

Stop #3: The Wreck Room
1390 California St; Nob Hill; 415.932.6715
Once you're done with bocce and debating the assets of Monica Bellucci vs Sophia Loren, head on up to The Wreck Room to totally wreck your friends (get it?!?!) in some one-on-one Pop-a-Shot. Loser buys shots.
Stop #4: Soda Popinski's
1548 California St; Nob Hill; 415.857.1548
It's just a short walk down the road to everyone's favorite Punch-Out!!-themed bar for a few rounds of old-school Nintendo where you can totally pwn your friend who grew up with a Sega. Also: they have a game called Bible Adventures. Boom.

Stop #5: S&R Lounge
55 5th St; SOMA; 415.321.6000
Grab a cab to just below Market to this lounge for some delicious cocktails and burgers before heading upstairs to take part in the ultimate tournament of soccer-ball Plinko, giant Jenga, and Wii U racing.
Stop #6: Bloodhound
1145 Folsom St; SOMA; 415.863.2840
Now that you are pleasantly fuzzy, make your way down to Bloodhound, where you and your friends can mercilessly kill (virtual) animals (in HD!!) thanks to one of the best Big Buck Hunter setups in the city.

Stop #7: The Willows
1582 Folsom St; SOMA; 415.529.2039
Head just up the way to The Sycamore's big sis. Grab a craft beer from one side of the place, then settle down for an epic Cards Against Humanity game... or just play some more Big Buck Hunter (HD again!!).
Stop #8: Rickshaw Stop
155 Fell St; Hayes Valley; 415.861.2011
Your final destination: skee-ball heaven, wherein you'll decide who the ultimate winner of your epic bar/game crawl is. Or, ya know, who buys the next round.