It's that time of year again: when everyone flees San Francisco en masse to get their holiday on with family and friends. Whether you have to take a plane to Missouri or a train to the South Bay, there's a good chance Bay Area transit is in your future. Which means you're totally screwed. Or you WERE until you stumbled upon this roundup of all our best transit stories from the last year.
Read them all; it's our gift to you to make your holiday travel experience a little bit better. Or, at the very least, to let you know exactly how far you have to walk (run) to get to the closest cocktail.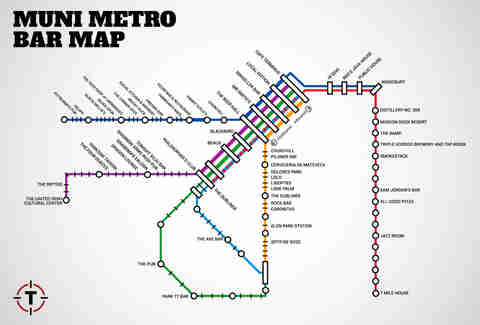 SF's first-ever Muni Metro bar map
Because riding Muni will make you want allllllll the drinks, we assembled the first-ever Muni Metro bar map, which breaks down the best bar within two(ish) blocks of every Muni stop (that actually has bars near it). READ MORE
The first-ever BART bar map
Commuting via BART is the WORST. So worst in fact, that you're almost always gonna want a drink, like, the second you get off your train, ESPECIALLY if it's the holidays and ESPECIALLY if you're using it to get to/from an airport. That's why we put together this map of the best bar within a 15min-or-less walk of each and every BART stop (that actually has a bar near it). READ MORE
The SF streetcar drinking guide
Because MUNI weirdly doesn't have them listed on its route map, here's the best place to drink near every stop on SF's historic F-Market streetcar line (are you sensing a theme with these transit maps???). All of the spots on here 1) serve alcohol (duh), 2) are within a block of the designated stop, and 3) aren't in *shudder* Fisherman's Wharf... which we omitted because, well, Fisherman's Wharf. READ MORE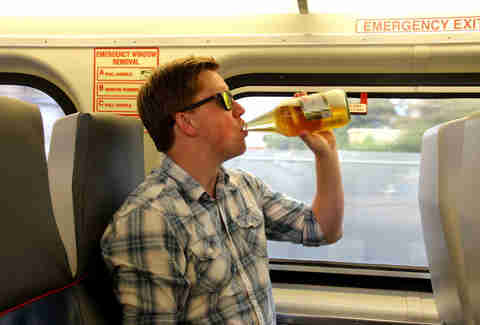 The best bar near every single Caltrain stop
Yup, definitely a theme here... if you live in the city and work in the Peninsula (or vice versa), you'll end up taking the Caltrain at some point. If you're trying to get to San Jose International or SFO? Same deal. And that's where this will come in handy. Introducing: the Caltrain Drinking Guide, a stop-by-stop breakdown of the best bar in walking distance from every Caltrain depot. READ MORE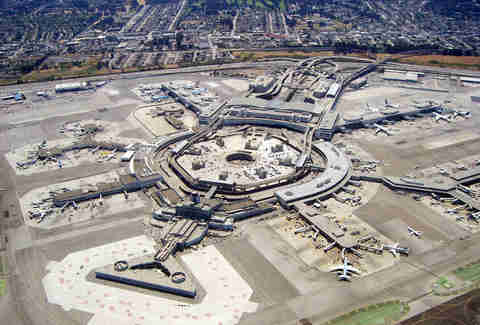 10 game-changing airport hacks for SFO and Oakland International
Neither of the Bay Area's closest-to-SF travel hubs are exactly a point of pride for the city. And that's exactly why we put together this list of hacks for both airports, which will -- at the very least -- make them a point of... not-terribleness. READ MORE
This is the greatest SF coffee shop map ever made
Chances are, if you're riding Muni in the way-early morning to catch an early flight, you desperately need coffee. So, we went out of our way to make your life easier, by using SF Muni's map and our caffeine rolodex to plot out the best, closest coffee shop to every stop on Muni (that matters), replacing each stop name with the name of said caffeine-slinger. The only rule: all of the coffee shops have to be under a 10min walk away from their respective stop. READ MORE
The Unwritten Rules of Muni
Everyone in this city, at some point or another -- and IN PARTICULAR during the holidays -- rides Muni. The problem is, not everyone seems to know how to ride Muni. No, not in the, "how does this crazy moving machine work?", kind of way, but more specifically the, "how can I be a decent human being that doesn't make everyone else's commute miserable?", kind of way. Well, we're here to help with these: The Unwritten Rules of Muni (which we guess are now written... shhhh). READ MORE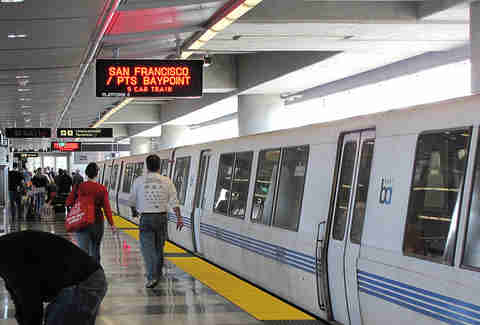 The 10 worst people on BART
There's a good chance you'll take BART to or from the airport, or maybe just to visit those friends who live in the East Bay who are having you over for a X-mas dinner you couldn't come up with an excuse to get out of. Whatever your reason, here are the 10 people you definitely don't want to share a seat with on the way. READ MORE
The 14 most "WTF" things to happen on Muni since 2008
For the awkward pause you're guaranteed to have while you're going wherever you need to go this holiday season, these should fill the void nicely. READ MORE
15 reasons you should own a car in SF, even though it's the dumbest thing ever
Oh, what's that? You guys want a ride to the airport from the "idiot" who owns a car even though parking/ticketing/everything-about-owning-a-car is the worst here? READ MORE
Sign up here for our daily San Francisco email and be the first to get all the food/drink/fun SF has to offer.
Daisy Barringer is Thrillist's San Francisco Editor and won't date a guy unless he owns a car, which is just one of many reasons why she's still single. Follow her on Twitter @daisy.