Why I Love Something You Hate: Fisherman's Wharf
Daisy Barringer/Thrillist
Any time someone brings up Fisherman's Wharf, every single San Franciscan lets out a groan. Sure, they'll confess, they go there every once in a while for In-N-Out, but other than that, they think it's a total tourist trap, a waste of time, and one of the worst things about SF. Well, sorry, but I'm here to tell all of San Francisco that when it comes to your snobby thoughts about Fisherman's Wharf, you're totally and utterly wrong.
Sure, nostalgia plays a part in my love of Fisherman's Wharf (I used to spend hours upon hours there as a kid, watching street performers, raiding toy/candy stores, or winning tickets at the arcade that used to be where Hard Rock Cafe is), but the truth is, even as an adult, there's super-cool stuff to eat, drink, and do there. So yeah, I think Fisherman's Wharf is totally underrated. Not convinced? Here are 11 reasons why it's definitely The Best:
This bucket of mini donuts
Trish's Mini Donuts might just change your life. 'Cause they're donuts. That are mini. That come in a bucket. Like, if you don't believe that dreams come true after eating these, I can't help you. One thing to know going in: they're definitely more like a churro and less like a donut, but WHO CARES BECAUSE THEY'RE DELICIOUS.
The best Irish coffee in town
The Buena Vista Cafe is known for one thing and one thing only: recreating the Irish Coffee found at Shannon Airport in Ireland and bringing this heavenly concoction to the United States. You could try to make this hot coffee, sugar cube, Irish whiskey, and whipped cream beverage at home, but why would you do that when the fine gentlemen at Buena Vista make it way better than you ever will? Only one thing -- if you want one, you'll either have to go to the domestic United terminal at SFO or, that's right: Fisherman's Wharf.
This magic shop
Is there anything in the entire world better than a magic shop? I don't think so. And this article is about why *I* love something you probably hate, so Houdini's Magic Shop on Pier 39 totally gets a shout out. I used to put on elaborate magic shows as a kid (yes, I can still make a tiny ball disappear into a plastic cup -- agents, call me), and this brings back all of the memories.
The secret hidden Tiki bar
At the very back of Players Arcade (we'll get there) is the Luau Lounge, a tropical oasis with stunning, unobstructed waterfront views, a crazy Tiki cocktail menu, and 15 beers you'll actually be psyched to drink on tap. It's legitimately shocking that more people don't know about and/or go to this bar because, again, holy cow: that view. Also, who doesn't love a Tiki bar? No one, that's who.
Chowder in a bread bowl
One of the very best things about Fisherman's Wharf is, without a doubt, the fact that you can get chowder in a bread bowl almost anywhere you look. Seriously, any food that lets you eat the vehicle in which it arrives is always worth it. (Looking at you, ice cream cones and sushi rolls.) Still, do yourself a favor and head to The Blue Mermaid on Jefferson St. Not only does the restaurant have a huge outdoor patio and a nautical vibe that's fun but not over-the-top, it's got a Hall of Fame/Award-Winning Dungeness crab and corn chowder that you can get in a bread bowl. Seriously people, why would you eat clam chowder when you could eat chowder with local crab in it?
The Gold Dust Lounge
When the nearly 100-year-old Gold Dust Lounge was evicted from its home in Union Square, it almost seemed sad that it was relocated to Fisherman's Wharf. After all, this is a place where everyone from Herb Caen to Janis Joplin used to go for drinks. But you know what? The new space kicks ass. It has a bunch of the stuff from the old spot, like the marquis, chandeliers, mirrors, red velvet seats, and Jameson Irish coffee for under five bucks, but it's also open at 7am every single day, has live music every single night, AND is home to the longest bar in San Francisco, which I'm estimating is almost 70ft end-to-end.
These lovable sea lions
First of all, they're not seals. They've never been seals. And they will never be seals. Sea lions have ear flaps, walk on land using their front flippers, are way more gregarious than seals. But best of all? They bark loudly, which makes hanging out with them oddly rewarding. Why do I love the ones at Pier 39 so much? I mean, duh: they're adorable. And so lazy. But mostly I think it's cool they migrated to Pier 39 after the 1989 earthquake, forcing all of the residents at K-Dock to find somewhere else to park their boats. If only that's how finding an apartment in this city worked...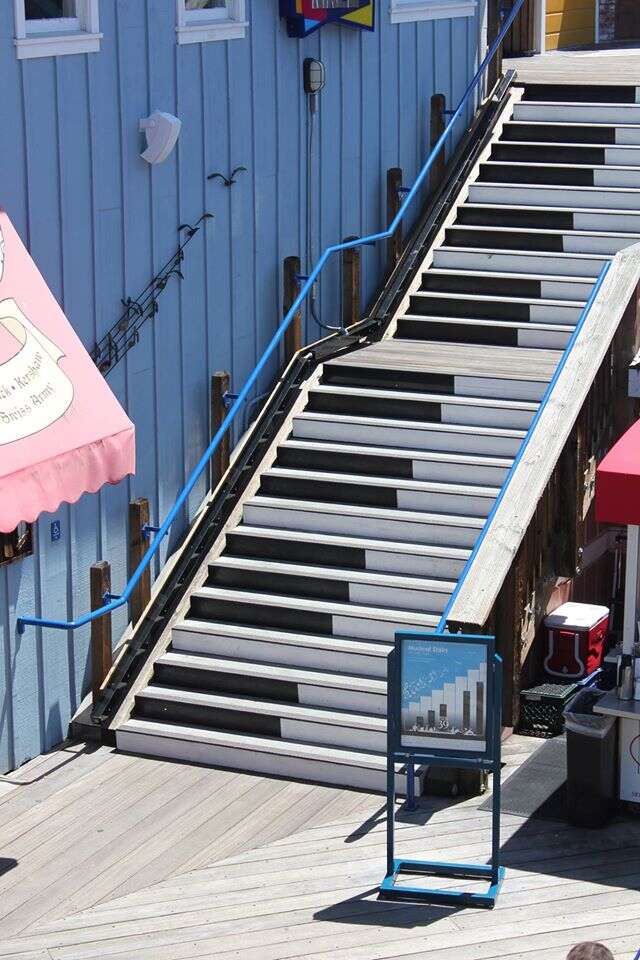 The musical stairs
Yup, just like in the movie Big, these are stairs that make music when you walk on them. No need to go all the way to FAO Schwartz in NYC when you can just hop in an Uber (or a cable car) and create a song in your own backyard. Plus, these stairs go up and down, so you might actually get some exercise while you play (on) them.
The carousel
You know what's ALWAYS fun? Riding a carousel. But this one's even more fun because it is hand-painted with famous SF landmarks, like the Golden Gate Bridge, Coit Tower, and Lombard St. It also has 32 different animals to ride, but you'd better be first in line or quick on your feet if you want the sea lion. (Which you do.) No matter what, just don't be that person who sits in the "chariot." Zzzzzzzz.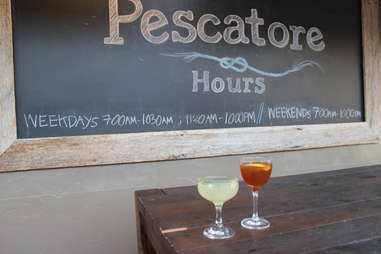 Craft cocktails just like you'd get in The Mission
It's not all Irish coffee in Fisherman's Wharf. If you're the kind of person who prefers your adult beverages to be made by a mixologist, you don't need to shy away from this tourist destination. There are plenty of restaurants with great food and drink that feel like they could be in any "normal" SF neighborhood. If you haven't been to Pescatore, fix that. The signature cocktail menu is on-point and the tuna tartare with a citrus salad, onion, and serrano chile is for real the best I've had in the city.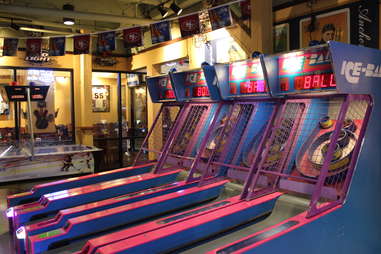 Skeeball
Yup, you can bring your secret Tiki bar drink with you while you play any of Players' 85 arcade games. I could personally play skeeball for 17 hours straight, but there are also basketball games, air hockey, and whatever other games people who don't have a bizarre skeeball obsession play. They also have a ton of TVs if your arm gets tired and you want to take a break and watch the game. Not that my arm would ever get tired...
Sign up here for our daily San Francisco email and be the first to get all the food/drink/fun SF has to offer.
Daisy Barringer is Thrillist's SF Editor and one day when she grows up, she'd like to have a skeeball machine in her mansion. Follow her on Twitter @daisy.