Don't tell anyone about these SF secrets
Is there anything better than knowing a secret? Yes, there is: TELLING a secret. Especially if it's a really good secret about things in SF, like hidden gems, magical parts, off-menu items, and burgers. Read on, but just remember: two can keep a secret. If one of them is dead.
15 secret things in SF you had no idea existed
Just when you thought you had seen and done everything this city has to offer, some super-handsome city guide (us!) comes along and tells you that you're wrong. And Tyler MacNiven -- owner of
West of Pecos
, former
The Amazing Race
contestant, and co-founder of
SF Secrets
-- has the proof.
READ MORE
Joe Starkey
There are secret public parks on rooftops in the FiDi and SOMA
Due to some awesome law, all of the large, privately owned buildings in Downtown SF need to provide a certain amount of space on their property that's open to the public. Most of them are just concrete courtyards or pedestrian walkways with benches, but a small handful are actually pretty awesome. Like, 15th-floor-rooftop-terrace awesome. We checked out all 50+ POPOS (Publicly Open Privately Owned Spaces), and narrowed it down to five that're actually worth checking out (four of which are obvi on rooftops).
READ MORE
Joe Starkey
This is Ike's entire secret menu
You know Ike's Place? The amazing sandwich shop almost everyone in the city loves? Yeah, turns out they have a secret menu with FIFTY sandwiches on it. We know this because Ike just gave us this list of every single one (along with their menu numbers from before they were taken off and secret-ified).
READ MORE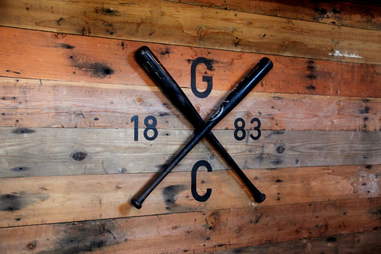 Joe Starkey
There's a secret club behind the scoreboard at AT&T Park
Just judging by this article, it's clear SF has had an influx of totally awesome secret things as of late, but The Gotham Club might just be the awesomest, secretest one.
It's a members-only, speakeasy-style club behind the scoreboard at AT&T Park that has nothing to do with Batman (sorry), but everything to do with two secret entrances (not sorry!), a cocktail bar, A BOWLING ALLEY, mitt-sized Bavarian pretzels, and maybe the best view of the Bay in the entire park. READ MORE
Joe Starkey
Every single room in Bourbon & Branch (even the secret basement one!)
You've been to Bourbon & Branch, but you haven't
been
to Bourbon & Branch. That's because the Godfather of modern American speakeasies actually has FIVE different hidden bars inside, at least one of which you've definitely never been in (because it's an actual speakeasy in the basement).
READ MORE
Wing Wings
Off the Grid's spectacular secret menu
You've been to Off the Grid before. And you ordered from the menus and it was all fine and good. But since we're not a men's interest site that deals in "fine" and "good", we decided to hit up the dude behind OtG to hook us up with a secret menu to end all secret menus, because this one includes stuff from NINETEEN different food trucks that's 1) not always on the menu, 2) not always available, and 3) you'd never order in a zillion years.
READ MORE
8 epic Presidio secrets, from wine bunkers to Yoda statues
A former military post turned national park in 1994, the Presidio is home to everything from a Disney museum and a bowling alley to a historic inn and a trampoline park. Oh, and, uh, hiking and nature and stuff. And while all of that is already pretty well known, the Presidio is 50% bigger than Golden Gate Park, which means a ton of other stuff isn't.
READ MORE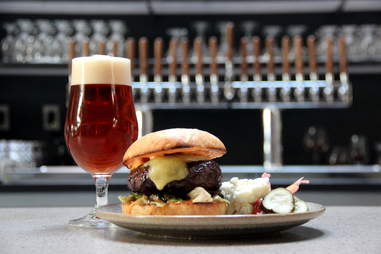 Joe Starkey
There's a secret burger at The Abbot's Cellar
One of the city's best beer bars is also now one of the city's best off-menu-burger bars. Available in limited quantities and only at the bar itself (not tables, sorry), The Abbot's Cellar's new secret burger is not to be missed.
READ MORE
Joe Starkey
10 things you didn't know about It's-It Ice Cream sandwiches
The one thing you know for sure about It's-It Ice Cream sandwiches? OhMyGodThey'reDelicious. And the other 10 things you for sure DON'T know about It's-It? Well...
READ MORE
Sign up here for our daily San Francisco email and be the first to get all the food/drink/fun SF has to offer.
Daisy Barringer is Thrillist's SF Editor, which means her job is basically to share all of her best secrets about her favorite city in the world. Follow her on Twitter @daisy to tell her your deep, dark secrets. Or just anything you think she'd like to know about SF.