The Best Reason to Visit Every San Francisco Neighborhood
There are dozens of amazing things to appreciate in all of SF's eight bazillion neighborhoods, but there's just ONE thing that actually gets you in an Uber/on the Muni and headed toward each of those eight bazillion neighborhoods. These are those things, all of which make each little microcosm of this city worth trekking to.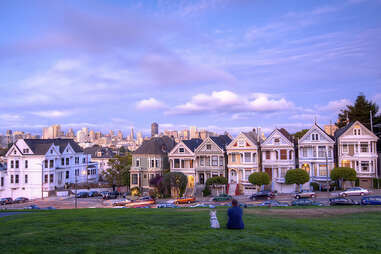 ALAMO SQUARE
Painted Ladies
"When you're lost out there and you're all alone / A light is waiting to carry you home…" Even if you didn't like Full House (HOW RUDE!) you can still appreciate the architecture of the row of houses the show helped make even more famous than it already was: the Painted Ladies. It's just distinctly SF.

BAYVIEW-HUNTERS POINT
Ribs from Smokin' Warehouse
Thanks to stupid Jed York and stupid Santa Clara, Candlestick Park is out and a platter of ribs from Smokin' Warehouse Barbecue is in, which, I guess isn't... all bad?

BERNAL HEIGHTS
Wild Side West
Bernal feels like its own little village separate from SF, assuming all little villages also have awesome "secret" beer gardens, too. Wild Side West has been around since 1962, moving to SF in 1976 when it was still pretty insane to be out and run a lesbian bar. That alone probably makes it worth the trip, but then there's also the matter of the SECRET BEER GARDEN.

THE CASTRO
Hot Cookie
One of the first gay 'hoods in the US, definitely one of the liveliest, and maybe not definitely the only one with a bakery that sells "erotic" cookies. Dick cookies, anyone?

CHINATOWN
Fireworks and dice
Because it's the only place in SF you can buy illegal fireworks and illegally play some dice for illegal money, illegally. Not that we would ever do those things, of course.

COLE VALLEY
Zazie's brunch
Zazie's daily brunch, and the fact that you can spend the hour wait drinking Bloodys and playing ping pong next door at Finnegans.

COW HOLLOW
Marina Subs
DOGPATCH
The Ramp
Great drinks and you get to enjoy them while sitting outside by the water, which you'd think would be a thing you'd do all of the time considering we're surrounded by water on three sides, but is really only a thing you can do at The Ramp because it actually gets sunshine.

DUBOCE TRIANGLE
Duboce Park
If you have a dog, or you just want to watch dogs play, you got to Duboce Park. And at least one of those applies to every single human being on earth, so yeah.

EMBARCADERO
Ferry Building
Do you want locally made cheese or would you rather have one of the best burgers you'll ever eat? Fresh oysters or jalepeño ice cream? SF's best farmer's market or a mouth-watering BBQ sandwich? Then you'll go to the Ferry Building, where you can get all of those things AND OTHER THINGS, TOO.

EXCELSIOR
El Farolito
THE FILLMORE
The Fillmore
Great bands + free apples + sold-out-show-celebrating concert posters = uh-huh.

FINANCIAL DISTRICT
Transamerica Pyramid
This one's easy: the Transamerica building (and more specifically the little park underneath it) -- skyscrapers shaped like pyramids with parks underneath them, ftw.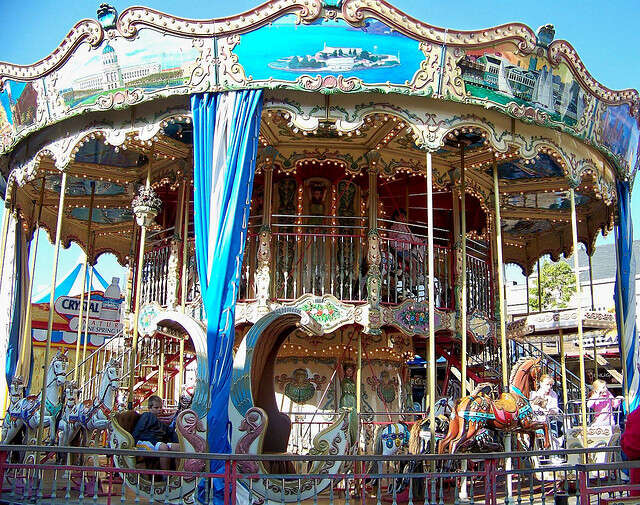 FISHERMAN'S WHARF
Clam chowder
Specifically, clam chowder in a sourdough bread bowl, because what's better than a bowl that you eat? NOTHING.

GLEN PARK
Nature
The 70 acres of diverse terrain, including a creek, rock outcrops, red-tailed hawks, and great horned owls. Yeah, that's right. We said owls.

HAYES VALLEY
Schnitzel and giant beers
Get them at Suppenkuche.

INNER RICHMOND
Chinese food
It's hands-down the best Chinese food in the city. Sorry Chinatown. Facts are facts.

INNER SUNSET
Sushi
Inner Sunset's got most of the best sushi in SF. And yes, that's "controversial," but unless you've eaten there, we don't want to hear it.

JAPANTOWN
Do Re Mi Music Studio
Go for Karaoke and BYOB at Do Re Mi Music Studio. (Technically we're not even sure if the BYOB is allowed, but it definitely seems to totally be allowed.)
LOWER HAIGHT
Beer and sausage
Because you can order 45+ of the world's best beers on tap while chowing down on some of the city's best sausage. We're guessing this is very similar to what Heaven will be like if we get there. Which, considering what we picked for Nob Hill (see below) is starting to seem somewhat unlikely.

THE MARINA
Palace of Fine Arts
It's just so pretty. And there are swans! Angry, mean, bitter, beautiful swans.

THE MISSION
Burritos
Of course, it's the burritos. They're the best in the world and that's all there is to say about that, San Diego.

NOB HILL
Tonga Room
It's a toss-up between Grace Cathedral and the Tonga Room, but it pretty much has to go to the Tonga Room. What? It's a vintage Tiki bar with a floating stage. Probably even God agrees with this one.

NOE VALLEY
Firefly's fried chicken
Proximity to the Google Bus stop, amirite? No, no no no no no. It's getting the famous fried chicken at Firefly on Tuesday.

NORTH BEACH
City Lights Bookstore
Three floors of poetry and prose, fiction and nonfiction, from international and local authors. It's a literary landmark, yo.
OUTER RICHMOND
The Legion of Honor
Because a museum with a collection of 4,000 years of ancient and European art in a stunning setting > a golf course with views of the Pacific Ocean. Like, even if you're not into art, you should go for the architecture. But also, seriously man? Go for the art.

OUTER SUNSET
Outerlands
Even the $5 toast is totally worth it. Yeah, we said it.

PACIFIC HEIGHTS
The views
Toss up between the amazing mansions we'll never see the inside of and the sweeping views anyone can enjoy -- guess we gotta give it to the views.

POTRERO HILL
Anchor Brewing Company
Because beer is there for you even when the fog does roll in.

PRESIDIO
Crissy Field
It's got sun and surf (sometimes), sand (all of the time), stunning views (also sometimes), and is just a perfect reminder of why we love SF. Plus: doggies!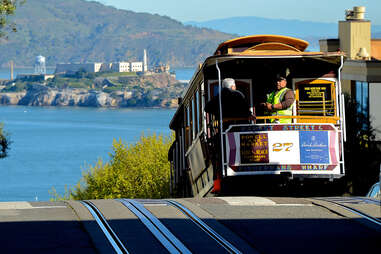 RUSSIAN HILL
Cable cars
Not as an actual means of transport (hahahahaha), but just because, well, they're the only moving Historic Landmark in the country. (Wait, why don't we like using them for an actual means of transport again?)

SEA CLIFF
Land's End
The Land's End hike has great views, ends at Sutro baths, and it's pretty easy, so you can be like "Oh, I totally went on a hike today," but you didn't have to, like, break a sweat or anything.

SOMA
AT&T Park
Duh.

TENDERLOIN
Glide Memorial Church
Have you SEEN The Pursuit of Happyness? And that gospel choir. Things get real on Sundays.

UPPER HAIGHT
Aub Zam Zam
Aub Zam Zam is an unusual bar that Herb Caen once described as "a place that time forgot." But he meant it in a good way. A GREAT way, even. Sure, Bruno, the cantankerous owner who often refused to make drinks for people just 'cause he didn't like the looks of them, has passed on, but it's still a magical place to get an even more magical cocktail.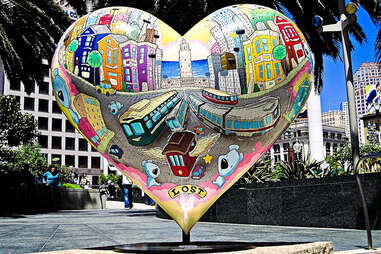 UNION SQUARE
?
Nothing? Shopping? Pass?

WEST PORTAL
Submarine Center
Get a sandwich from the Submarine Center. And yes, this is the second sub spot on this list, but sub sandwiches are just so good... especially when they're made on perfectly toasted bread with a delicious secret sauce.

WESTERN ADDITION
The Nopa burger
The Nopa burger is one of the top three burgers in the city, for sure. Even though the word "Nopa" still makes us kind of ill.

Sign up here for our daily San Francisco email and be the first to get all the food/drink/fun SF has to offer.
Daisy Barringer is Thrillist's SF Editor and she thinks the best thing about her 'hood, Ashbury Heights, is the incredibly friendly staff at the Ashbury Market. Her Saint Bernard Monkey agrees because they always give him treats and kisses. Follow Daisy and her dog on Twitter @daisy.