It's almost Spring in San Francisco (aka Summer in San Francisco, 'cause our weather doesn't play by the rules), and what better way to spend it than doing a bunch of stuff you didn't even know you've always wanted to do? That's right, we've put together the ultimate Spring to-do list, complete with 12 bucket list-able things you can start checking off when Persephone has finally been given back to Ceres by Hades (Greek mythology-five!!!).
What: Take advantage of Biergarten's extended Spring hours
When: March 20th-June20th
Where: Biergarten
Biergarten, everyone's favorite outdoor, German beer-drinking spot, extends its open time by an hour both ways, so you can get your stein on starting at 3pm.
What: Head to the beach (bonus points if it's one of these eight nude ones!), because SF Summer is actually in the Spring
When: March 20th-June20th
Where: Stinson Beach
Seriously, how nice is this weather? Might as well get a tan now before it turns back to Winter for the actual Summer months.
What: Try out the new place from Brandon Jew and the guys behind T-Lish
When: March
Where: Chino
What do you get when you cross Chinese cuisine with all things Tacolicious? This place.
What: "Sneak" in beers from Public House for the SF Giants' home opener vs. the Arizona Diamondbacks
When: April 8th
Where: AT&T Park
First: find the secret turnstile in Public House that'll let you take their beers into AT&T Park. Second: take beers in via said turnstile. Third: drink them. Fourth: start growing your post-season beard at the very first Giants home game... wait, what's that? You've already started growing a beard? Well, as long as your girlfriend's cool with it...

What: Get weird for Easter with the Hunky Jesus Contest
When: April 20th
Where: Dolores Park
Whether you feel like getting a little sacrilegious or just want to lay out in the park, the Hunky Jesus Contest will be taking place in grand, Dolores, Easter tradition. How very SF of you.
What: Take one (or more) shot(s) of more than 300 types of tequila for Cinco de Mayo
When: May 5th
Where: Mosto
Mosto has possibly the largest tequila selection in the entire city, which is saying quite a lot... sorta like you after sampling several of their tequilas in celebration of this bueno holiday.

What: Get your sweet/party tooth satisfied at Dessert First!
When: May 5th
Where: Four Seasons Hotel
Party for charity at Dessert First, a SOMA shingdig with desserts by some of the best chefs in the city, plus a full bar (that you can get VIP tickets to for a free-drink happy hour).
What: Pinkies up at the Uncorked! SF Wine Festival
When: May 17th
Where: Ghirardelli Square
Where else in the world are you gonna find limitless samples of some of the best wine in the world? Yeah, but what about other than France and Napa Valley?? Huh??? That's what we thought.
What: See if you can swim from Alcatraz in the Alcatraz Challenge (or, let's be real, watch others do it)
When: May 18th
Where: Alcatraz/ East Beach, Crissy Field
Finally, you can prove to everyone that escaping from Alcatraz is totally doable... with a wet suit and months of training for a triathlon.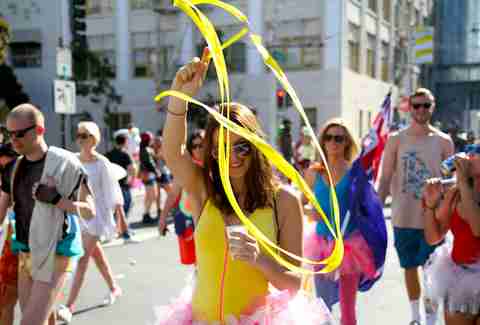 What: Don your fixie-bike costume to watch Bay to Breakers
When: May 18th
Where: Alamo Square Park
Or, ya know, whatever pop-culture thing will be completely irrelevant in a month. But it doesn't matter, because Bay to Breakers!!
What: Enjoy the 31st Annual SF International Beer Fest
When: May 24th
Where: Ft. Mason Center, Festival Pavilion
Uh, a ticket for unlimited beer tastings? Yep, done and done.
What: Rooting on the US to destroy Ghana in the World Cup
When: June 16th
Where: Mad Dog in the Fog
Yeahhhhhhh!! You totally care about soccer! U! S! A! U! S! A!
Joe Starkey is Thrillist's San Francisco Editor, and he once reached Grand Mage in Wizard Staffs. Follow him on Twitter.