30 Twitter accounts every San Franciscan should follow
Sure, Twitter is really good for baby animal pics and stalkin-- uh... keeping up with your favorite celebrities, but it can be even better for a bunch of other really important stuff, like mocking Mark Zuckerberg and finding bacon in SF. Here are 30 accounts you should maybe, probably, definitely, ABSOLUTELY be following if you live in SF:
1. Muni Diaries
If you're going to have to ride the bus, you might as well laugh about what goes down on it.
2. SFMTA
And while it's fun to laugh about the guy who just peed into a bottle on the back of the bus, it's also nice to get real-time Muni updates, so at least you know for a fact that your bus is going to be late (even though you already pretty much knew that for a fact).
3. SFBART
BART also probably has delays. Find out about them here (you can also get automated service info from @SFBartalert).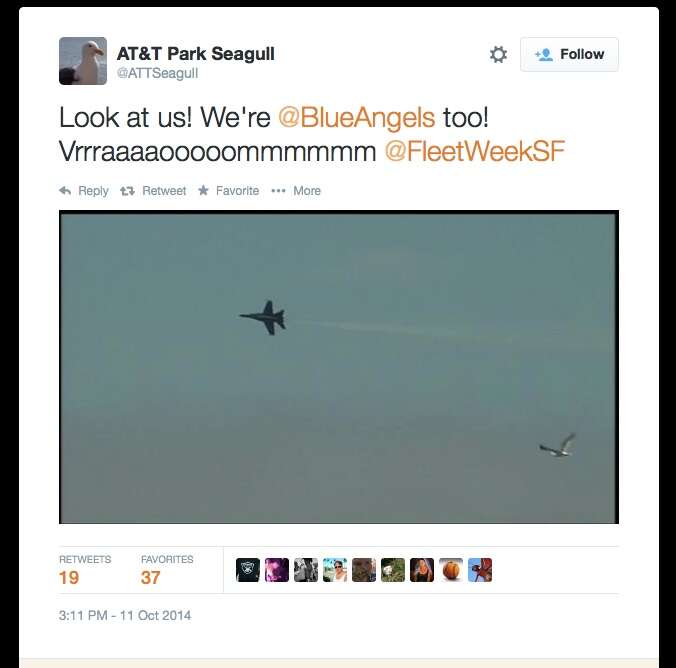 4. AT&T Park Seagull
It's a Twitter account written by the seagulls at AT&T Park who, of course, are huge SF Giants fans and also have an affinity for your leftover garlic fries. Aka a must-follow.
5. SFoodie
When the Supreme Court upheld California's ban on foie gras, who do you think Tweeted about it first? Also a great follow for food stuff you'll want to check out.
6. Old San Francisco
Pics of the city you love from back in the day.
7. Mission Mission
Worth a follow even if you don't live in the Mission. Funny pics and irreverent social commentary on what's going down in SF.
8. Emergency_In_SF
Do you want to die in a fire? No? Then follow Emergency_In_SF. They'll keep you up-to-date on newsworthy emergencies in SF as they go down.
9. Michael Bauer
Love him or hate him, Michael Bauer is THE food guy in SF. Lots of food pics as well as thoughts about his favorite places to eat out.
10. Curbed SF
There's porn. And then there's real estate porn... that's mixed with super-depressing news about how unaffordable San Francisco is. But still: real estate porn!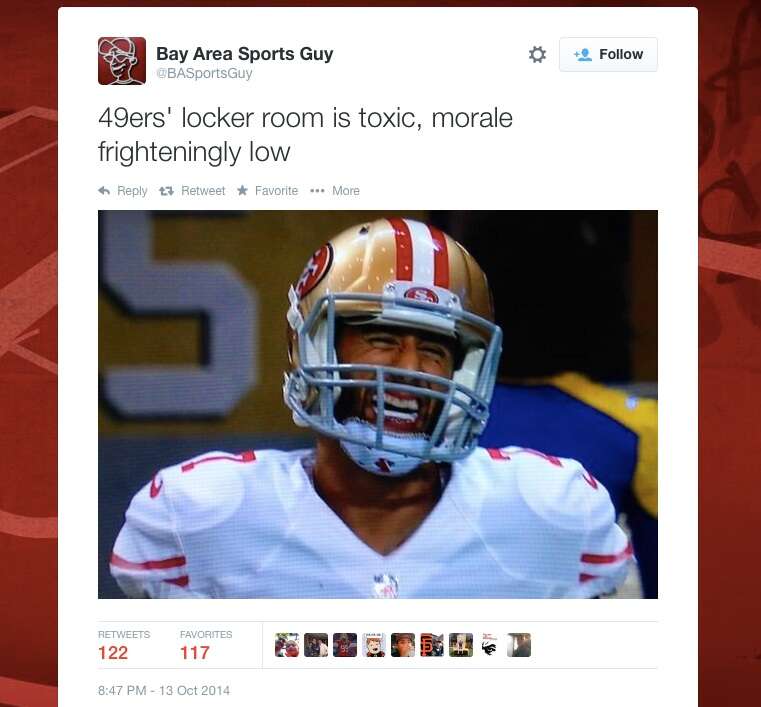 11. Bay Area Sports Guy
He's a guy. Who loves Bay Area sports. And also has a sense of humor. Follow him for stats and sarcasm.
12. 7x7SF
Fashion, nightlife, parties, and getaways -- 7x7 is all about celebrating SF. You can get behind that, right?
13. Eventbrite SF
All of the local happenings you actually want to check out and lots of promo codes and discounts.
14. Greg Dewar
You know him as @njudah. A "hyper-local" blogger who writes about life in SF (often with a MUNI twist) and has a discerning and honest point of view.
15. caltrain
Sometimes you have to take Caltrain. For those times, follow this account that has service delays provided by actual riders. Need even more transit follows? Check out the official Caltrain account as well.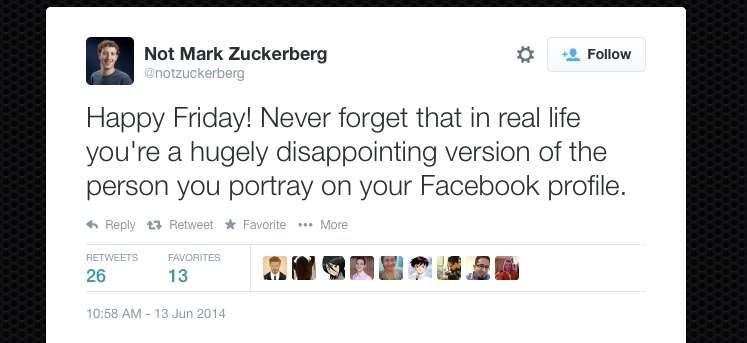 16. Not Mark Zuckerberg
Mark Zuckerberg is basically the only celebrity we have in SF to mock. This person does it quite well.
17. Bacon Bacon
Plan your every waking hour around the location and offerings of SF's most bacon-y food truck.
18. SF Weekly
News, culture, and other stuff about SF. Follow them to feel smarter about the city you call home.
19. Niners Nation
It's a Twitter account all about handbags. NO NOT REALLY. It's about football. 49ers football to be exact.
20. Haighteration
History, current events, politics, news, restaurant openings/closings... and though this feed mainly focuses on the Lower Haight, it's worth following no matter where you live in the city. Yes, that means you too, Crocker-Amazon!!!
21. The Bay Bridge
We've been through so much with the Bay Bridge. Why not hear about it from the bridge's pensive and humorous perspective?
22. Matt Maiocco
Another great resource for everything 49ers, Matt Maiocco Tweets up-to-the-minute news about players, coaches, and all of the rest of it.
23. SFist
San Francisco news with just a touch of (much-welcomed) snark.
24. Mission Local
The Mission is changing every day and Mission Local is there to keep us posted about what's going down, especially if it involves the dreaded "gentrification" word.
25. Mat Honan
It wouldn't be an SF list without a nerd to round things out. Mat Honan writes for Wired and does a great job of humorously commentating on what's going down with the Bay Area tech scene.
26. Karl the Fog
It's not a "who to follow on Twitter" list without Karl the Fog. Karl uses Twitter to keep us up to date on his whereabouts and plans. And to mock us relentlessly. In a loving way. Mostly.
27. Eater SF
An in-depth look at food and dining in SF and consistent inspiration for where to eat next.
28. Off the Grid
All of the food truck news you need in one convenient location. Plus, mouth-watering pics that will inspire you to get off of your couch.
29. Hoodline
A curated selection of interesting neighborhood news and things to do from around SF.
30. Thrillist SF
Some things should go without saying, but seriously: it's the best of everything new and cool in SF with the occasional pic of a very adorable doggy.
Clicking is hard, which is why we put all of the must-follow Twitter accounts into one easy-to-digest list. Go get 'em, tiger.
Sign up here for our daily San Francisco email and be the first to get all the food/drink/fun SF has to offer.
Daisy Barringer is Thrillist's SF Editor and that very adorable doggy belongs to her. She wanted to make herself #31 on this list, but thought that would be tacky. But since you're in the following mood... follow her on Twitter @daisy.