Perfect Fall Road Trips for When You Need to Escape San Francisco
Take a break from it all.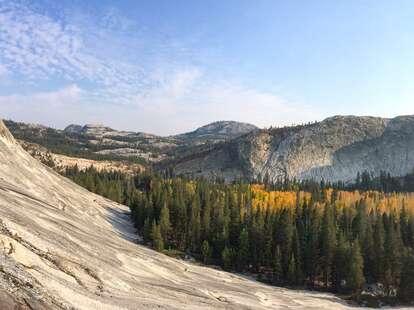 Cabin fever has taken on new meaning during these times of COVID-19. The good news is that Northern California has done a commendable job of keeping the virus in check thanks to stricter-than-most-places guidelines. It's because of those guidelines that hotels, restaurants, state parks, breweries, and wineries have been able to open safely so that we can still cobble together some kind of normalcy. And since nothing says "normalcy" like putting on actual pants with a zipper, leaving your Zoom meetings behind, and hitting the open road, we've put together a guide of our favorite NorCal road trip destinations, with details about where to stay, what to eat, and how to have the best time (yes, even now), all while keeping your safety top of mind.
These trips are all exceptionally beautiful, under a four-hour drive (with most hovering around one to two hours), and are somewhat off the beaten path—since no one wants to run into their co-worker when they're trying to escape from it all. No offense, Doug in accounting.
Distance from SF: 68 miles; one-hour and 15-minute drive
This vibrant Sonoma town is super close to San Francisco, so you can spend less time in the car and more time eating and drinking the best that wine country has to offer. Plus, there's great weather and lots of outdoor seating, so you won't have to skip as much of the fun stuff due to the pandemic. Start your trip with lunch at a winery just outside of the town center at either Jordan Winery, where you can experience Paris on the Terrace bistro-style lunch and a relaxing food and wine experience under the shade of oak trees, or Bricoleur Vineyards, an idyllic off-the-beaten-path winery where you can enjoy an outdoor tasting before enjoying "The Essentials Picnic" on the park-like 40 acre estate. (Reservations are required for all winery experiences.)
Once in town (with your car parked for the remainder of the trip), it's all about eating and drinking, which you'll definitely want to do on the Bravas Bar de Tapas patio with a pitcher of sangria, at Barndiva, which has not one, but two, gardens in which to enjoy farm-to-fork American fare and creative cocktails, and at Dry Creek Kitchen where you'll sit under twinkle lights and take down a messy, but delicious smash burger.
Due to current government regulations, wine tastings are only allowed to be held outdoors, which means a lot of the tasting rooms downtown aren't open, but just book a hotel with a great swimming pool so you can enjoy drinks while relaxing on a chaise lounge and you won't even notice. (We recommend Hotel Healdsburg, which is right on the square, because of its tranquil and sizable garden pool area and stylish rooms. If you're looking for something a little more budget-friendly, there's a new "outdoor lodging experience" (aka: glamping) right outside of town. Wildhaven Sonoma is just steps from the Russian River and has tents with electricity, fire pits, and an outdoor kitchen.)
Airbnb options:Find a great place to stay in Healdsburg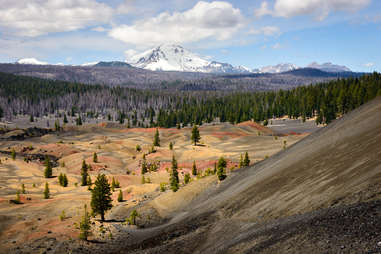 Distance from SF: 236 miles; 3 1/2-hour drive
Fun fact: Mount Lassen is the largest lava dome on earth and was thought to be extinct until 1914 when it exploded without warning. More fun facts: It's also relatively easy to climb, definitely most likely will not explode while you're doing so, and is open and ready for visitors. While you're there, plan to stop at Burney Falls, a 129-foot waterfall that is one of the most beautiful one in all of California and that (rumor has it) was called the eighth wonder of the world by Teddy Roosevelt. Though several of the campsites close after summer, the Manzanita Lake Campground remains open until it snows and the Southwest Campground is open year-round. If pitching a tent isn't in your skillset, book one of the cottages at Highlands Ranch Resort, a luxurious escape with mountain views, fireplaces in the rooms, and a lodge with a bar and restaurant.
Airbnb options:Find a great place to stay near Lassen Volcanic National Park
Glen Ellen
Distance from SF: 50 miles; one-hour drive
The charming village of Glen Ellen may be tiny, but it has everything one could possibly need for a pandemic getaway, including luxurious accommodations, delicious food, wine tasting, and outdoor adventures. Regarding the former, you'll want to book a room at the recently renovated Olea Hotel for a few reasons. First, the guest rooms are secluded and romantic (if you can afford the splurge, get a garden cottage, but all of the rooms are fantastic). Next, there's a pool and hot tub area that's open 24 hours a day. And, last, but most important: Olea Hotel has one of the best breakfasts you will ever eat. The complimentary two-course gourmet breakfast changes daily and is enough delicious food to fill you up well past lunchtime.
At least one dinner (if not two) must be eaten on the heated patio of the Glen Ellen Star, which is right down the road from the Olea Hotel and specializes in wood-fire cooking. It's a lot of carbs, but you should definitely order the house baked bread and one of the famous pizzas. Also some vegetables, probably. As far as wine tasting goes, make a reservation (required right now) at Benziger Family Winery for the Tribute Estate Tour, a private tour of the biodynamic farm with tastings along the way, as well as a seated al fresco tasting at the end. Imagery Estate Winery, known for crafting rare wines, is also open for outdoor tastings and picnics on the lawn. Finally, if you're looking to get a little exercise paired with a history lesson, Jack London State Historic Park, where the writer lived, worked, and is buried, is two miles away and though the museum is closed, all of the trails and picnic areas are open.
Airbnb options:Find a great place to stay in Glen Ellen
Distance from SF: 231 miles; 3 1/2-hour drive
SLO was once named the happiest city in America (and still ranks in the top 10), and who doesn't need a little happiness these days? The first place you'll find it is at the Madonna Inn where you should stay at least once in your life (so, why not now?). It has 110 themed rooms (Love Nest, Golfer's Room, and Rock Bottom are just three to choose from), world-famous cakes, a pool with a bar on a stunning hilltop, and, in case that didn't convince you, a urinal that activates a waterfall when you break a beam of light with your pee. The second place to find joy is in the awesome craft breweries. SLO is currently in California's "red tier," which means that breweries that don't serve food are still closed, but ones that do are open indoors at 25% capacity and outdoors, if they have that option. We found a few that follow those guidelines to spare you the Googling, including Oak and Otter Brewing, Central Coast Brewing, and Liquid Gravity Brewing.
If drinking copious amounts of beer and activating waterfalls with your urine isn't quite doing it for you, the other places you'll find happiness in SLO are on the beaches, the hiking trails, and on restaurant patios. Hang out on the sand with a good book or check out Bishop's Peak—the most popular hike in SLO, and only a 1 1/2-hour hike to the top (depending on if you do it before or after you visit all of those breweries). As far as bites go, the halibut tacos and the shrimp tacos at Papi's Grill a few miles south in Pismo Beach (which has fully recovered from the "disaster" we all first learned about from Clueless) are some of the best seafood tacos you'll ever put in your mouth.
Airbnb options:Find a great place to stay in San Luis Obispo
Fish Camp
Distance from SF: 208 miles; three-hour and 45-minute drive
Staying at the Tenaya Lodge in Fish Camp is the perfect way to get your California Gold Country and Yosemite National Park fix this fall and winter for a couple of reasons. First, a lot of the campsites in Yosemite still aren't open (plus, who wants to camp when it's so chilly out?) and the hotels inside of the park are almost completely booked, so staying inside of the park isn't a great option. Second, because of COVID, a lot of the park amenities (including the shuttle service) aren't available. However, if you book a room, cottage, or cabin at Tenaya Lodge, you can hit a ton of the Yosemite highlights during a day trip on a convertible tour bus arranged by the hotel, and still have time to do a bunch of stuff most tourists don't even know about.
For instance, a 4x4 off-road adventure to an under-the-radar Sequoia Grove that's home to one of the top 10 largest Sequoia Trees and will also give you a sad, but important perspective about the logging destruction of the magnificent and giant trees. Or a cool, easy waterfall hike (ask the front desk for directions since the guided hikes are suspended right now). There's also horseback riding to beautiful vistas, mountain bike rentals, and boating on nearby Bass Lake. You'll be able to eat most of your meals at Tenaya Lodge, but on your drive there, stop in Oakhurst for local beer and a cheesesteak with housemade beer cheese at South Gate Brewing Company. Want to extend the road trip? Book a couple of nights at The Pines Resort right on the lake. You'll have access to waterfall hikes and boating, as well as a couple of great restaurants (with huge portions), so you don't have to drive after you check in.
Airbnb options:Find a great place to stay near Fish Camp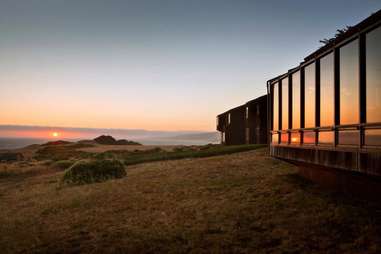 Gualala, California
Distance from SF: 126 miles; 2 1/2-hour drive
Gualala (pronounced "wha-la-la") is a chill coastal town in Mendocino where people really go to do not a whole hell of a lot. Pack a picnic and float in a kayak down the Gualala River (the weather is oddly sunny there despite its location), take a leisurely whale-watching hike along the oceanfront bluffs of Gualala Point Regional Park, and see the century-old trees with stunted growth in the pygmy forest in Salt Point State Park. Once you've gotten all of the "do-ing" out of your system, head to your vacation rental in the exclusive Sea Ranch community where you'll kick back and take in the views and maybe also take advantage of the trails and rugged beaches.
Airbnb options:Find a great place to stay in Gualala
Distance from SF: 155 miles; 2 1/2-hour drive
Nevada City is a taste of what it might have been like in the Wild West, but with far fewer gun fights. It was once the most important mining town in CA, and today, many of the 19th-century downtown buildings are on the National Register of Historic Places. Since there is so much history there, you need to see some of it. A must-do is the Empire Mine, the site of the oldest, largest, and richest gold mine in California. Pack a picnic and pour one out for the 44 mules who spent their lives deep in the mines, pulling ore cars and never seeing the light of day.
Once you get all of the learning and pouring out of the way, head to one of the nearby swimming holes (weather permitting, of course). The one under the Old Highway 49 Bridge is popular for good reason, and there's a solid chance you'll get to see someone (illegally) do a backflip off of the bridge while you're there. Dinner's either at Three Forks Bakery & Brewing Co. where you can enjoy quality, wood-fired pizzas and house-brewed beer or on the garden patio at One 11 Kitchen & Bar where you can fill up on burgers, kebabs, and housemade chocolate cake. As far as where you'll be resting your head at night, there are hotels in town, but the Inn Town Campground, which is just a short walk from downtown, is a more adventurous option. You can pitch your own tent there or, the better choice, get a glamping tent with real beds, fresh towels, a gas fire pit, and electricity.
Airbnb options:Find a great place to stay in Nevada City
Distance from SF: 46 miles; one-hour drive
Pescadero is the NorCal version of spending a day by the seaside, which means all of the beauty of the ocean, but with a side of wind and cooler temps. Like most destinations around these parts, the most popular activities are geared towards the outdoors. Butano State Park has 40 miles of hiking trails amongst the redwoods and you can also camp there -- although when it comes to camping in Pescadero, a Costanoa Lodge tent bungalow or cabin are the places to stay. It's like camping if camping were at an eco adventure resort that has maid service, electric lights, an outdoor hot tub, a restaurant, and a spa.
Other than hiking or hanging at the beach, you'll want to check out Harley Farms, which has more than 200 alpine goats, as well as llamas and critically acclaimed cheeses, and offers tours, and the 115-foot Pigeon Point Lighthouse, which started guiding ships in 1872 and is one of the tallest in the country. This one's easy to cross off your list during COVID since it's falling apart, and they don't let you go inside even when there isn't a super contagious virus. And no matter what, do not go home without getting the renowned artichoke garlic herb country-style bread from Arcangeli Grocery Co. (Norm's). If there's a loaf that's fresh out of the oven (and chances are there will be), stop what you're doing and eat as much of it as you can on the spot. Then be sure to grab a second one for later.
Airbnb options:Find a great place to stay in Pescadero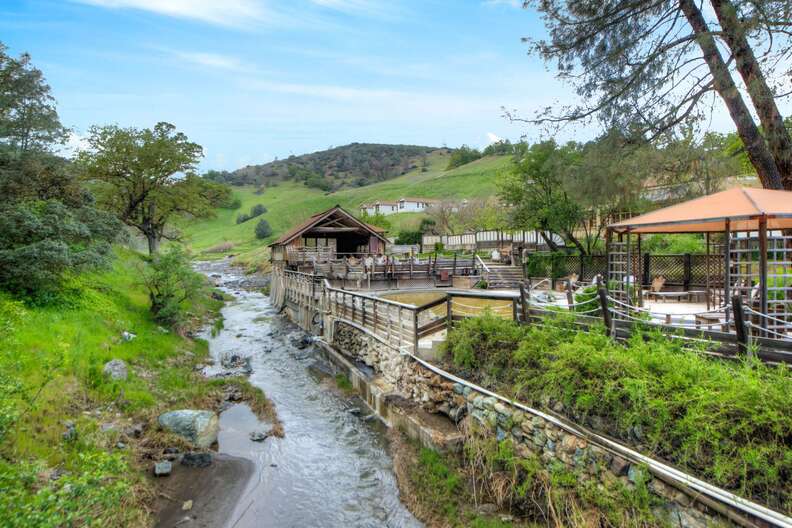 Distance from SF: 122 miles; 2 1/2-hour drive
You're going to Williams for one reason and one reason only: the hot springs. Wilbur Hot Springs Resort is the ideal location for getting totally blissed out, an expression you'll actually be using without a hint of irony by the end of your weekend. The bathing area has natural, mineral hot springs with three different temperatures, a dry sauna, a cold pool, and a multi-tiered redwood deck where you can lounge… naked, if you wish. (This isn't a nudist colony situation, just so you know; clothing is required everywhere else on the property.)
There's also yoga and massages in a creek-side cabin, and everything else you'd expect of a retreat located in an 1,800-acre nature preserve, plus some stuff you wouldn't expect, like the Fountain of Life geyser, which is unique for two reasons: 1) There are only 1,100 known geyers on the planet and half of those are in Yellowstone, and 2) it's not steam-driven. What it is driven by is complicated, so just ask someone there who knows. It "erupts" every 45 minutes so with just a little patience, you'll be sure to see water shooting into the air. Wilbur is BYO food and booze, and there's a limit of no more than six people in the kitchen at a time right now. Rest assured that the folks at Wilbur Hot Springs are taking all COVID-19 protocols very seriously (and you'll need to also, although that goes without saying).
Airbnb options:Find a great place to stay in Williams
Distance from SF: 77 miles; one and a half-hour drive
Jenner's rugged cliffs, dramatic ocean views, and isolated beaches are so very quintessential Northern California, as will be your experience when you make your way to this blink-and-you'll-miss-it town on Highway 1. You can make this excursion as relaxing or activity-filled as you want, but no matter what you choose, you'll definitely be communing with nature in the best way possible. Start your trip by checking in at Timber Cove, a resort hotel with rustic and retro vibes perched on a bluff about the Pacific. Slide some vinyl on the record player in your room, turn on the fireplace, and enjoy a glass of wine or two before heading out to explore the property or play a game of ping pong in the outdoor living room. After that, enjoy the sunset during dinner (indoors or on the patio of) Coast Kitchen, the hotel's oceanfront restaurant followed by a drink around the communal fire pit.
If you don't just want to lounge around the whole time you're there, Jenner is home to tons of gorgeous beaches and state parks, perfect for hiking or kayaking, as well as Fort Ross Vineyard & Winery, the closest vineyard to the Pacific Ocean in California. For now, all tastings at the winery take place outside on the decks and patios and are accompanied by a charcuterie plate so as to be in compliance with California's most recent coronavirus ordinance.
Airbnb options:Find a great place to stay in Jenner
Sign up here for our daily San Francisco email and be the first to get all the food/drink/fun SF has to offer.
Daisy Barringer is an SF-based freelance writer who recently braved leaving the house during the pandemic for a mini-holiday in Healdsburg. 10/10. Would do again. Follow her on Instagram @daisysf to see where the open road takes her next.