Not just what becomes an awesome Christmas horror movie if you add three exclamation marks and a comma in there somewhere, Jingle Beer Run is also a race going down this Saturday that highlights what the season is all about: running for charity drinking beer (and running for charity)

The Event: This 3rd annual run starts at the Marina Green and courses along the city's second foggiest jogging route (Outer Sunset FTW!), finishing up at Pier 23

The Rules: There are no rules. Okay, that was a lie, because you're "supposed" to wear the supplied jingle bells and they'll also be awarding prizes to the two fastest male and female runners (not you) and the person with the best holiday-themed costume (maybe you?)

The Libations: The race will not be considered finished until each runner has completed the beverage of their choice at Pier 23, plus you can probably get away with stopping for mid-race drinks since they welcome both runners and -- unlike Rick, and the dude with the crossbow, and the chick with the sword, and Carl -- walkers.
Recommended Video
This Is the Coolest Way to Park Your Car
Previous Venue
Next Venue
Venue Description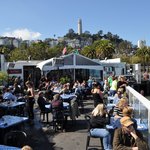 1. Pier 23 Cafe
Pier 23, San Francisco, CA 94111
When it comes to seafood, you want to be fairly close to the sea so that you know it's fresh. At Pier 23, you couldn't be any closer to the water, so much so that they've got a shoulder-height railing enclosing their patio. Add to that the fact that they've got a famously good Bloody Mary, and you just might be docked here for a while.