The VIP-est package ever at a brand-new SF music fest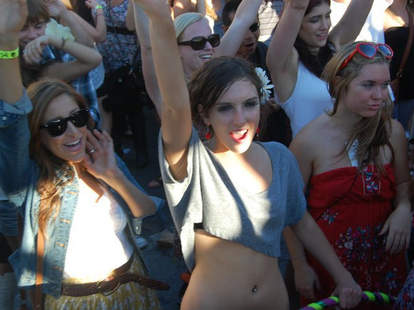 In contention to be a better December festival than that one of the lights, Wintersalt is a brand new, two-day music fest from the same guys who brought you, yep, Summersalt. And after doing some unspeakable things *shudder*, we scored some lucky Thrillist readers a very VIP ticket package..
But First, The Event: There're gonna be performances by guys from Blink 182 (please-be-Travis-please-be-Travis-please-be-Travis) and Beastie Boys, food trucks, beer, and hordes of fest-goers a la this photo from Summersalt
The Very VIP Ticket Package: Two readers and their dates will get to pretend they're musically talented/famous with VIP/artist entry into the event, a hotel room provided by Wintersalt, access to the sound check before the event, ground transportation to and from the festival like an actual performer, and special access to backstage artist hospitality bar/lounge
How To Enter: All you have to do is take a pic of yourself doing a "Wintersault" and post it to Twitter, Instagram, or their FB page and mention #Thrillist and #Wintersalt in the post. What's a "Wintersault"? We have no idea (it might be pictured above) but the best pic of whatever you think it is wins.