Because you know that one time you tried to visit Alacatraz, there were like a million lame people there, it took all day, and you had to basically beg Sean Connery to stick around and help you disarm all of the missles, drive on over to Subpar Mini Golf in Alameda instead: an indoor warehouse course that used to be a costume store and now features walls mural'd with scenes from all over the Yay Area (including The Rock). Alongside an arcade boasting not just Rush 2049, but also The Simpsons, this course has 18 holes, all set up to look like too many iconic NorCal spots to describe here, so we made a handy course guide for you to follow around the mini-Bay, which luckily for you (and your fellow golfers) involves no water traps.
Recommended Video
Putter Pong Is Like Beer Pong for Golf
Previous Venue
Next Venue
Venue Description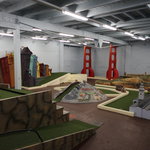 1. Subpar Miniature Golf
1511 Park St., Alameda, CA 94501
Subpar's got ping pong, pool, an arcade, and a cantina for food/drink, but their main attraction is an indoor 18-hole course that includes obstacles made to resemble landmarks from around the Bay Area. The golf may be mini, but it'll make you feel maxi. Allied: A real hole in one? Going to the AMF Bowling Center at 300 Park St and picking up some Smith & Forge, the hard cider that's built strong -- built from Apples and built to Refresh. .