The Essential Campsites Within an Hour of San Francisco
In case you're in need of an escape.
Half Moon Bay

| Tareq Ismail / Unsplash
Half Moon Bay

| Tareq Ismail / Unsplash
Desperate to get away to anywhere-but-here, but not comfortable calling a hotel "home" for a couple of nights? We hear you, but that doesn't mean you're stuck inside the same house you've been stuck inside for months. Why not take your relationship with Mother Nature to the next level (sleepover!) at a nearby campground? Obviously times are a little different right now, so just keep in mind that group camping isn't allowed (some sites even require that you only camp with the people in your household), all campsites require reservations (all the better for eliminating the stress of trying to procure a walk-in site), and you'll still need to wear a mask anytime you're in a public area. What has stayed the same though is the tranquility that comes with sitting around a fire under the stars, the back aches you'll complain about for days after you go back home, and that no one ever agrees on the perfect way to toast a marshmallow.
Golden Gate National Recreation Area
Driving time from SF: 28 minutes
This tiny oceanside campground in Sausalito is known for its seriously stunning views of the Golden Gate Bridge (and SF), chilly temps, and seclusion in a wooded setting. There are five overnight camping sites, reached by a steep one-mile trail that can accommodate 10 people and three vehicles. Right now though, those 10 people have to occupy the same household. And while Kirby Cove is super popular, which means people snatch up the reservations quickly, during COVID, the reservations can only be booked out 14 days in advance (rather than 90) so you actually have a better shot of snagging one. There are pit toilets, barbecue pits, picnic tables, and fire rings, but you'll have to bring your own water. And layers. Like, lots of layers. Nope, even more than that.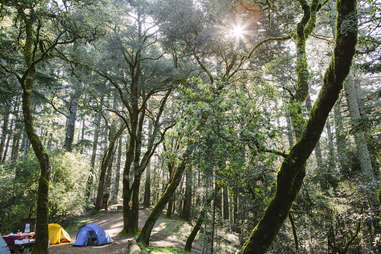 Mount Tamalpais State Park
Driving time from SF: 44 minutes
You know those sweet photos everyone takes from above where Karl the Fog is rolling across sweeping valleys and patches of redwood trees like an ocean on land? Yeah those are taken at Pantoll Campground. This first-come, first-served spot is a photographer's dream, so there's a very good chance you'll run into others who had the same genius idea of camping out to get the perfect shot for the 'Gram. Up your chances of claiming one of the 16 sites (up to 8 guests per site) by going during a weekday. And though you'll be stoked to get any site, if you have your choice, get one uphill as they're bigger and offer more privacy (also known as "ability to easily practice social distancing"). All of the sites have campfire pits with grills, potable water, and toilets, and you won't have to get a pet sitter because dogs are allowed.
Mount Diablo State Park
Driving time from SF: 51 minutes
Mount Diablo is a massive state park spanning 20,000 acres with arms wide open for sunrise chasers, rock enthusiasts (caving and climbing), and hikes for all abilities. You're going to want to do one that takes you to the peak, which sits at an elevation of 3,864 feet. Yes, you could also drive there, but don't you prefer to earn your panoramas? Especially when, on a good day, you can see almost 200 miles, which means views of the Farallon Islands, Mount Hamilton, Mount Saint Helena, and even Mount Lassen and Sentinel Dome in Yosemite. Juniper Campground has 50 campsites and Live Oak has 22. Our rec is Juniper, especially if you can get a site higher up because there's a little more privacy and also views. Both campgrounds have fire rings, and picnic tables, but the flush toilets and showers are closed because of a water shortage. There are portable toilets though, and luckily your dog (who is allowed) won't care one way or the other.
Half Moon Bay State Beach
Driving time from SF: 51 minutes
This is the best place to watch the sunset over Half Moon Bay, particularly if you have an RV. Or, more likely, a friend with an RV since SF isn't exactly RV parking-friendly. For tent campers, this might not be your best bet as there's little privacy between the 52 sites. RV campers, though, this could be your paradise. All of the campsites have a picnic table, food locker, and fire ring, and there are also restrooms and WiFi.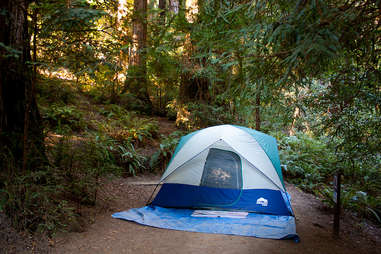 Samuel P. Taylor State Park
Driving time from SF: 55 minutes
Why tour the redwoods when you can sleep amongst them? This drive-in campground has over 50 sites with picnic tables and firepits. There's some noise from the road, which makes the Orchard Hill Loop sites (which are more removed from it) the way to go. The 2.7-mile Pioneer Tree Trail Loop is connected to the campground and meanders along a creek lined with redwoods, including the eponymous Pioneer Tree, one of the few remaining old growth redwoods in the second generation forest. The park is just a few miles from Point Reyes, so if you don't mind an extra 30 minutes in the car (each way), make a reservation at Hog Island Oyster Co. in Marshall for oysters and seafood with a view either when you come in or before you head home.
Mount Tamalpais State Park
Driving time from SF: 56 minutes
People love Steep Ravine because of the cozy cliffside cabins. Unfortunately, the primitive cabins aren't open right now, but that doesn't mean you have to forsake this campsite altogether, as tent camping is still an option and just as scenic. The seven sites are on a bluff overlooking the ocean (ah to fall asleep to the sound of crashing waves) and offer more privacy than most campgrounds, and each site has a table and firepit with toilets close by. Also close by: a secluded beach within hiking distance.
Point Reyes National Seashore
Driving time from SF: One hour 24 minutes
Okay, so we've officially lost credibility for our whole "under an hour from SF" pitch, but we promise: this one's totally worth it. Or at least it is if kayaking to your campsite is a thing you've ever dreamed of doing. There are lots of beaches available, but only two with toilets. If you don't get one of those, you have to bring your own, along with water, food, a camp stove, and anything else you may need (wood fires are currently prohibited). Don't have a kayak? You can rent one at Blue Waters Kayaking who will even drop it off at the boat launch location for you. Usually permits are sold on a first-come, first-served, same day basis, but right now they must be reserved ahead of time.
Sonoma Coast State Park
Driving time from SF: One hour 15 minutes
Okay, this one's also a little more than an hour's drive, but those extra 15 minutes in the car will be totally worth it once you arrive at your campsite tucked away in the dunes and just steps from the ocean. There are 99 sites with picnic tables and fire rings (and flushable toilets close by), so your chances of actually getting a reservation during peak season is high. There are tons of places in the park to explore, including remote hiking trails, but if you start to get a little antsy, town (which has waterfront restaurants and wine bars) is less than a mile away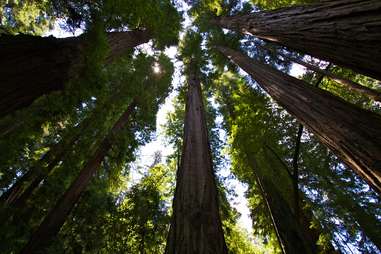 Henry Cowell Redwoods State Park
Driving time from SF: One hour 15 minutes
Okay, okay, so this one's also a little over an hour away, but with the majority of campgrounds still closed, we felt like the more options the better. We like this spot for several reasons, including the fact that most of the 100+ sites (with picnic tables and fire rings) are spacious and private. We're also a sucker for towering old-growth redwoods, which you'll find in a grove about two-miles from the campground. Closer by, just a half-mile walk, is a rare sandhill plant community, also worth checking out. Keep going to reach the highest point in the park.
Sign up here for our daily San Francisco email and be the first to get all the food/drink/fun SF has to offer.
Daisy Barringer is an SF-based writer who is always on the hunt for a new adventure. Follow her on Instagram @daisysf to see where she goes next.

Julie Murrell is the Content Manager at Hipcamp. She's a writer, adventurer, hula-hooper, and self-described "die-hard Bloody Mary enthusiast." Check out the sum of her adventures, including a heavy dose of #vanlife on Instagram @jollymurrell.