For when you've been on enough hikes to hidden caves and mountainside beer gardens that it's time to take your relationship with Mother Nature to the next level (sleepover!!!!!!!), here are the 11 best campsites within an hour of SF.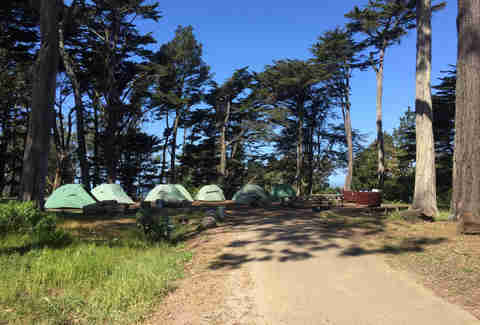 Golden Gate National Recreation Area
Driving time from SF: 0 minutes (!)
As if San Francisco wasn't magical enough, you can stay at a legit campground IN the city. You know, the part of town with sweeping views of the Pacific from the Bay Ridge Trail, where you're walking distance to Baker Beach, NBD. Of four sites available, only two are for public use (the other two are reserved for the Camping at the Presidio youth program). Each public site can fit up to 30, so roll deep.
Angel Island State Park
Traveling time from SF: 19 minutes (via Ferry!)
Amazing alert: you have to take a ferry to get to Angel Island, and we suggest indulging in a Bloody Mary en route (yep, they've got 'em on board). It's cheesy, but Angel Island is as heavenly as it sounds. Potentially overshadowed by the more touristy island in the bay, Alcatraz, Angel Island has quite the interesting history of its own. Insane fact: during low tide, you used to be able to walk from San Francisco to Angel Island. Take the Sunset trail to the top of the island to find a selection of picnic tables strategically placed for the most amazing location to eat while you also feast your eyes on bangin' views of the bay. Play hooky and go on a weekday, and you could have the whole island to yourself (read: clothing optional!). Though for practical reasons, you'll probably definitely want layers.
Golden Gate National Recreation Area
Driving time from SF: 28 minutes
If you're new to the city, then let us introduce you to this hidden gem. Yet another epic view of the Golden Gate Bridge can be scored at the highly sought-after Kirby Cove Campground. Just four sites are available and because of its unique proximity to the bay, the Bridge, AND the beach, you'll want to book this baby in advance. When you score your prized site, just make sure you bring layers. Like, lots of layers. Nope, more than that.
Golden Gate National Recreational Area
Driving time from SF: 29 minutes
A night at Hawk Camp? Yeah, that's free. The only price you "pay" is to get to Hawk Camp -- a mildly challenging (read: booty burnin') three- to four-mile hike. The work is worth it as this is one of the most secluded campgrounds in the Marin Headlands. Just be prepared to be within close quarters to your neighbors. The more the merrier, right?
Mount Tamalpais State Park
Driving time from SF: 44 minutes
You know those sweet photos everyone takes from above where Karl the Fog is rolling across sweeping valleys and patches of redwood trees like an ocean on land? Yeah those are taken at Pantoll Campground. This first-come, first-served spot is a photographer's dream, and, apparently, many photographers' dreams. There's a very good chance you'll run into others who had the same genius idea of camping here. Up your chances of seclusion by going during a weekday (totally doable at under an hour!).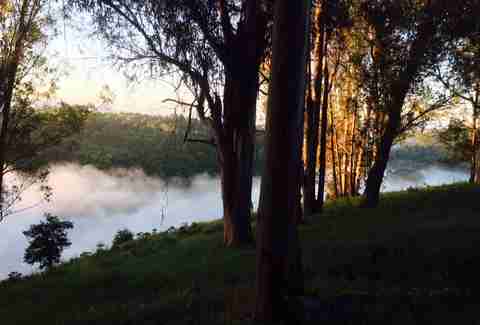 Anthony Chabot Regional Park
Driving time from SF: 48 minutes
About an hour from Downtown San Francisco (and a 20-minute drive from Oakland), Anthony Chabot Family Campground is your place to enjoy a wet, hot, American summer. Tent sites sit in the trees overlooking the lake, and there are even RV sites for those who are feelin' glampy. Showers are available, but do you really need one with that prime lake access?
Mount Diablo State Park
Driving time from SF: 51 minutes
Mount Diablo is a massive state park spanning 22,000 acres with arms wide open for sunrise chasers, rock enthusiasts (caving and climbing), and groups of up to 50 (who has a group of up to 50???). The peak sits at an elevation of 3,864ft, and on a good day, you can actually see Half Dome in Yosemite from Mount Diablo. And don't even get us started on the sunrise.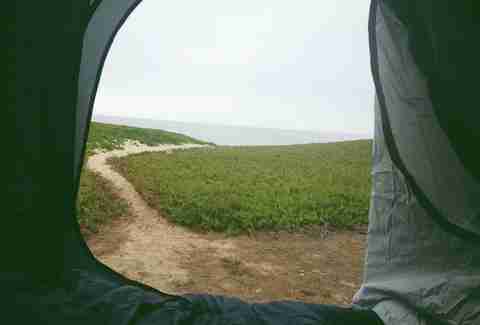 Half Moon Bay State Beach
Driving time from SF: 51 minutes
This is the best place to watch the sunset over Half Moon Bay, particularly if you have an RV. Or, more likely, a friend with an RV since Lower Haight parking isn't super RV friendly. For tent campers, this might not be your best bet as there's little privacy between sites. RV campers though, this could be your paradise.
Samuel P. Taylor State Park
Driving time from SF: 55 minutes
Why tour the redwoods when you can SLEEP amongst them? For a heartwarming hike, check out the Pioneer Tree Trail. The hike connects to the campground and leads you to the monstrous Pioneer Tree, a conifer that you can literally stand inside of, and gaze up at the sky through its cave-like fire scars. And if you're a water baby: Bolinas is a short drive for a beginner-friendly surf sesh or a day on the beach.
Mount Tamalpais State Park
Driving time from SF: 56 minutes
Want to try out that whole tiny house thing for a night or two? Each cabin features a wood stove, picnic table with benches, sleeping platforms, and an outdoor grill, not to mention they're placed on an epic cliffside that overlooks the ocean. How can one be so fortunate to score one of these cabins? On the first day of the month at 8am, slots are open for the month six months out and the entire month books in minutes. But, obviously, since booking is at a whim and so far in advance, many forget or can't make their reservation. It's worth trying your luck week-of to see if someone didn't show up for their reservation.
Point Reyes National Seashore
Driving time from SF: One hour 24 minutes
Okay, this one is just over an hour, but man is it worth it. The recipe for the best weekend ever looks a little like this: rent your kayak(s), snag a 30 rack, and pick up a stack of fresh oysters from the Tomales Bay Oyster Company. Convinced? Get the lowdown on everything you need to know about planning a trip to Tomales Bay here.
Sign up here for our daily San Francisco email and be the first to get all the food/drink/fun SF has to offer.
Julie Murrell is the Content Manager at Hipcamp. She's a writer, adventurer, hula-hooper, and self-described "die-hard Bloody Mary enthusiast." Check out the sum of her adventures, including a heavy dose of #vanlife on Instagram @jollymurrell.