15 New Year's resolutions from your buds at Thrillist SF
It's about to be a new year, and that means two things: 1) it's time to get your act together, and 2) OMG who are you gonna kiss at midnight?!?! Here to help you with the former, our 15 New Year's resolutions (here to help you with the latter, Becky in the corner who just got dumped).
1. We resolve to continue to have faith in humanity. Thanks Batkid!
2. We resolve to try to go to Oakland more often. And by "more often" we mean at least once. Really though, there'scoolstufftherenow.
3. We resolve to completely stop using taxis, because they're absolutely the worst.
4. We resolve to stop going on strike, BART employees.
5. We resolve to eat at Saison at least once, just to see if anything could ever justify spending $350ish/person for something you poop out the next day.
6. We resolve to start mixing it up neighborhood-wise. We hear Sea Cliff is cool.
7. We resolve to rent a canoe and try to catch a home run while sipping on beers (PS - it's legal to drink in the Bay).

8. We resolve to try out Bay Area Bike Share... and then immediately stop once we realize hills are a thing.
9. We resolve to photobomb every tourist picture people take of those hearts in Union Square. Seriously, why??
10. We resolve to get jobs as waiters to try to get some of that 'Tips For Jesus' money.
11. We resolve to shave our ironic facial hair. We're starting to just look like pictures of our Dad from the '70s.
12. We resolve to teach that one singing guy in the Muni station more than just two damn songs.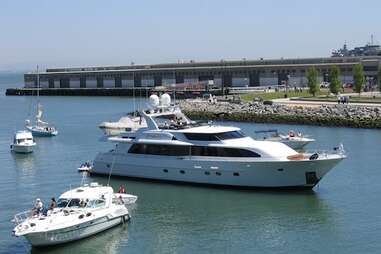 13. We resolve to sneak onto that Google yacht to find out whether or not they're hiding that girl from Children of Men on it. (SPOILER ALERT!)
14. We resolve to get our friends from New York to visit and admit that, dammit, San Francisco is better.
15. We resolve to stop hating LA so much... nah, we can't keep that.