5 haunted houses guaranteed to give you nightmares
Haunted House of Horrors | Donovan Friedman
Anyone from SF who has ever had to escort out-of-town relatives to Fisherman's Wharf probably thought they had already experienced the greatest nightmare the Bay Area has to offer, but that's just because they haven't been to these scream-inducing, pant-soiling haunted houses.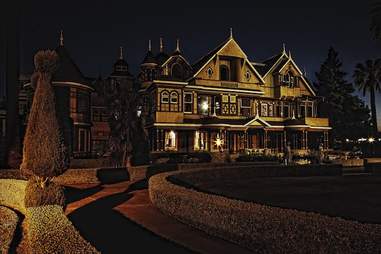 Courtesy Winchester Mystery House, LLC. Photograph by David Swann
Winchester Mystery House
Where to find it: San Jose
Why it will give you nightmares: The scariest thing about this place is that it's not a staged haunted house production. Take a flashlight tour through the mansion built like a crazy maze by the Widow Winchester to help her avoid what she thought were the murderous ghosts killed by the rifles her late husband had manufactured... which is completely insane, right? Right?? Guys???
Mayhem Manor: Courtesy of San Francisco Heritage
Mayhem Manor
Where to find it: Cow Hollow
Why it will give you nightmares: Set in the only intact Victorian-era home that's a functioning museum, Mayhem Manor's their first-ever foray into the haunted house game, complete with extra scares for people in costume (so break out your sexy cat), and beer/wine for purchase to ease your rapidly beating heart.
Haunted House of Horrors | Donovan Friedman
Haunted House of Horrors
Where to find it: SOMA
Why it will give you nightmares: With empty vaults and that one dark back alley area, this place is creepy even when it's trying not to be, so you know this interactive experience, which puts you as the star of a horror movie, is gonna be amazingly terrifying. Just try not to sleep with Neve Campbell and you should make it through okay.
The Dead
Where to find it: The Mission
Why it will give you nightmares: Staged in a warehouse, this event puts you at the ground zero of a zombie-virus outbreak, but with a lot more genuine terror and fewer dryly clever British quips than Sean of the Dead.
Fear Overload
Where to find it: Oakland
Why it will give you nightmares: This giant horror labyrinth contains two haunted houses: The Abusement Park (that pun is only the START of the horror), and Ward 9, a psych ward for the criminally insane, complete with a power outage and a psychotic, doctor-murdering female inmate. Anyone else just pee a little?