How the Turk+Taylor guys see SF
Homegrown fashion outfit Turk+Taylor might source all its materials locally, but that's hardly a limiting factor for a label that's expanded from insanely clever graphic tees to jackets made out of Vietnam-era parachutes. We asked the brand's founders Mark Lee Morris and Andrew Soernsen to tell us what SF people/places/things inspired them most. Here's what they came back with.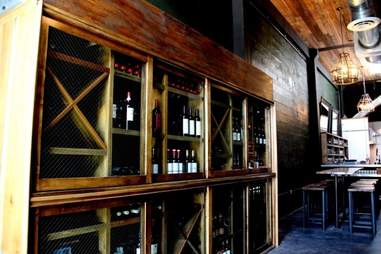 Blessed Bites: St. Vincent Tavern
They might specialize in wine, but chef Bill Niles' spreads make you want to work harder at doing something -- anything -- as well as he cooks. Mark's dinner there last week "went something like this: house-made pretzel; chopped salad with sweet corn, padron peppers & cheddar; healthy portion of melty salty bone marrow; and the tastiest honey-and-gooseberry-drizzled pork chop. Ever." No word on the Maverickberries, but they were probably good too.
Oldies, Goodies: Mind's Eye Vintage
"Their insanely curated offerings are just what your wardrobe is screaming for. Threadbare (in the best way) tees, Red Wing boots, turquoise jewelry. We were instantly struck by their own mini collections and brought Maya Messoriano, one of the owners, on board to style our most recent lookbook."
Must Buoy: Coast Marine & Industrial Supply
"Truth be told, I wandered into this shop while waiting for my order at In-N-Out. It's where you'd go to buy lobster traps and buoys, if you were a commercial fisherman. The friendly, not salty, staff even helped me fashion a leash out of nautical rope for my Airedale, Oscar. And they were kind enough to lend the charm and inspiration of the space for our most recent photo shoot."
Are You Zip?: Bari Ziperstein
Okay, this is cheating a bit, because Bari's from LA, but her stuff's been given the highest Bay Area praise of all (it's carried in the Turk+Taylor store). The ceramic artist's goods range from baubles to bowls to insane lamps to ultra insane phones (pictured) influenced by everything from Brutalism to "The California Ceramic Funk Movement".
Highly Functional: Workshop Residence
By pairing artists and designers with local fabricators, the Residence pushes creatives to "challenge the spirit of their professional art practice, creating accessible versions without sacrificing its spirit or integrity". In other words: they make cool stuff that you can afford and use, including these Flintstones-inspired "Wilma Cups".
Relationship Assist: Natalie Bowen Designs
Bowen is "a killer lunch date" who can "put together a mean arrangement, or a couple of hundred of them, depending on the occasion." More importantly for you, when Valentine's hits and you're so deep in the doghouse that you're actually in a dog housing project, a Bowen consultation has the magical power to bail you out like Howard "Bunny" Colvin did for Namond in The Wire.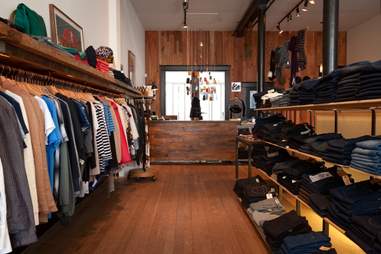 Insane Inseam Posse: A-B Fits
These denim experts take fitting and repair to "wizard" levels, so much so that Mark says "a recent purchase of wine-colored jeans from Raleigh Denim left me on a high". Also they have a shop dog named Ginger. People who don't love shop dogs don't deserve well-fitting pants.
Not Alameda: Alemany Flea Market
In contrast to the countywide free-for-all that is the Alameda Flea, Alemany has an intimate, garage-sale vibe. After scrounging up treasures, "clams escargot and a bloody mary at the Old Clam House nearby isn't a bad follow-up". Really, an entire house of clams is a treasure in itself.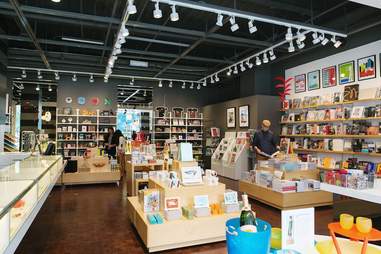 MOMA Mia: SFMOMA Museumstore
This store stocks one of the most eclectic mixes of books, curiosities, clothing, and objects you'll come across in SF. Further proof of how inspired they are: they carry Turk+Taylor collab tees.

Superfly Bar: Eagle Tavern
These guys have a phenomenal beer bust! What, there's something else going on at Eagle Tavern?