How to Break 10 SF Laws in One Hour
Todd Barringer/Thrillist
Todd Barringer/Thrillist
So, it turns out that San Francisco has a bunch of totally silly laws that lawmakers either don't know about, or don't care about. Like, for instance, you can't walk an elephant down Market St unless it's on a leash. And it's illegal to pick up and throw used confetti into the air (DON'T YOU DARE), or clean your spittoon on the street.
There are literally dozens of these in SF's and California's law books, enough that you could totally pair them with your favorite petty infractions and, for fun, see how many you could in an hour. So... we did exactly that.
Playing ball in the street
"It shall be unlawful for any person to play at or participate in any game of ball on any public street or highway." Ordinance No. 805 was approved in 1903. Break it and you are guilty of a misdemeanor that could result in a $500 fine or six months in jail. For the record, if you got caught, it'd be totally worth it. LOOK HOW MUCH FUN I AM HAVING.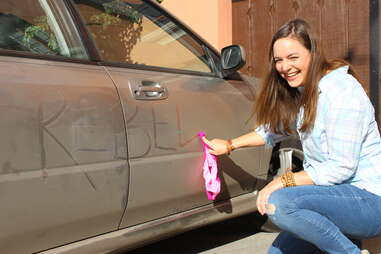 Wiping one's car with used underwear
The good news is that it's totally legal to do so with your clean undies!
Owning a slingshot
"It shall be unlawful for any person, firm or corporation to buy, sell, offer or expose for sale, barter, exchange, use or have the possession of any sling shot or metal knuckles." Calvin would hate SF. Susie, on the other hand, should probably move here.
Being a woman and driving a car while dressed in a housecoat
FYI, this is illegal in all of California. Don't worry though, ladies, you can put your housecoat back on after you finish dropping your husbands off at work. Not that you'll have any time to lounge around and enjoy wearing it, what with all of the cooking and cleaning you need to do.
Eating an orange in one's bathtub
Also illegal in the entire state of California. Bath time will never be the same.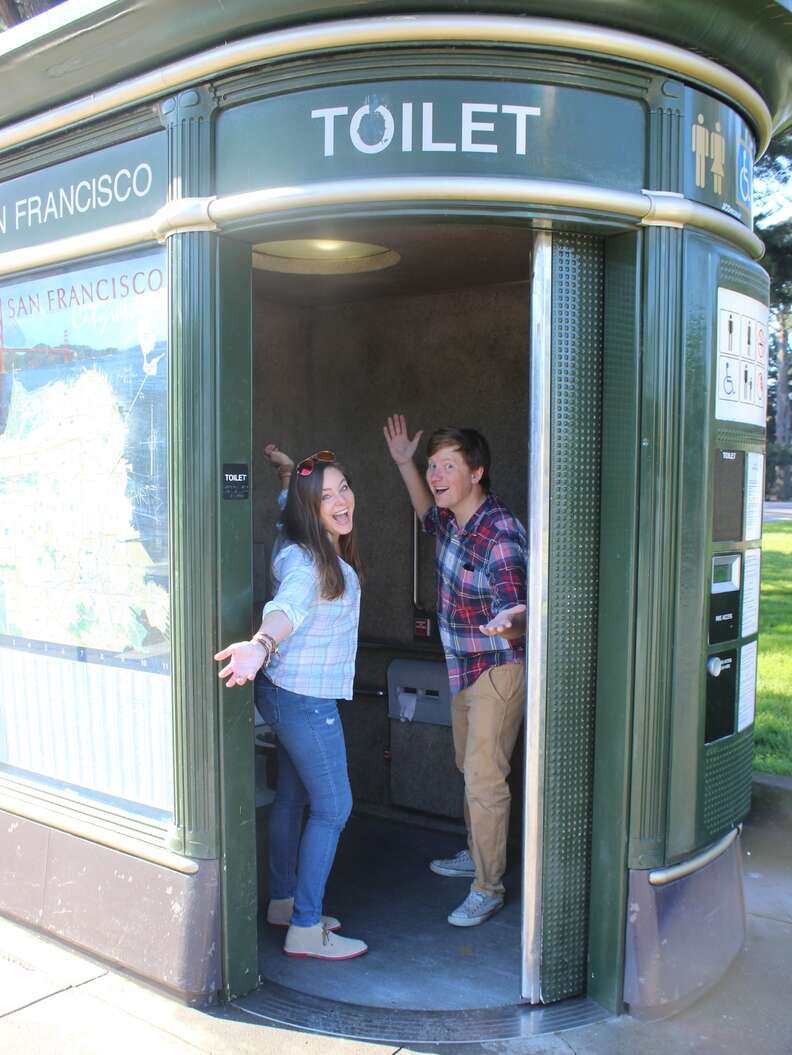 Going into a public toilet with another adult
"It shall be unlawful for more than one person over the age of 13 years old to enter or remain in an automatic public toilet at one time." Um, I don't even want to go in those solo?
Sitting on city sidewalks from 7am to 11pm
SF voters approved this ordinance in 2010. The first offense will earn you a $50 fine with subsequent offenses within 120 days earning you a fine of up to $500 and up to 30 days in jail. Once in jail, however, you can do all the sitting you'd like.
Drinking in public
Technically, you're not even allowed to have an open container of alcohol, but we figured once the beers were open, we might as well enjoy them. Also yes, we're technically breaking not one, but TWO laws in this picture. And people say we don't work hard.
Public urination
Getting caught with your pants down will cost you anywhere from $50 to $500. Although, if you've been on a San Francisco sidewalk lately, you know that this is hardly ever enforced.
Carrying bread in an open basket through the streets
"It shall be unlawful for any person, company, or corporation to carry, transport, or convey through the public streets in open baskets or exposed containers any bread, cakes, or pastry intended for human consumption." This law has been around for more than 110 years and if you're busted transporting a baguette, you can be fined $500 or go to jail for up to six months. This is likely why more French people don't live in SF.
Sign up here for our daily San Francisco email and be the first to get all the food/drink/fun SF has to offer.
Daisy Barringer is Thrillist's SF Editor and, if anyone asks, she will totally deny that she jumped 10ft in the air and immediately hid her beer upon hearing police sirens zooming up the street where she and Grant were drinking. She is happy to report that she's never been arrested... yet. Follow her on Twitter @daisy.